Dollar Bank was established by Charles Colton in 1855. The bank has grown  to more than 60 branches in Southwestern Pennsylvania and Northeast Ohio. It offers the following services: banking, borrowing, private banking, insurance, and Workplace banking.
Website: http://www.dollarbank.com
Routing Number: 243074385
Swift Code: DBNKUS3P
Telephone Number: 1-800-828-5527
Founded: 1855 (168 years ago)
Bank's Rating:
Dollar Bank was established in 1855. The bank offers banking, insurance, and investment services to its clients through its network of branches, mobile banking, and online banking. The bank has more than 60 branches and hundreds of ATMs.
HOW TO LOGIN
To login to your online account, you should follow the steps below.
Step 1. The first step to login to your online account is to enter the bank's website here.
Step 2. In the homepage, go to Online Banking and Login as shown below.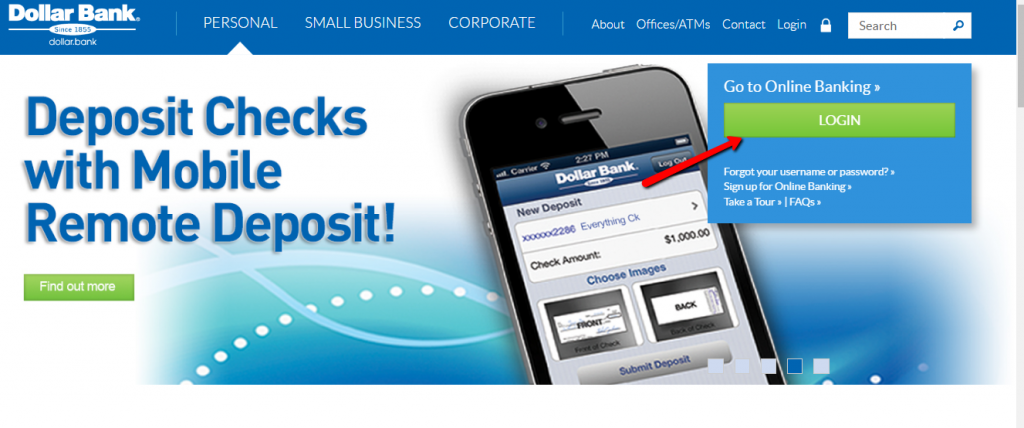 Step 3. In the next pop-up, click continue which will take you to your login page.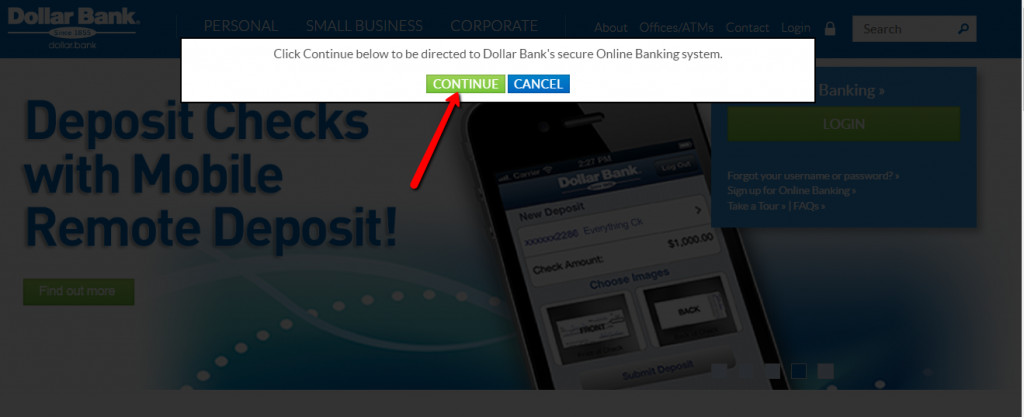 Step 4. On the next page, enter your username and password as shown below.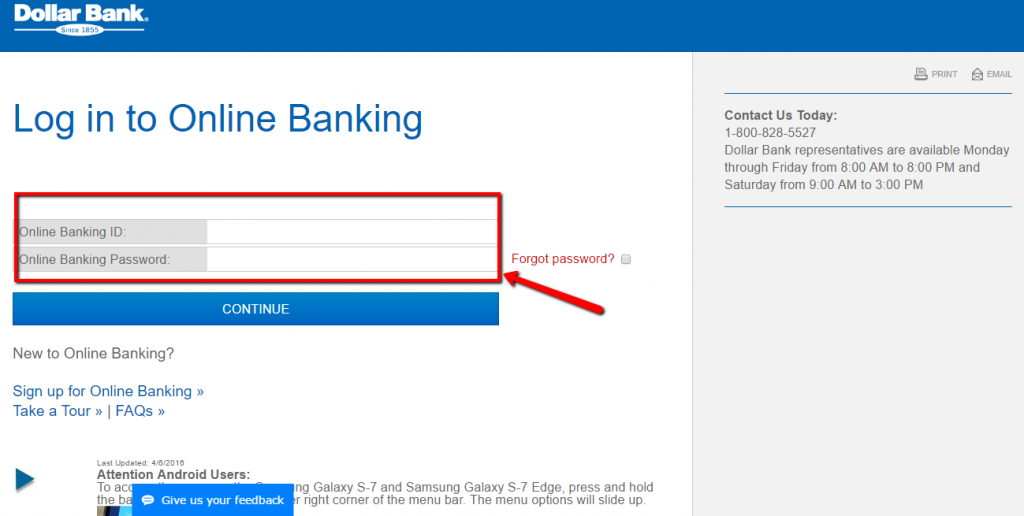 Step 5. In this page, enter your Online Banking ID and your Online Banking Password and then continue. If you enter the login details carefully, you should be directed to your online account.
HOW TO RECOVER FORGOTTEN PASSWORD
To recover your lost password, you should follow the steps below.
Step 1. The first step is to go to the website.
Step 2. In the homepage, select Forgot your Username or Password as shown below.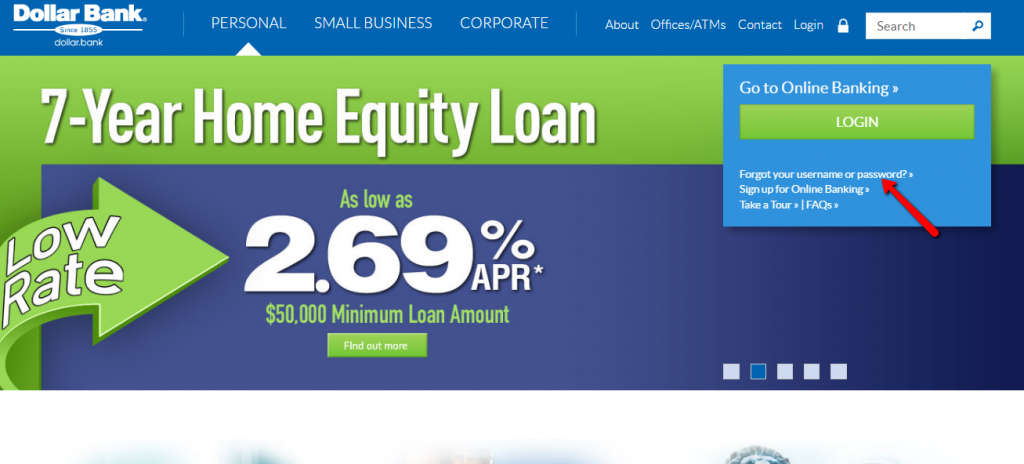 Step 3. On the next page, select the continue button.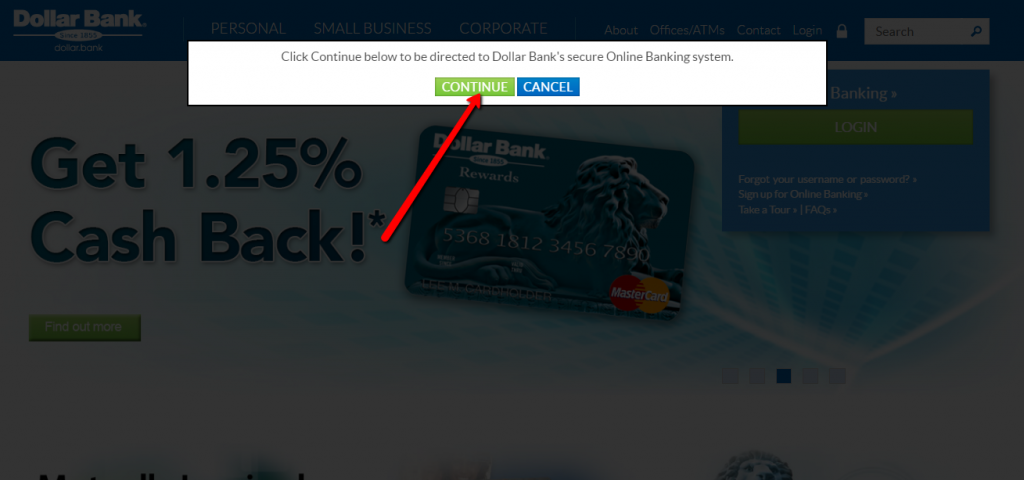 Step 4. On the next page, select Forgot password as shown below.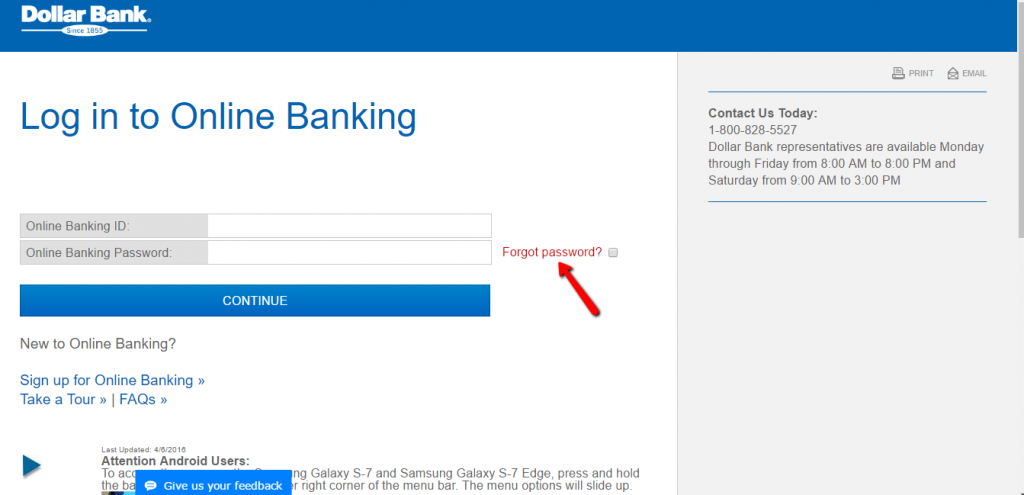 Step 5. On the next page, enter your user ID and then click continue. You should then reset your account password. Ensure that you enter a strong password to avoid hacking.
HOW TO ENROL
Step 1. On the homepage, select sign up for online banking as shown below.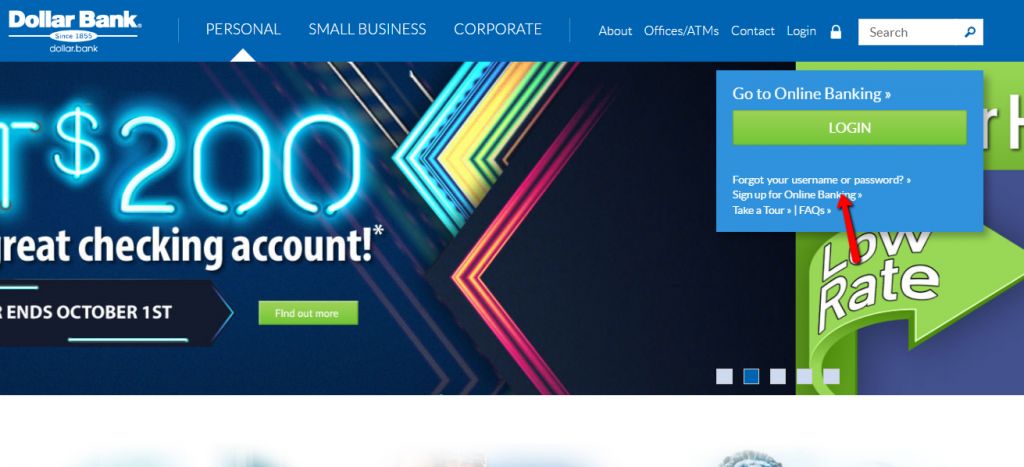 Step 2. In the next page, you should select the first button (Online Banking Sign Up with a Pin).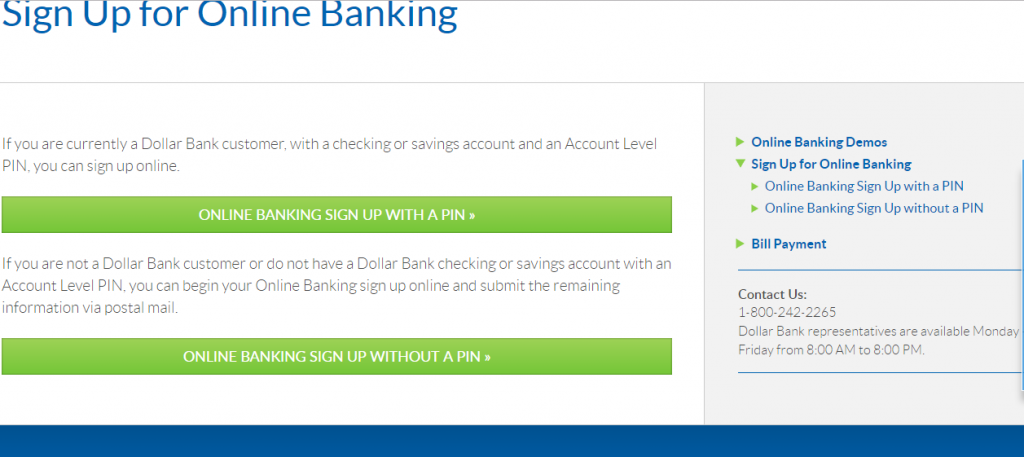 If you don't have an account with Dollar Bank, you should select the Online Banking Sign UP Without A Pin option.
Step 3. In the next page, you should enter your social security number, account number, and your pin and then continue. Ensure to read the information on this page. You should also enter your email ID and then your mother's maiden name.
WHAT YOU WILL FIND IN THE ONLINE ACCOUNT
You will find a lot of useful information in your online account.
Some of the features you will find are: checking the account balance, making payments, sending money, and checks deposits among others.
Dollar Bank Review
Our Dollar Bank review can honestly say that Dollar is one of the largest independent mutual banks in the U.S. operating a full-service regional bank.
It services both individuals and commercial customers and operates over 60 offices in northeast Ohio metropolitan areas and Southwestern Pennsylvania. Dollar Bank's Pennsylvania headquarters are in downtown Pittsburgh and also Ohio headquarters are in downtown Cleveland.
Having an account with Dollar Bank is a rite of passage as someone who wants to manage his/her finances. Most banks and financial institutions offer checking and savings accounts to help people to manage their incomes and expenses quickly and easily.
Although there are some checking and savings accounts that with a number of bells and whistles, a number of revolving deposit accounts with the extra cost money to maintain and use. In this review, we will be looking at what you should expect from your account at Dollar Bank.
Details
The Dollar Bank checking account is also referred to as free checking account and doesn't offer any interest on deposits that are in the account from one period to the next.
It however doesn't have a monthly service fee, regardless of the balance and no charges are assessed for transfer of money in and out of the account.
The checking account comes with free debit card and personalized checks that can be used to withdraw anytime. However, checks offered with Dollar Bank checking account do cost.
As it is with other new bank accounts, people who want to open a free online checking account with the bank are required to submit an application.
This can be done online or on the phone provided these details are provided: name of the account holder, mailing address and residential address, social security number, date of birth, employment information, email address, driver's license, passport, state ID card or military ID number.
Benefits
Dollar Bank offers a number of benefits to all account holders who have accounts with the bank:
After the application has been received, the bank will create a new account number and provide online to the main account holder.
Free e-statements are provided every month to the email address of the main account and no minimum deposit is required.
Aside from the fee-free nature of the bank's checking account which doesn't charge fee for maintaining the account
All Dollar Bank ATMs can be accessed free of charge
Access to unlimited bill pay through the bank's online banking website and unlimited check writing at no additional cost
Customers can contact the bank for balance and service related questions any time of the day through the phone as well as online.
Those who open a Dollar Bank checking account also receive a free check card when opening the account and they sign up automatically for e-statements that are sent to the email every month
The online checking account has not minimum balance requirements and there is overdraft protection when corresponding savings account is opened and linked to the checking account
Direct deposits are also available at no cost and the bank offers account alerts through email and text message
Downsides
Although Dollar Bank has a number of benefits that can convince you to open an account with them, they also have some drawbacks that you should know before banking with the bank:
No interest is paid on amounts that are held online checking account. This means that it is only a hold place for your money that will be used to pay your bills or buy things
Customers also need to make a deposit of $50 to open the checking account with the bank
Although no minimum fee has been stated for online checking accounts, debit card fees could apply if you don't maintain a monthly average balance of $2,500 in a linked savings account
Users are also charged a transaction fee of $2.5 when the ATM is outside the U.S.
Conclusion
As you can see, Dollar Bank is one of the best banks in the United States and if you look closer, you will realize that the benefits outweigh the downsides.
Therefore, if you are looking for a bank that has more to offer than what you would get at other banks, then you should consider this bank.
---