ACNB Bank offer commercial and individual banking services. The bank was founded in 1857.it is headquartered in Gettysburg, Pennsylvania and works as a subsidiary of ACNB Corp.
Website: https://www.acnb.com/
Routing Number: 031309945
Swift Code: See Details
Telephone Number: 1-888-334-2262
Founded: 1857 (166 years ago)
Bank's Rating:
ACNB Bank provides customers with an easy way of banking through internet banking. Customers are required to enroll on the banks website in order to take advantage of these services. This guide will take you through the steps you will need to follow when signing into your online account, the process of changing password and also enrolling.
How to login
To successfully login, you will be required to provide your login details in the login box. This should give you access to your dashboard. Here are simple steps to follow:
Step 1-Open https://www.acnb.com/
Step 2-Type in your login ID and password and then click login to access your bank account online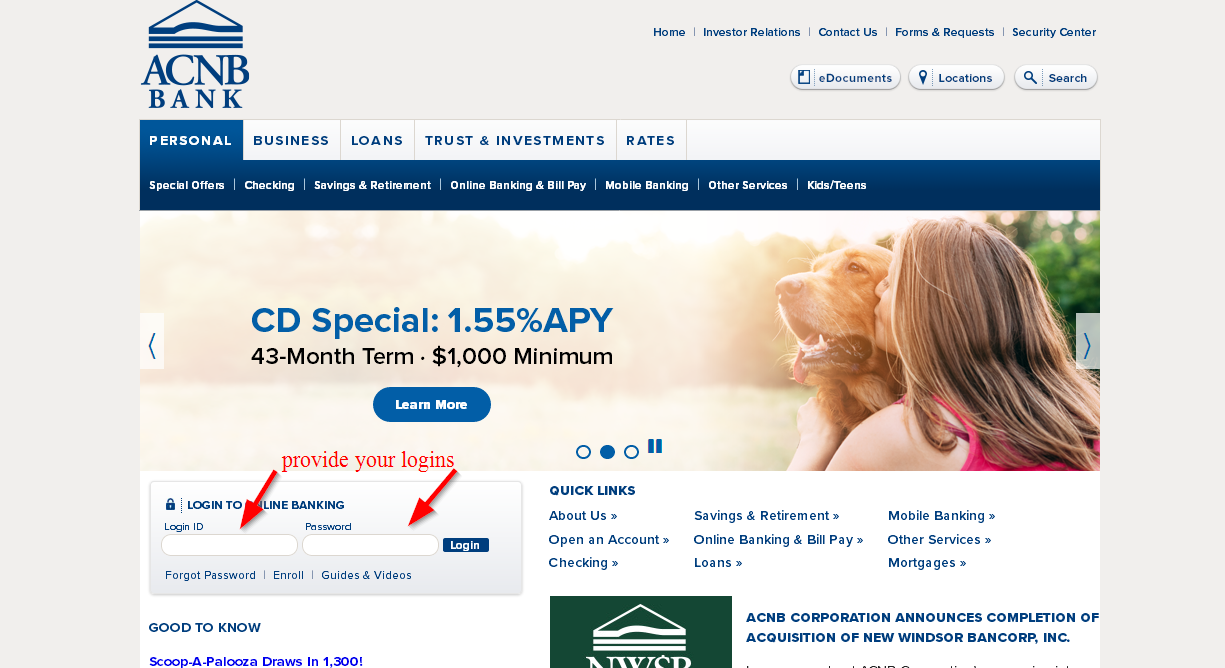 How to reset your password
Resetting your password for the online account should be a simple task since all you need to do is to provide the details that have been requested and you are good to go. Here are simple steps to help you change your password:
Step 1-Find the link forgot password. See the image below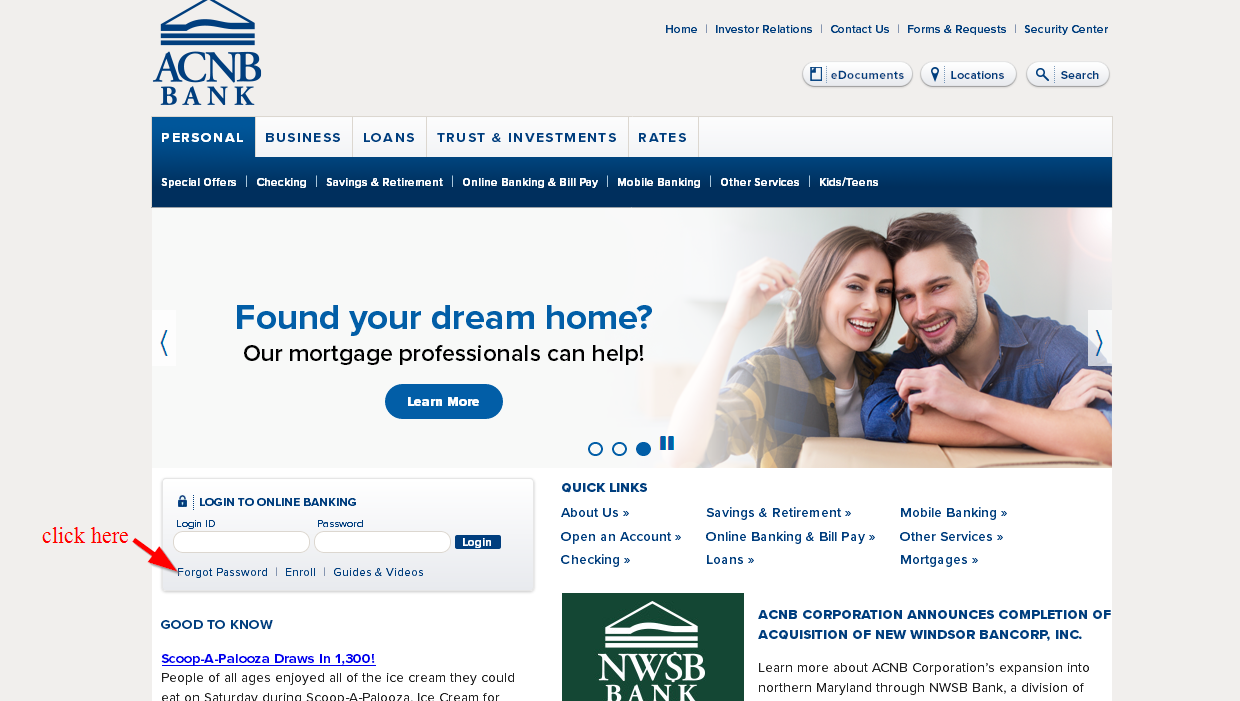 Step 2-Click forgot your password?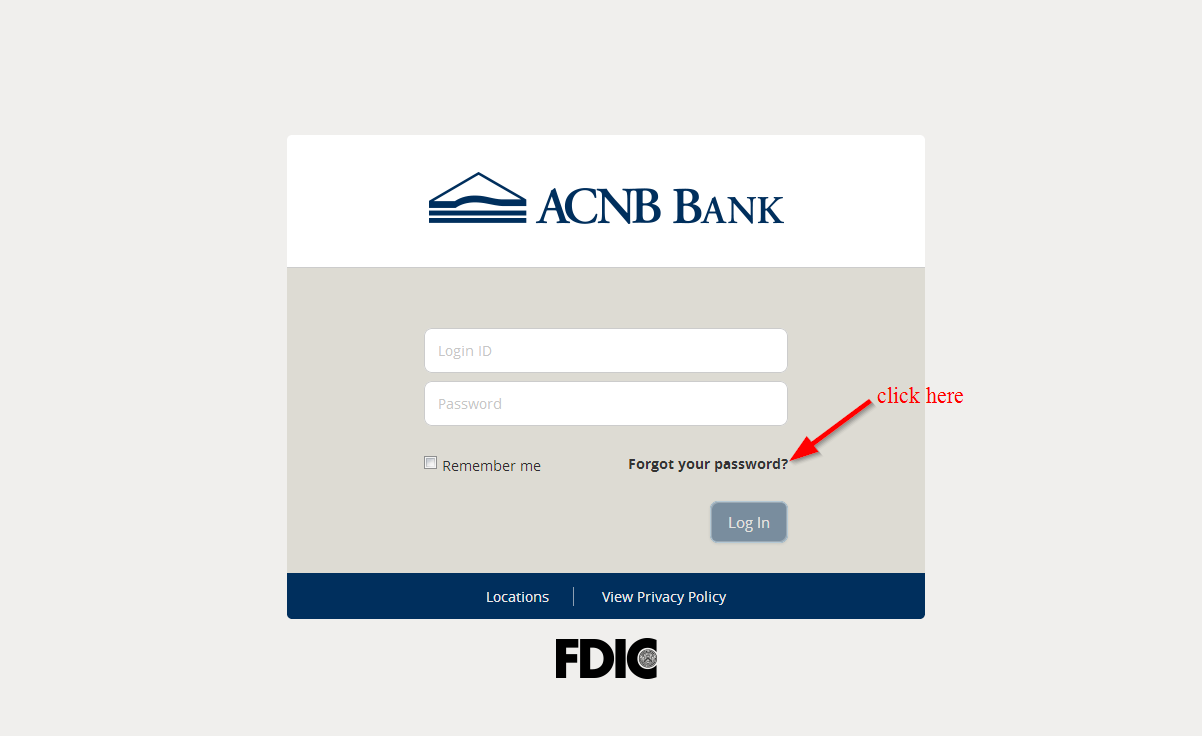 Step 3-Provide your username and then click submit to change your password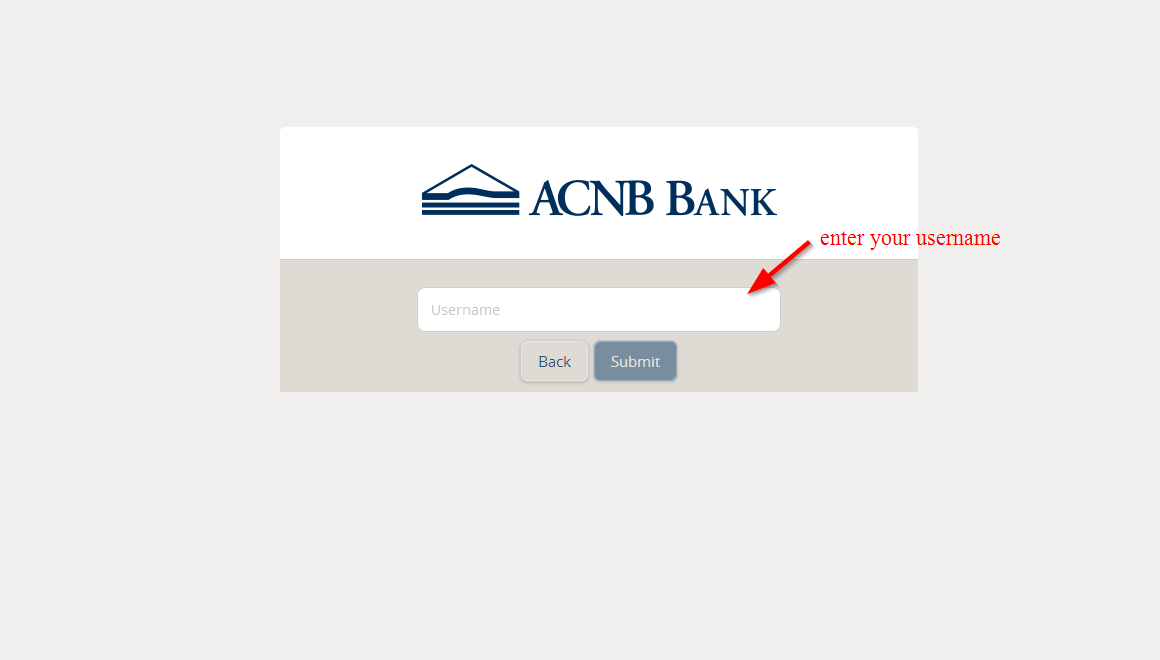 Make sure that you choose a strong password for your online account because this is important for your security
How to enroll
In order to register, you must be a customer of ACNB Bank. This is a simple process that should take much of your time provided you have reliable internet connection. These simple steps should help you to enroll successfully:
Step 1-Click the enroll link. See the image below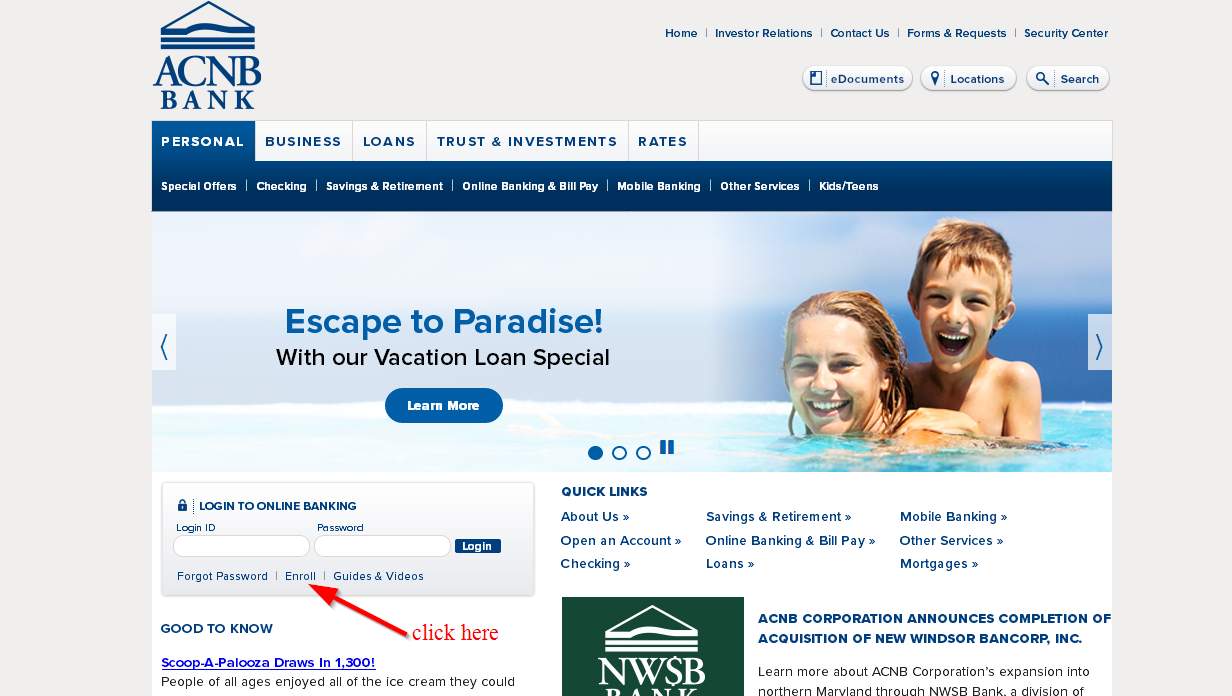 Step 2-Choose either consumer or business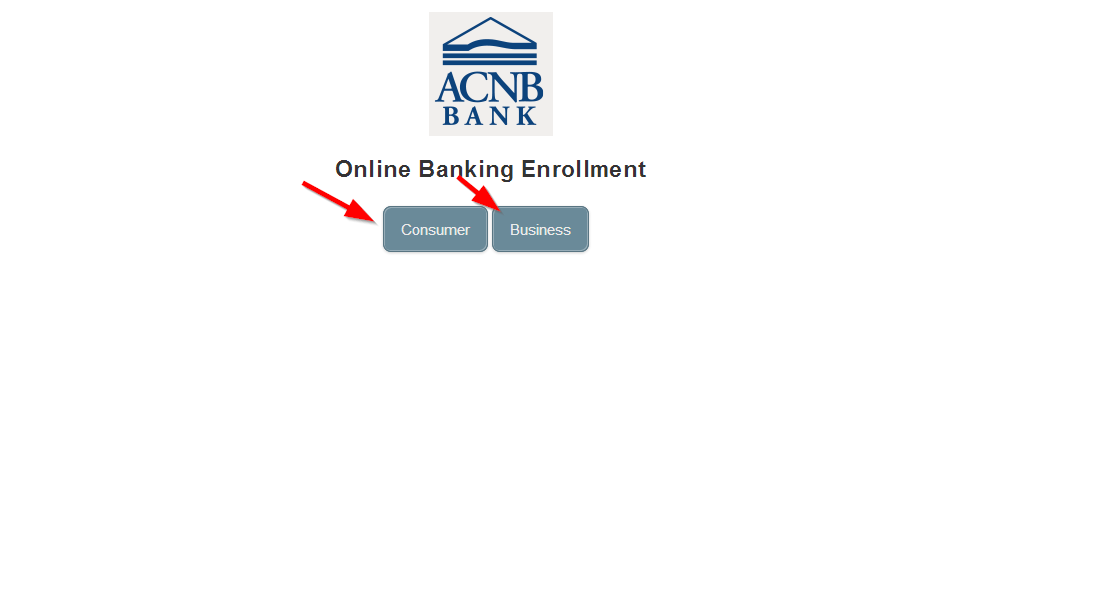 Step 3-Provide all the details that have been requested on the page and then click continue to enroll for the internet banking services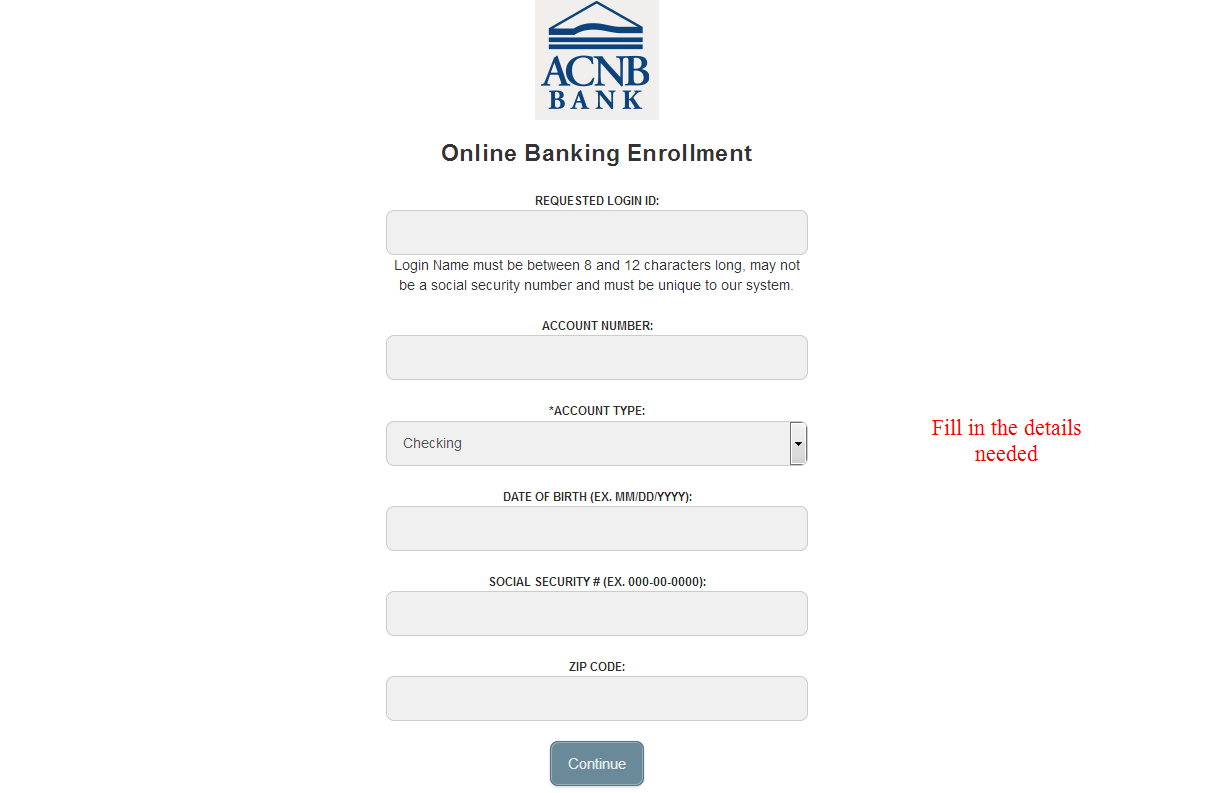 Manage your ACNB Bank account online
View your account balance
Check your transaction history
Transfer funds to other bank account
Access customer support
Find the nearest ATM or branch