Wells Fargo bank is a national association that offers full services. The bank makes loans, accepts deposits and offers a number of other services to the public.
Website: https://www.wellsfargo.com/
Routing Number: 125200057
Swift Code: See Details
Telephone Number: +1 800-869-3557
Founded: 1852 (171 years ago)
Bank's Rating:
Wells Fargo internet banking services enable customers manage their bank accounts and find ATMs and bank locations in the state. It's free to set up an online account with the bank provided you are a customer with a bank account. The internet banking services are available for both individual and business banking. In this post, you will learn how to login into your online account, how to change your password and how to register for the online services.
How to login
The bank has a website with an easy to use interface. This makes it easy for customers to login and bank anytime. Here are the steps you will need to follow to access your Wells Fargo online account:
Step 1-Start your computer, open your browser and enter https://www.wellsfargo.com/
Step 2-Enter your username and password and click 'login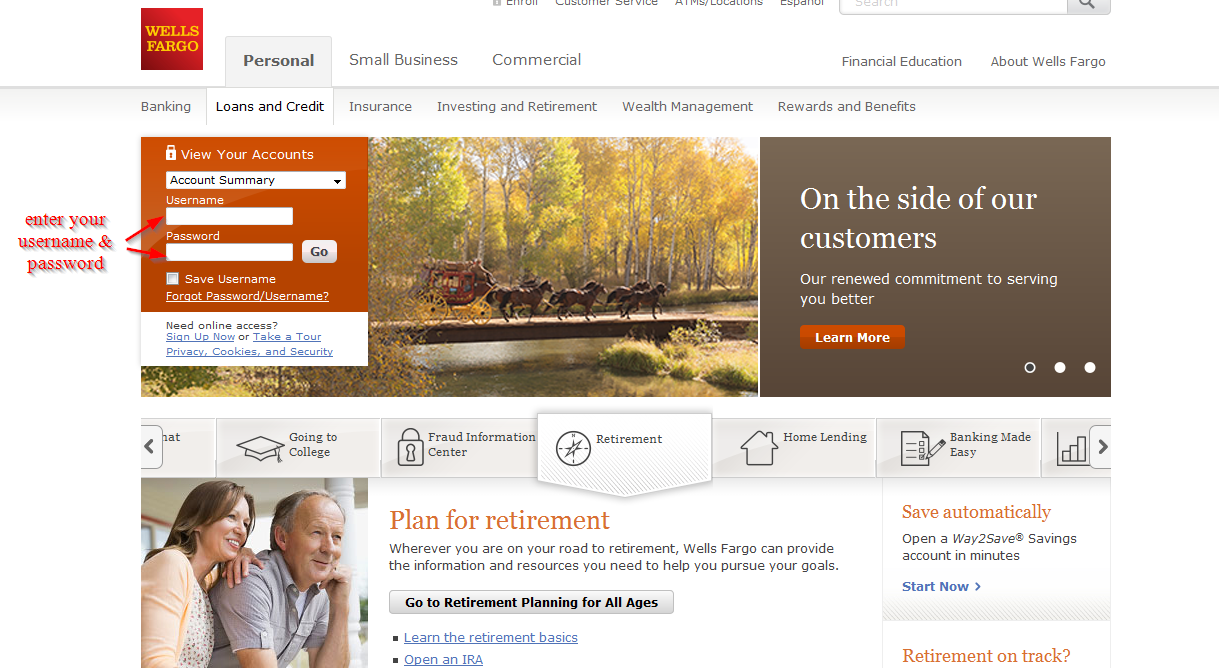 If you have used the correct password, you will be able to navigate to your dashboard
Forgot your password?
If you have accidentally forgotten your password or you want to reset it for security purposes, you can self-reset it by simply switching on your computer and following these simple steps:
Step 1-Go the Bank's homepage and click 'forgot password/username?'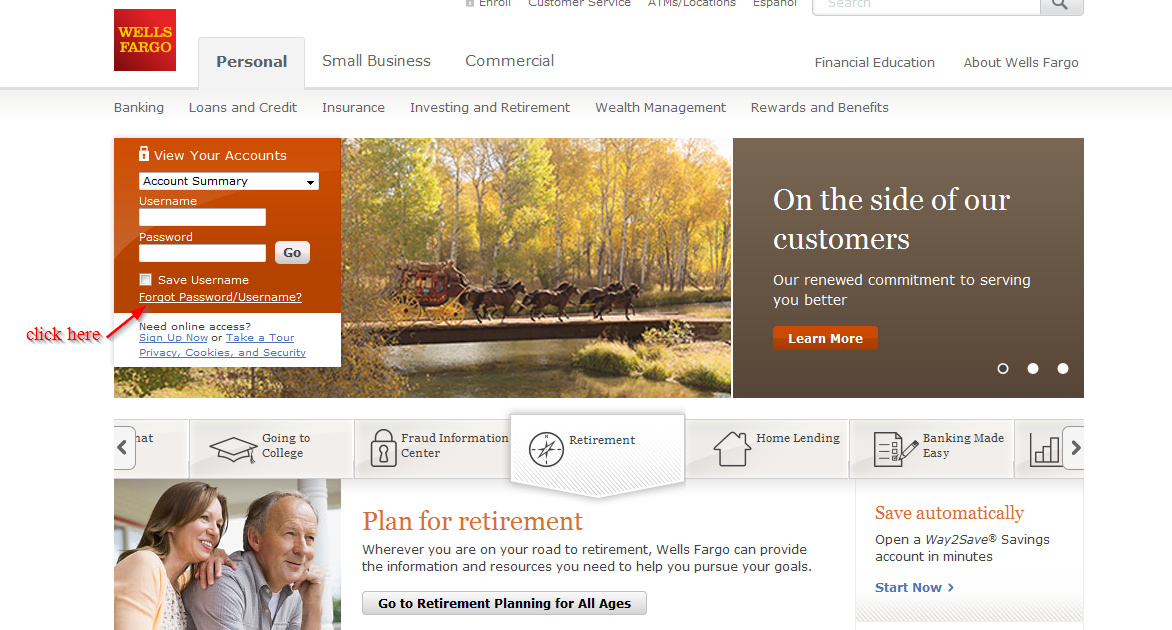 Step 2– To reset your password click 'create new password,' and to reset your username click 'find username.' In this case, we will be covering how to reset your password.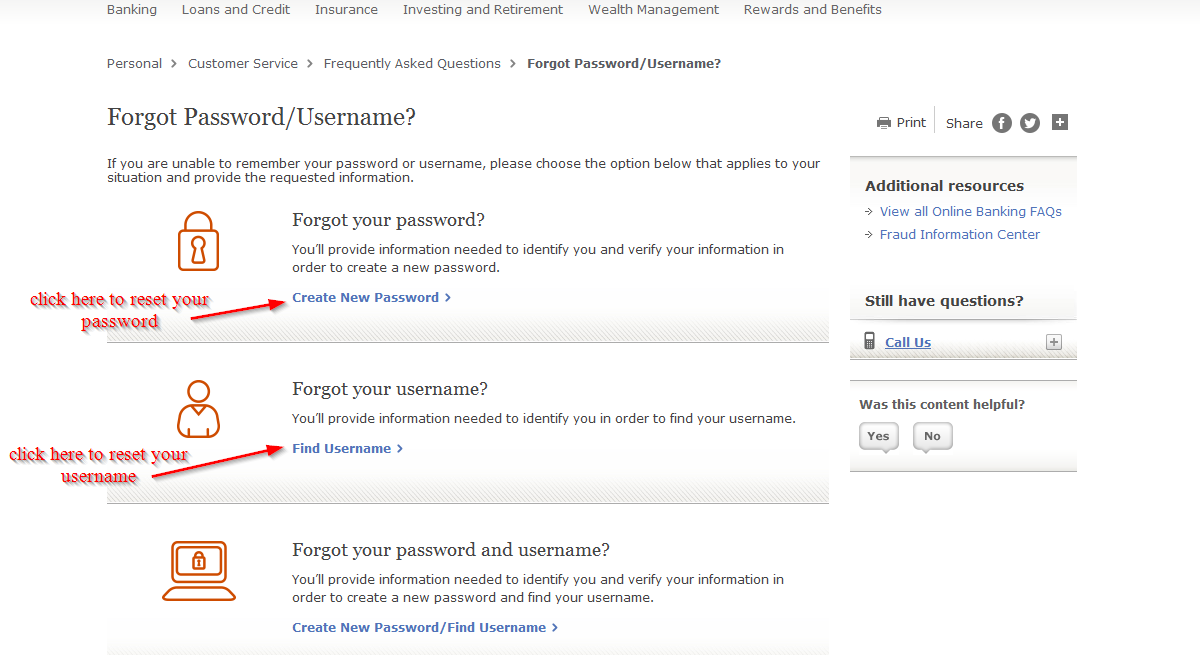 Step 3-Key in your username or your social security number or Individual Tax Identification, your account number, your date of birth and click 'continue'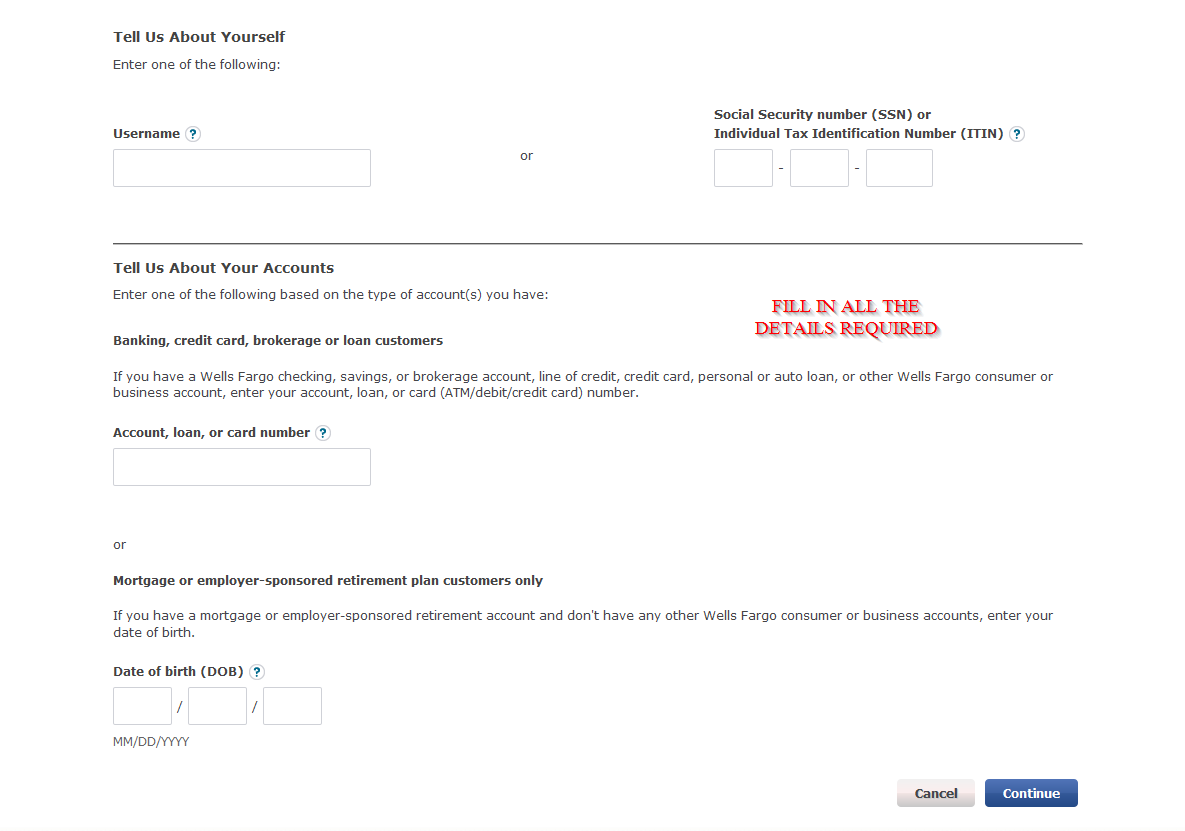 How to enroll
Enrolling is free provided you are customer and you have a bank account with Wells FARGO. As mentioned earlier on, these services are available for people who have individual and business bank accounts. Follow these simple steps to enroll:
Step 1-Go back to the homepage and click 'sign up now'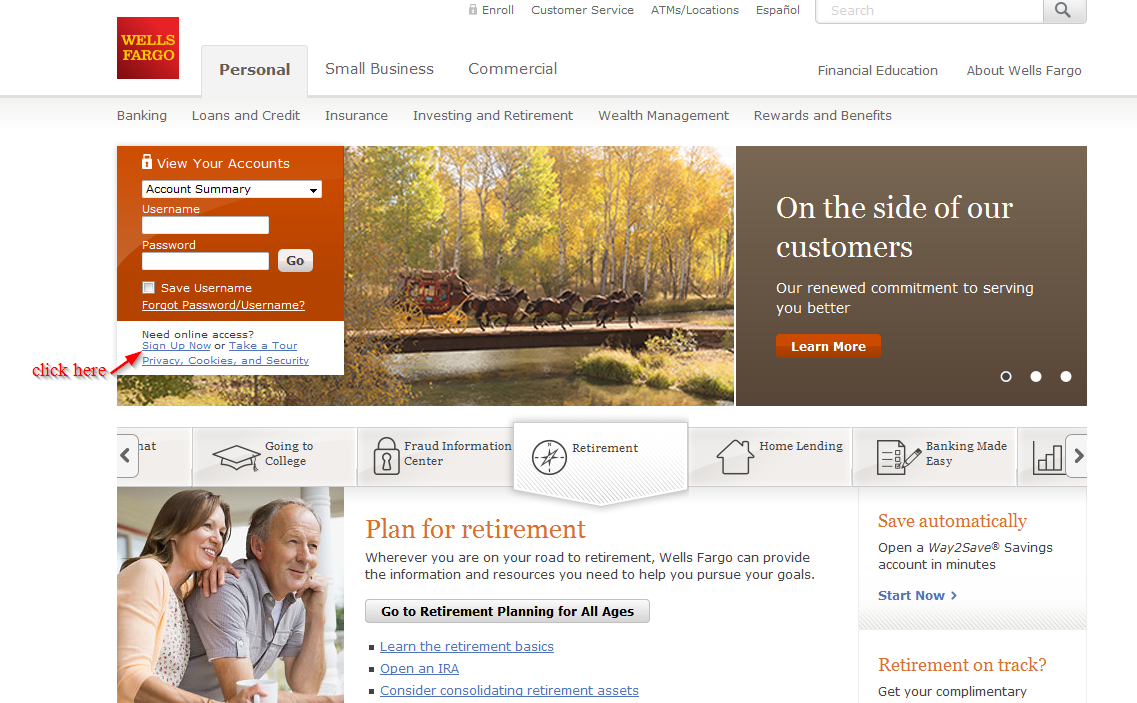 Step 2– Enter your social security number; Loan, Account or ATM/Debit Card No.; email address and click 'continue'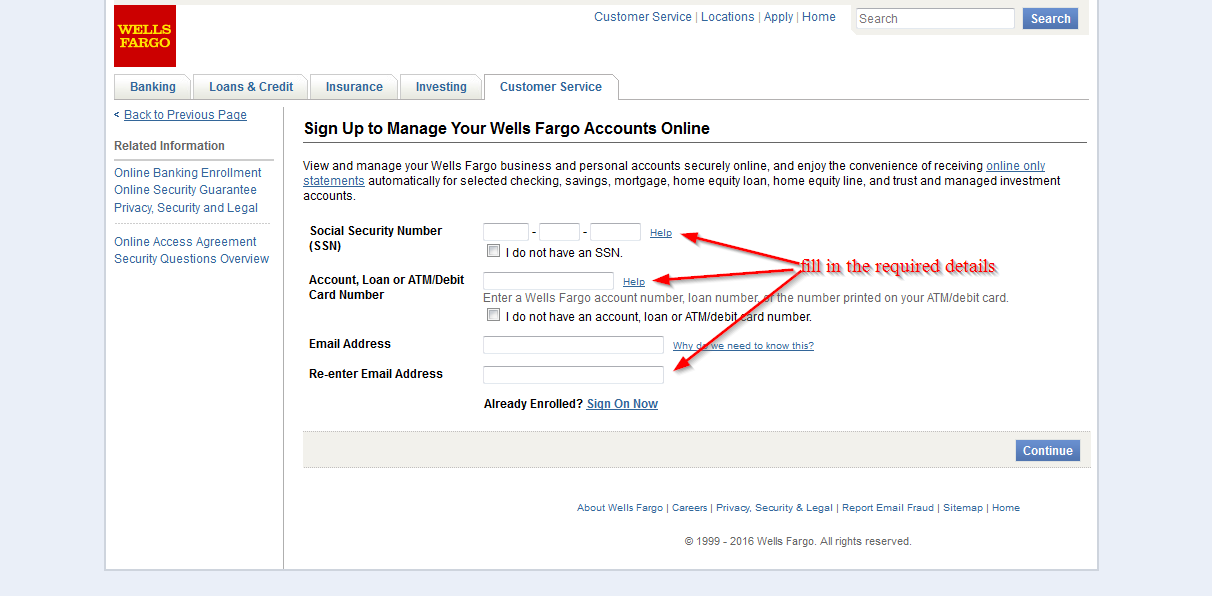 Manage your Wells Fargo online account
Some of the notable benefits of enrolling for the online banking services offered by Wells Fargo include:
Find an ATM using the ATM locator on the bank's website
Get your eStatement
Make check requests
Pay your bills online
Transfer funds
Wells Fargo Review
Wells Fargo (NYSE:WFC) is an international banking and financial services company based in San Francisco, California. Founded in 1852, the company has $2.0 trillion assets and its vision is to satisfy its customer's financial needs.
Wells Fargo offers banking mortgage, insurance and investment, personal and business finance through over 8,500 locations, 13,000 ATMs, online banking and mobile banking, and boasts offices in 42 countries and territories to provide support to customers who run businesses in the global economy.
Wells Fargo has more than 70 million customers (one in every three households in the U.S.). At the end of the first quarter of 2015, the bank ranked 4th in assets among banks in the U.S. and was the most valuable bank in the world by market capitalization.
In 2014, the Barron's magazine named Wells Fargo 'The Most Respected Bank.' The Chronicle of Philanthropy ranked the bank's corporate cash in the top two among all companies in the U.S. each of the past two years.
Wells Fargo Savings and checking accounts
The Wells Fargo checking account requires a minimum opening deposit of $50. Depending on your type of account, the bank's monthly service fee ranges from $10 and $30.
You can however avoid the fees by using a debit card to make ten purchases, keeping a minimum daily balance of $1,500 or making direct deposits of $500.
These are unusually easy-to-meet requirements for a major bank, which basically makes it the ideal account for those who have low to moderate incomes.
What you should be aware of:
An overdraft fee of $35
A 3% fee on all international debit card transactions
High fees for out-of-network ATM
A $12.5% fee for every transaction from savings accounts that have been linked for overdraft protection
Savings accounts have a minimum opening deposit of $25 and a monthly service fee of $5, which is usually waived if you manage to maintain a daily balance of $300, if you are under 18 years or have recurring saving options.
When it comes to interest, you shouldn't expect much since the APY is only 0.01%. Then again, the bank's automated savings feature and also the ability to transfer as less as $1 a day from a checking account makes this savings account less intimidating and easy to use.
Benefits
Wells Fargo bank has been around for so many years, and they've discovered a few benefits that customers can take advantage of. There are many benefits of banking with Wells Fargo.
Aside from being a traditional bank, they have also gone a mile further to offer internet banking services which can be accessed from anywhere as long as the users have registered. Here are the benefits of Wells Fargo:
Customers who have a substantial balances, that is between $1,500 and $5,00, get to receive a free checking as well as a 0.05% APY
Daily transfers to savings account is very low
Easy to get your savings and checking fees waived
Comprehensive financial services and banking all under one roof
Quality customer support
Online banking services
Its website has a user-friendly interface and the bank also provides mobile apps for iOS and android users.
Has a wide geographical coverage in the United States
Downsides
Just like other banks, Wells Fargo has its own downsides. The bank has many branches around the world and there certainly are a few drawbacks that customers experience. They include:
International travelers have to pay high fees. I you don't have $25,000 in your Premier Checking account, you will have to pay a foreign transaction fee of 3% and $5 for using ATMs located outside the United States
Customers who have lower balances usually get laughable interest rates
A $2.50 fee for an out-of-network ATM
ATM network is not huge for this bank
Conclusion
Generally, Wells Fargo is reliable, friendly and personable, and many customers have said that they listen, respond and also help their customers to improve their finances and understand their money situation.
Many customers don't have a problem with fees since what they consider most is how a bank treats them and they have surely confirmed that the bank treats its customers well.