Regions bank is one of the nation's best full-service providers of commercial and consumer banking, mortgage, insurance services and products. The bank was founded in 1971.
Website: https://www.regions.com/
Routing Number: 082000109
Swift Code: See Details
Telephone Number: +1 800-734-4667
Founded: 1971 (52 years ago)
Bank's Rating:
Regions Bank has embraced technology by offering internet banking services that allows customers to comfortably and conveniently access their bank accounts anytime. These services are available for customers who have personal and business banking accounts. The advantage is that access your online account is easy and it's free to create an account. In this guide, will take you a step by step process on how you can login, reset your password and register.
How to login
Just like your Facebook or Twitter account, you will need your login details to access your online account. Follow these simple steps to login into your Regions Bank online account:
Step 1-Open https://www.regions.com/  in your web browser
Step 2-Enter your online ID and password and click "login"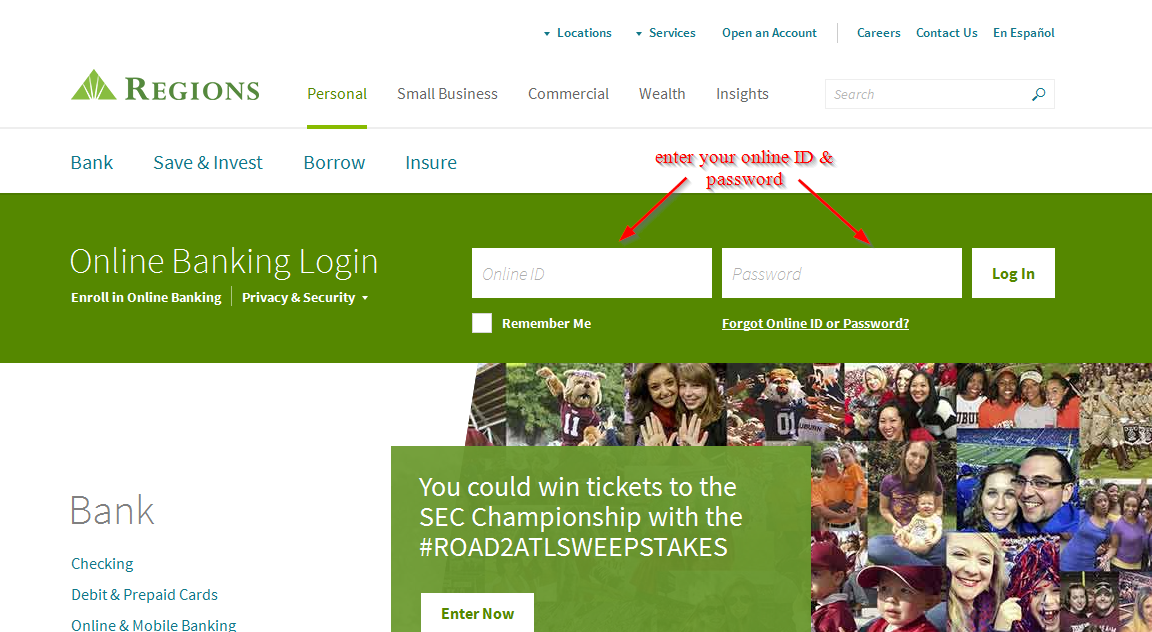 The site will take you to your dashboard
How to reset your password
You will not be granted permission to access your online account if you use a wrong username or password. For this reason, you will need to reset your password. Here are the steps you will need to follow:
Step 1-Go to the Homepage and enter your user ID and click "forgot online ID or password?"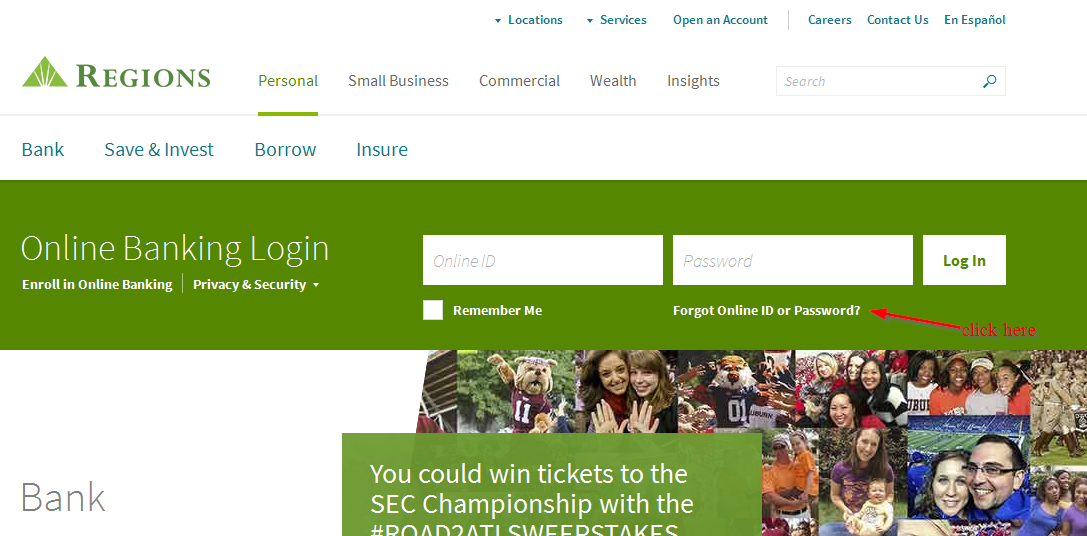 Step 2-Enter your online ID, card number and pin and click "continue"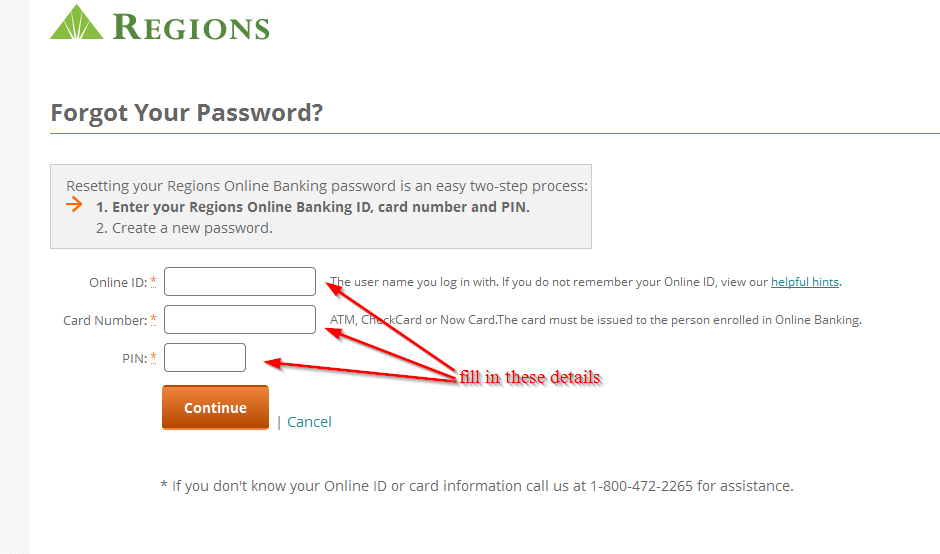 You will then create a new password for your online account
How to enroll
If you have an account with the bank, you can enroll for the internet banking services so that you can manage your account and access it anytime. It only takes a few minutes to enroll and it's also free! Follow these steps to enroll:
Step 1-Go to the homepage and click "personal"
Step 2– Click "enroll in online banking now"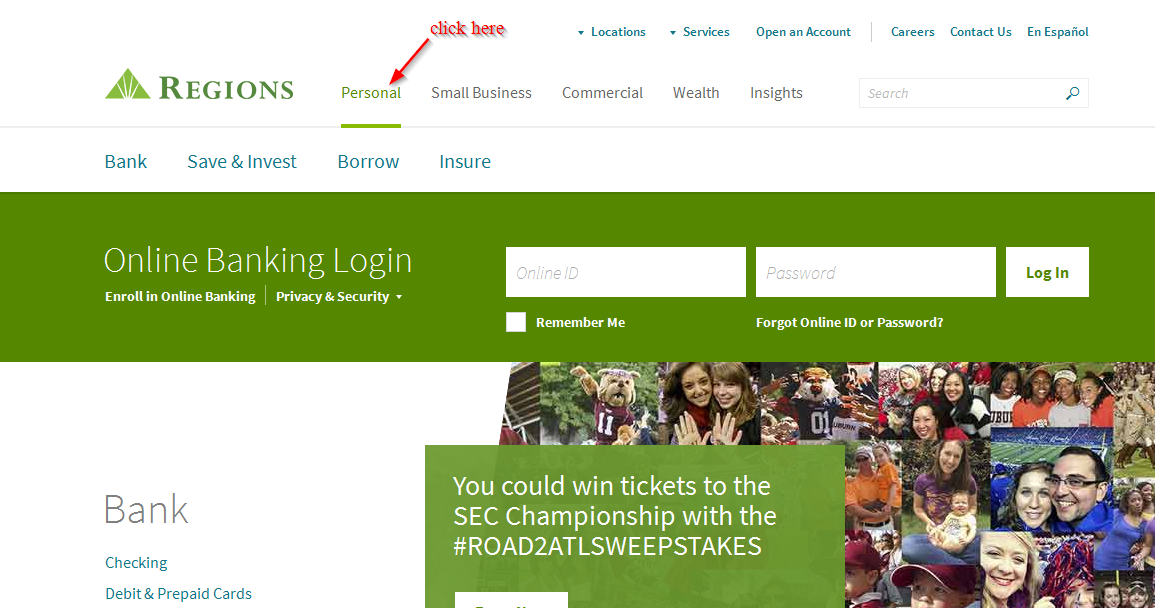 Step 3-Click "get started"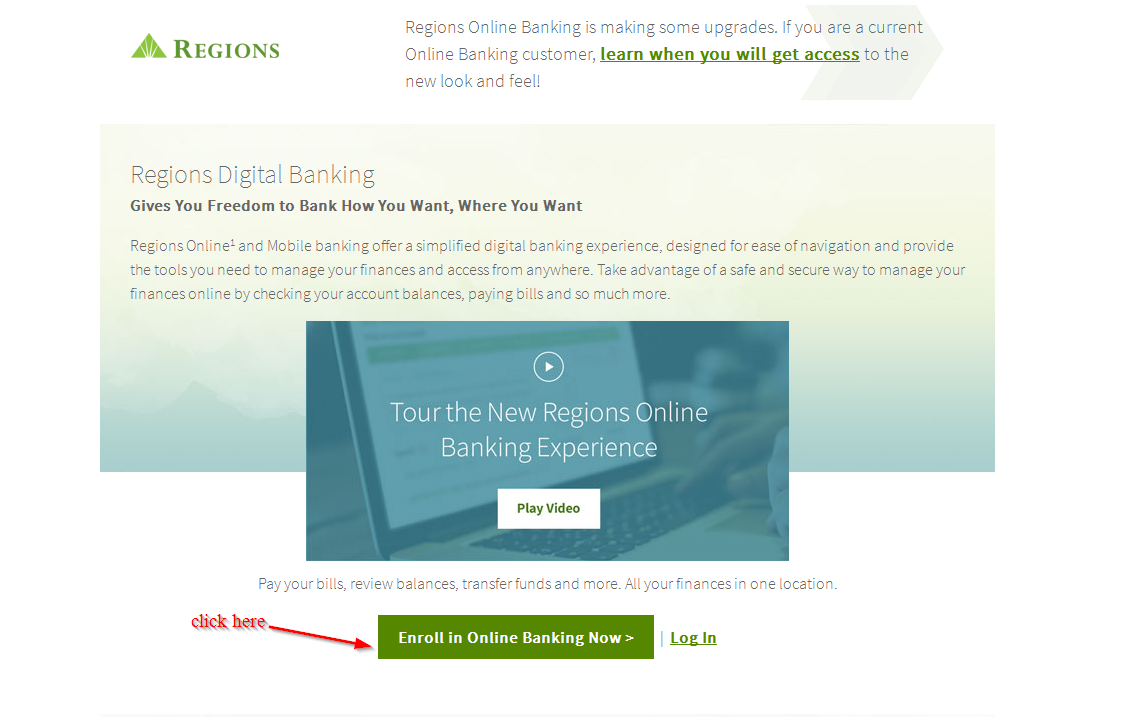 Step 4-Fill in the details carefully and click "continue"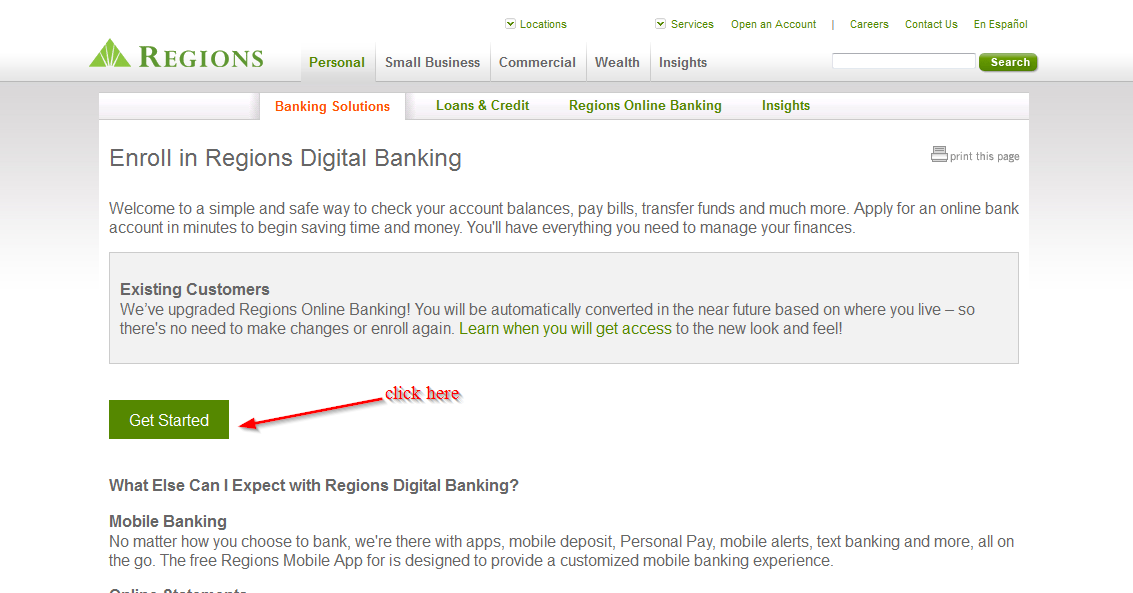 Manage your Regions Bank online account
As stated earlier own, these internet banking services are free and customers can bank anytime provided they have enrolled. The benefits for these services include:
It's easy to make payments
You can conveniently transfer money between accounts
You can check your account balance
You can locate the nearest ATM
You can open an account
Regions Bank Review
Regions Bank is financial services bank headquartered in Birmingham, Alabama. The bank provides commercial and retail banking mortgage, trust securities brokerages and insurance services and products.
The bank is the only member of Fortune 500 based in Alabama and ranked No. 436 in 2017. It also ranks among the largest banks in the U.S.
Regions bank has 1,527 banking offices and 1,906 ATMs in 15 states in the Southern U.S. As of 30th July 2016, the bank was the largest deposit holder in the state of Alabama, with local deposits of $22.586 billion. Regions Bank is also the largest deposit holder in Tennessee with total deposits of $17.2 billion.
Regions Bank review
If you want to open a deposit account with Regions bank so that you can manage your bills or save money, here are some options available:
Savings account-If you have money that you need to save in a bank account then you should definitely consider saving in this savings account. The savings account offered by Regions Bank makes it easy for you to maximize your personal savings. There are three types of savings account to choose from: low fee savings account, no-fee savings account or open an account for the kids and help them to develop responsible financial habits this early.
Checking account-The bank offers five checking accounts. Whether you are looking for an online checking account, interest checking, low-fee checking account, or direct deposit with limitless check-writing privileges, there shall always be an account for you.
Money market account-Are you not contented with the rate of return on your Regions savings account? Well, you may not be the only one. The money market account offered by Regions Bank can help you to achieve your financial goals. There are two types of money market accounts: Basic and premium account. Whether you are saving for retirement, nest egg or down payment, a money market account will certainly put you on the right track.
Certificate of deposit-You can not only earn money through a money market account. Regions certificate of deposit rates are very competitive and returns are guaranteed. In addition, there is no interest compounds daily, and maintenance fee. There is also the option of automatically renewing your CD at maturity.
Other personal banking products offered
For those who want to build their credit or access a loan, Regions bank offers some products for you to:
Credit card-There are four types of credit cards offered by Regions Bank. For those looking for an account to help them build their credit history, or simply a card with bonuses, such as trip cancellation insurance or lost luggage replacement, a Regions credit card could be the best fit.
Mortgage loan-Mortgage rates offered by Regions Bank are always at an all-time low. Whether you want to buy or build a home, you will always find mortgage options that meet your needs.  A home loan may also be the solution if you want to refinance your mortgage or apply for home equity loan.
Auto loan-If you are refinancing or buying a car, get a loan with Regions Bank and take advantage of rates that are as low as 2.04%.
Benefits
Bank on the go with mobile services, thus saving time and money
Use the bank's Online banking with Bill Pay to create automatic bill pays
Secure mobile banking and fraud protection options keep you at ease
Get rewarded for using Regions Visa CheckCard for purchases
Choose online statements and save the environment
Convenient online transactions
Overdraft protection protects you against balance draws
Email messages and mobile alerts keep you informed
Downsides
A $10 monthly fee just for keeping paper statements
An $8 monthly base account fee
You can only avoid monthly fee if you have a minimum direct of $500 each month or $1000 in combined monthly deposit
You also need $50 minimum deposit to open an account
Conclusion
Regions Bank is one of the best banks in the United States. Its online banking and mobile banking options allows you to conveniently access the banking services even when you are on the go. However, you will need to deposit $50 to open an account with the bank.
---