First Financial Bank operates as a community bank that offers personal and business banking services. The bank was founded in 1834 and it operates as a subsidiary 0f First Financial Banc Corporation.
Website: https://www.bankatfirst.com/
Routing Number: 111301122
Swift Code: See Details
Telephone Number: 800-511-0045
Founded: 1834 (189 years ago)
Bank's Rating:
With First Financial Bank internet banking services, you don't have to queue at the bank or an ATM to pay your bills or check your account balance. The online banking services offered by the bank are completely free and customers can login anytime to manage their bank accounts. Follow this guide to learn how to login into your online account, reset your password and register for the internet banking services.
How to login
The bank has an easy to use platform that makes it easy for customers to login into their online accounts anytime. You will need your login ID and password to access your online account. Follow this step by step guide to login:
Step 1-Open https://www.bankatfirst.com/  in your web browser
Step 2-Enter your login ID and click "go"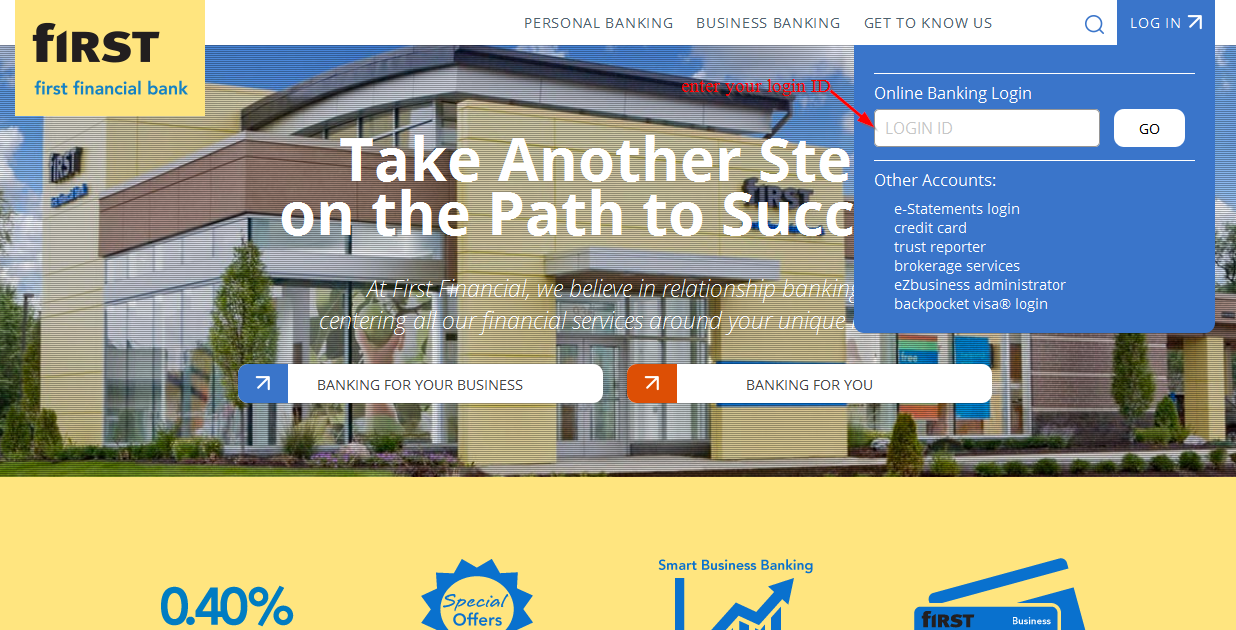 Step 3-Enter your password
You will navigate to the bank's dashboard if you have created used the correct logins
How to reset your password
You can reset your password anytime as long as you have a login ID. The login ID is important in verifying that you have an online account with the bank. Unlike other websites that allows you to reset your password anytime, this one will require you to contact the customer support to reset your password.
How to enroll
To enroll for the internet banking services that are offered by the bank, you will be required to provide a few details about your bank account, including your bank account number. Here are the steps to follow to successfully login:
Step 1-On the homepage, click either "banking for your business" or "banking for you." In this case, we'll choose banking for you.
Step 2– Click "enroll online banking"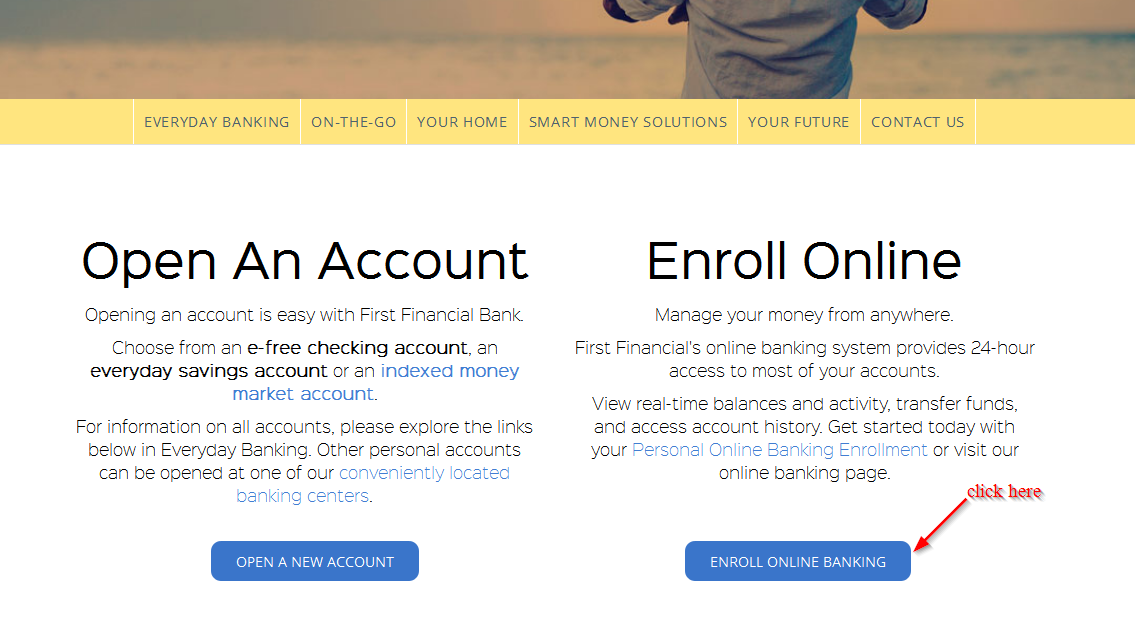 Step 3-Click "get started"
Step 4-Follow all the steps that are required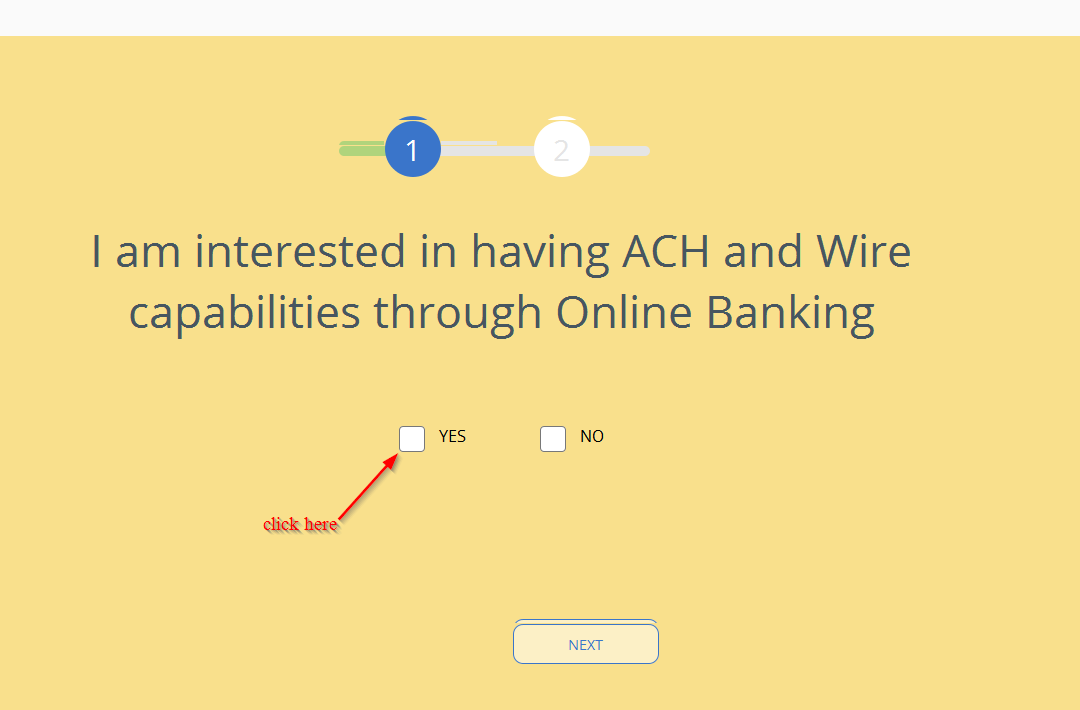 Manage your First Financial Bank online account
The advantages of having an online account with First Financial Bank include:
Full time access to your bank
You can also apply for loans
Pay your bills
Track transaction history
Get transaction alerts
Report a stolen or lost card
First Financial Bank Review
First Financial Bank is an American based bank founded over 126 years ago. The bank has served the financial needs of its customers, helping them to save and manage their money.
The banking industry has been facing problems recently but First Financial Bank has continued to grow and expand through acquisitions, expansion of their services and new branches. The bank is known as one of the most secure financial institutions in the United States with assets over $653 billion. The bank was founded in 1863 and is based in Cincinnati, Ohio.
Benefits
There are many benefits that First Financial Bank brings to the table. The bank has been providing financial services for a very long time. Here are a few benefits:
Loan options
Being one of the most secure financial institutions in the nation, First Financial Bank has devised methods to meet the financial needs of their customers. The bank offers banking solutions to consumers for personal banking, businesses and also provides wealth and trust management products.
For individual use, the lending capabilities of the bank are very competitive. They compete in terms of low interest rates and also offer a wide range of loans to their consumers. Personal loans offered by the bank include:
Auto loans-Whether you are looking for a used or new car, the bank's competitive rates, automated payment options and flexible terms puts its customer's on the driver's seat
Recreational loans-The world is a fun place and the bank has loan to help its customers experience it. Customers get to enjoy competitive terms and rates, campers, motorcycles, motor homes, trailers, boats or whatever excites you
Mortgage loans-From conventional loans to FHA and VA, the bank offers financial solutions that are custom built for you. The bank's expertise can take the stress out of mortgage borrowers
Home equity loans-Whether you are looking to cove college tuition, consolidate debts or remodeling, this loan can certainly put your home's equity to perfect use
Personal loans-If you are looking for some extra cash to consolidate debts, handle your family's emergencies, go to a vacation or pay bills, you can enjoy competitive rates and terms with First Financial Bank personal loans. The bank also offers private lines of credit.
CD secured loans-If you have a certificate deposit account, you can use it as collateral to get a loan. The bank will process your loan quickly and at a reasonable rate
Checking account options
First Financial Bank offers four different types of checking accounts. Regardless of the account you choose, there will certainly be features that will be provided across the board. Some of these features include: free eStatement, paper statements with images, online banking, free debit card and mobile banking. The four checking accounts offered include:
WOW! Checking-This includes cell phone protection and ID theft protection
Interest checking-If you are looking for an interest checking account then this is the best account for you
Heritage checking-This accounts offers very competitive interest rates
First Checking-This is the perfect account for first-time account holders.
Savings account
The bank also has checking account for customers to enroll in. The types of savings account offered by the bank include: health savings accounts, savings account for children and basic savings accounts. For the basic savings account, you don't need a minimum deposit and no monthly service.
Downsides
The disadvantages of banking with First Financial Bank include:
For commercial clients, the lending opportunities are limited. The bank only offers business loans to businesses, regardless of their size. What that means that most of the standards loans that banks offer to businesses are not provided. Some of the missing loans are: retail loans, lines of credit and construction loans
One of the main drawbacks of the bank service is their limited locations. The bank only operates in the state of Texas. This means that if you are living in other states, it will be difficult for you to access the banking services.
Conclusion
First Financial Bank has been providing banking services to Texas residents for a long time as they work to better save and manage their money. The bank offers a range of quality banking solutions, but there are a few downsides such as limited locations that you have to know
---