MUFG Union Bank, N.A. offers retail, corporate and commercial banking services, as well as wealth management solutions in the United States. The company operates as a subsidiary of MUFG Americas Holdings Corporation.
Website: https://www.unionbank.com/
Routing Number: 122000496
Swift Code: See Details
Telephone Number: +1 800-238-4486
Founded: 1996 (27 years ago)
Bank's Rating:
Union Bank offers online banking services, which includes the latest technologies and securities, to enable customers to access their bank accounts anywhere anytime. It's free to enroll to the internet banking services offered by the bank and customers can access their online accounts from anywhere around the globe. This guide will illustrate the steps you need to take to login into your account, reset your password and register for the internet banking services.
How to login
Logging into your online Union Bank is easy provided you have login details. Customers can access their online accounts anytime anywhere so long as they have their login details. Here are the steps you need follow to login. Follow these steps to login:
Step 1-Open https://www.unionbank.com/ in your web browser
Step 2-Enter your user ID and click "sign on"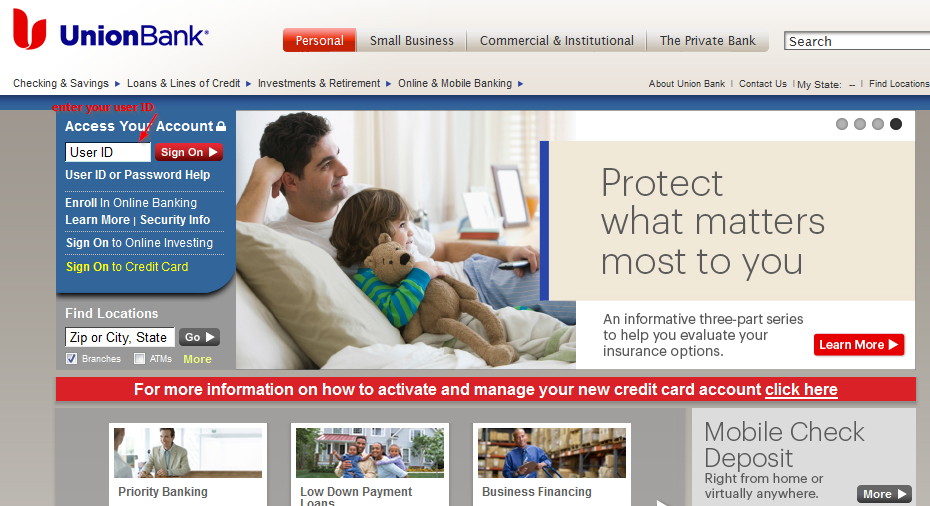 Step 3-Enter your password and click "submit"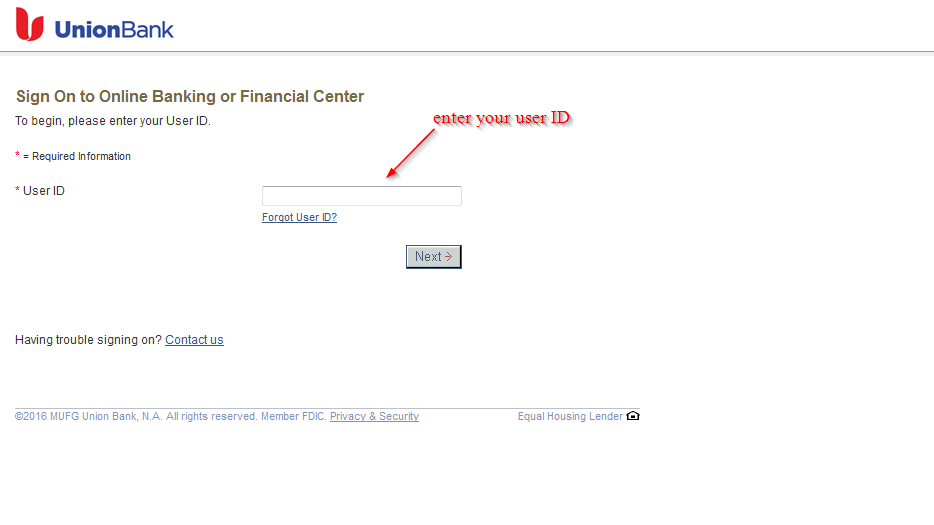 You will be granted direct access to your online account as long as you have used the correct login details
How to reset your password
If you have an online account with Union Bank and you cannot access your account because you have not used the correct password, you can reset it. Follow this guide to learn how you can to reset your password:
Step 1-Go to the homepage of the website and click "user ID or password help"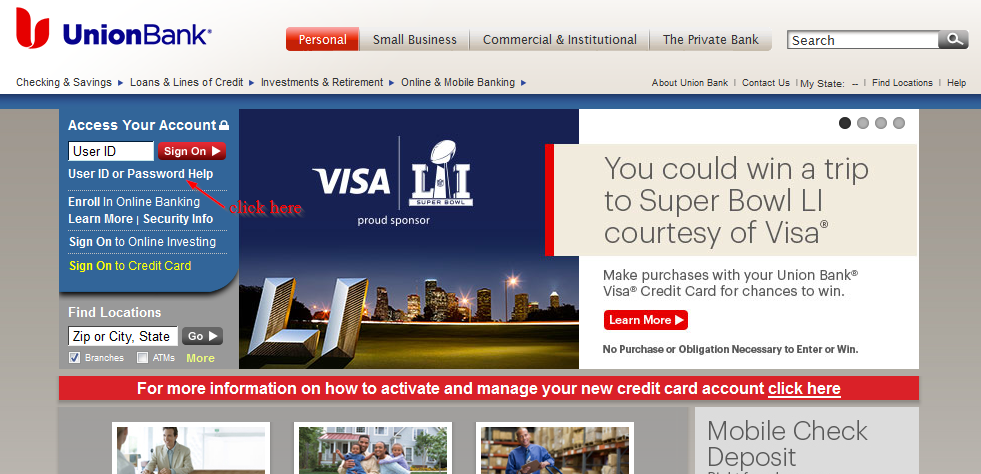 Step 2-Click "here" as shown in the image below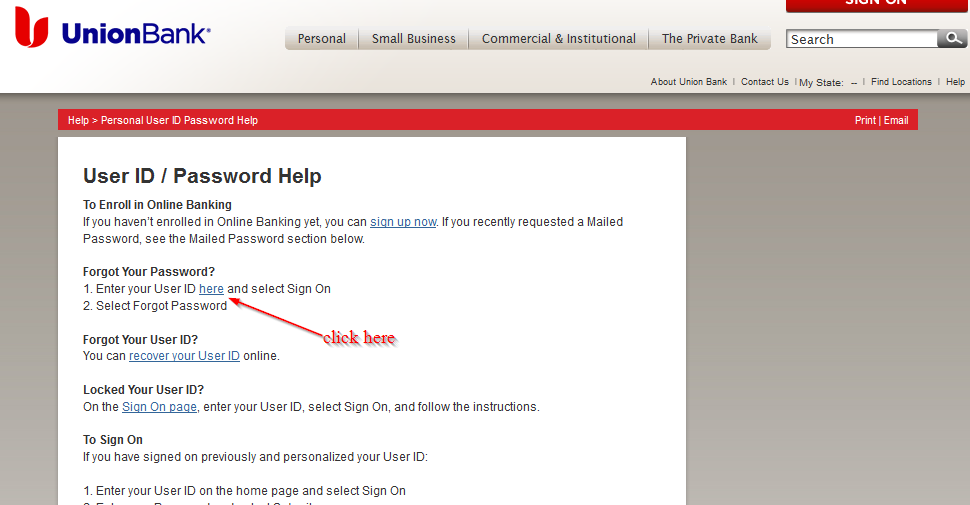 Step 3-Enter your user ID and click "next"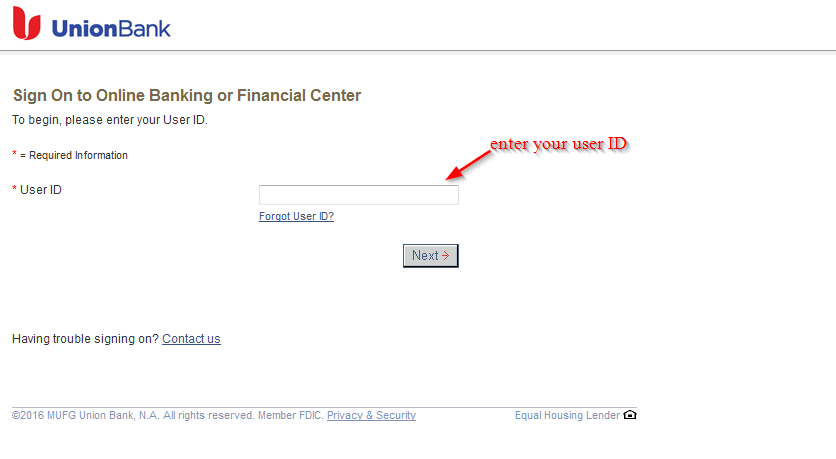 How to enroll
Union Bank offers free internet banking services, which are free to register. Internet banking services are only available to customers who have a bank account with Union Bank. Follow these steps to enroll:
Step 1-Start again on the homepage and click "enroll in online banking"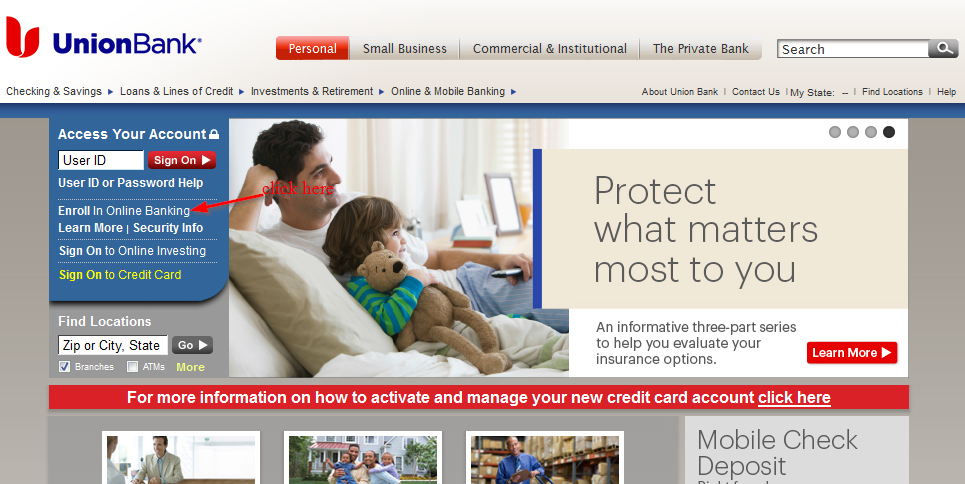 Step 2– Choose the type of PIN you have (debit/ATM PIN, telephone banking PIN, I don't have a pin or I only have a credit card). In this case, we will choose debit/ATM PIN.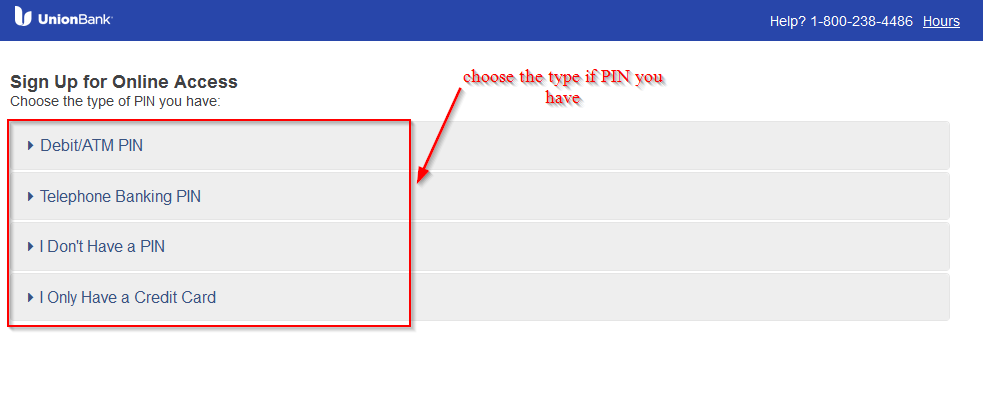 Step 3-Enter the last 8 digits of your Bank Debit/ATM card number, 4 digits/ATM Card Pin and your zip code, and click "continue"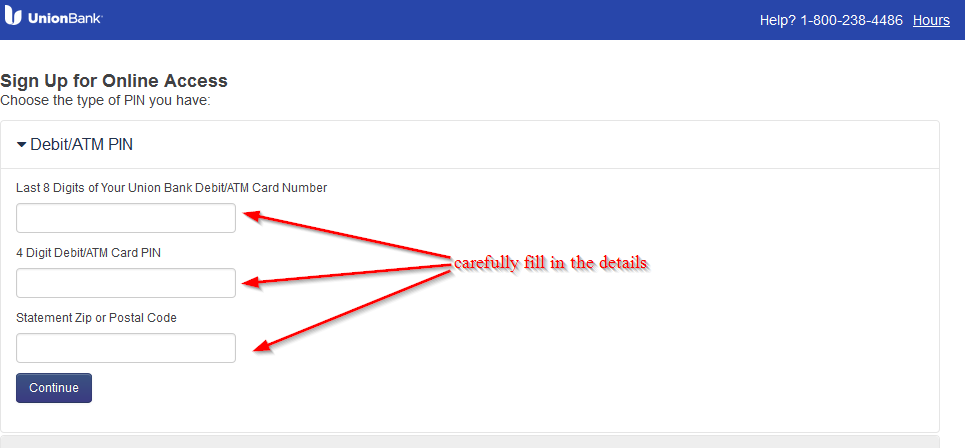 Manage your Union Bank online account
With an online account with the Union Bank, you can do the following:
Make payments anytime
Transfer money between bank accounts
Check transaction history
View reports
Access eStatements
Union Bank Review
Union Bank is a financial institution providing a range of products and services to its customers across the United States. The bank was founded in 1864 as The Bank of California in San Francisco, California. The bank has currently has more than $120 million in assets and is currently based In New York, New York. The bank offers many credit card options for customers with different rewards and rates. Other services offered include lending options, investment products, insurance and online account banking.
More credit card options
The bank has three credit card options with a number of features and benefits for its customers to choose from. The bank's Reward Visa credit provides 2,500 points on the cardholder's first eligible purchase with zero annual fees and for every dollar spent on grocery, the bank offers two points and one point for other things. Customers can also earn addition bonuses from between 25% and 50% for reward points that are deposited in personal banking accounts or towards mortgage principal reduction payment. The bank's Visa card with zero annual fees is meant for people seeking lower interest rate. The bank's secure Visa is meant to assistant customers that want to build a good credit history
Features and benefits
Union Bank credit cards have EMV chip security, unlimited account access and supplemental cell phone. Cardholders also get to receive a free FICO credit score. The Union Bank Rewards Visa credit and the Union Bank Visa credit features no percentage introductory APR for the first twelve billing cycles. This is the most suitable card for people who want to consolidate moderate amounts of debt that can be paid off in full in that period of time.
Union Bank offers a range of checking and savings account meant to help consumers to manage and save money.
Money market and savings account
To open a savings account with Union Bank, you need to deposit $50. These accounts have variable interest rates, which Union Bank pays out to its customers once every quarter.
Customers have the option of linking checking account to saving account. This provides overdraft protection. When you write a check in your savings account, funds from your checking account or money market account will be transferred automatically to your checking account to cover for the overdraft.
Union Bank's saving account has a monthly service charge of $4. Customers can avoid this by maintaining a minimum daily balance of $300 or by making a deposit of $25. Customers can also choose from one of Union Bank's money market accounts. These types of accounts usually pay out higher interest rates; however, they require a huge deposit to open. To open the bank's money market account, customers are required to deposit $2,500. Customers who maintain a minimum daily balance of $2,500, they can avoid a monthly service fee of $9 if they opt for online statements.
Union Bank also offers personal savings account that gives customers access to money market account features. You only need $50 to open an account with the bank. If you maintain a high balance then you will earn more interest. Rates for savings account range from between 0.01% APY and 0.15.
Benefits
Union Bank is one of the most popular banks in the United States and comes with many benefits to its users. Despite being a brick and motor bank, it has also embraced technology and customers can now bank online:
Flexible services and features
Customers only pay for the services they need
A low minimum deposit
Wide range of checking accounts
Many ways to avoid the monthly service charges
Free access for non-Union Bank ATM
Downsides
Union Bank is one of the best banks in the United States, but it also has its own downsides. For example, it has many locations which make it difficult to give their customers the same level of customer service.
Low interest rates
Fees required for regular banking procedures
Only wealthy users get to receive prime services and features
High minimum balance for high interest rates
Conclusion
Union Bank offers a range of credit card options and their savings and checking accounts are amazing. However, you should know that interest rates are usually low for these accounts.
---