PNC bank is one of the best financial services organization providing business and retail banking, real estate finance, asset and wealth management, specialized services for government and cooperation entities.
Website: https://www.pnc.com/
Routing Number: 031100089
Swift Code: See Details
Telephone Number: +1 888-762-2265
Founded: 1804 (219 years ago)
Bank's Rating:
PNC Bank offers internet banking services and this has made it easy for customers to manage their bank accounts. Customers who have a bank account with the bank visit the website and login anytime provided they have valid login details. This guide will be covering all the steps involved in creating an online account with the bank, logging into the online account and resetting your password.
How to login
It's easy to access your PNC Bank online account. You will need your user ID and password to login in. Follow these steps to login:
Step 1-Open https://www.pnc.com/ in your web browser
Step 2-Enter your user ID and click "login"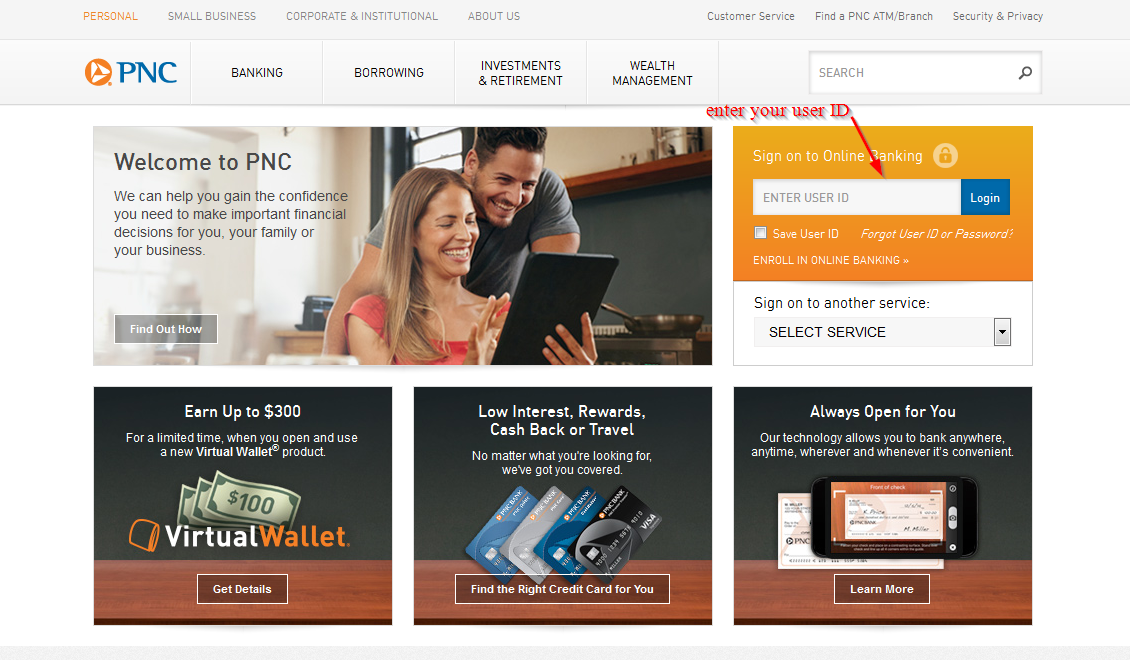 Step 3-Enter your password
So long as your have used the correct logins, you will be able to access your dashboard
Forgot your password?
The website has been configured in a way that you can't access your online account if you don't use the correct password. The good news is that you can reset the password. Follow these steps to reset the password:
Step 1-Go back to the bank's homepage and click "forgot user ID or password"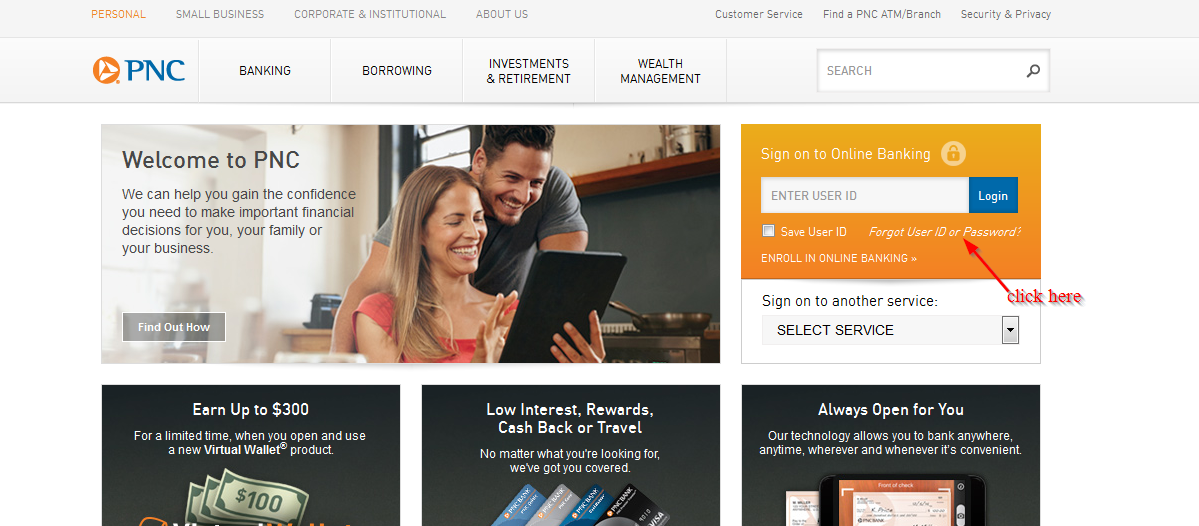 Step 2-Click "start reset password"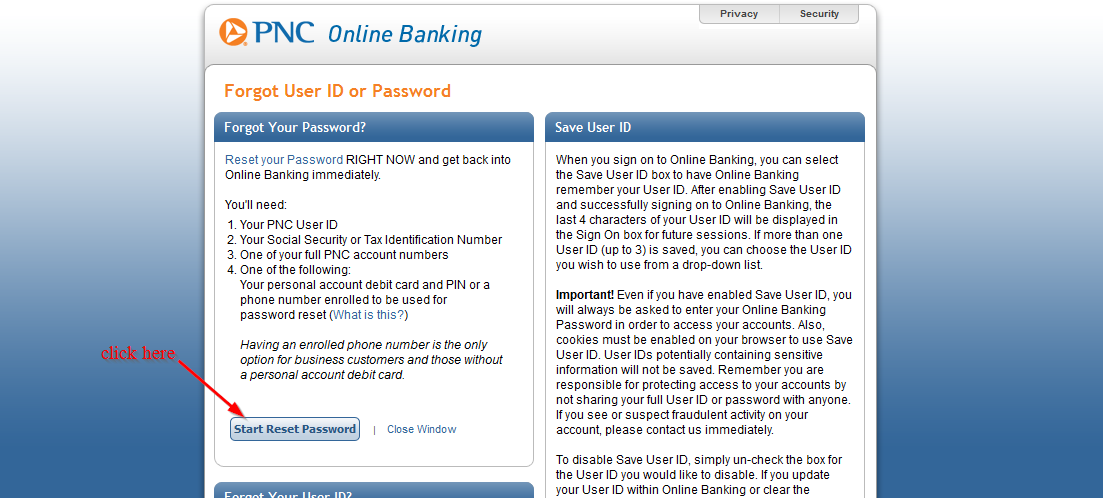 Step 3-Enter your online banking user ID, social security number or tax identification number, full PNC account number, and click "next"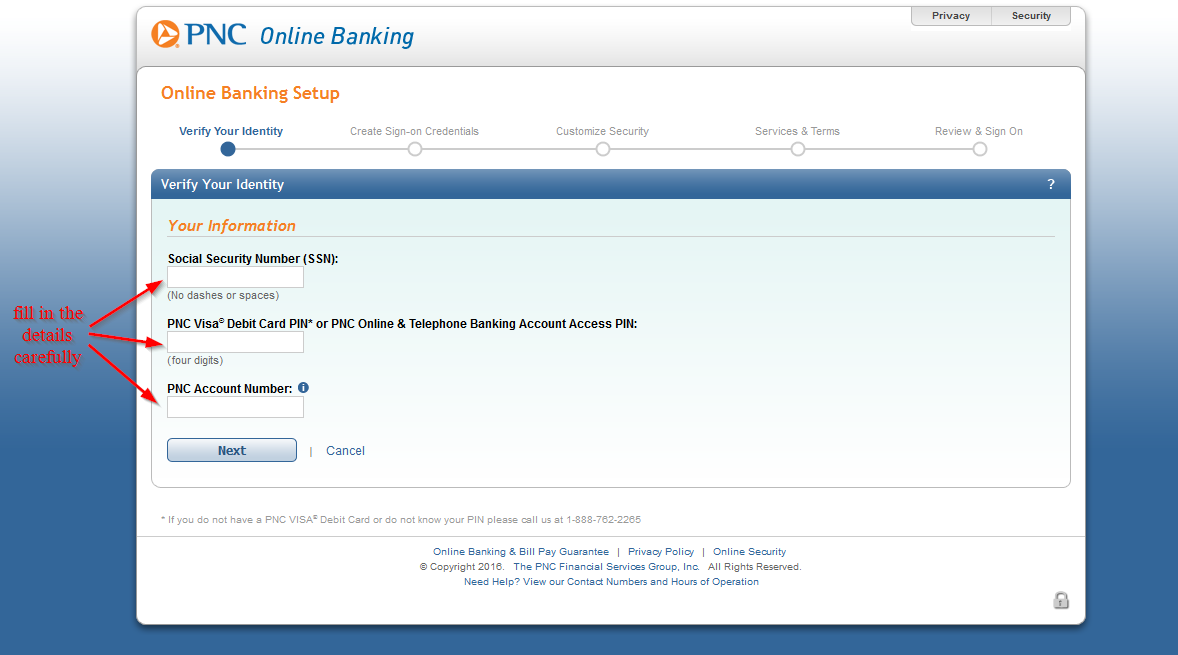 The Bank will generate a new password and send to your email address
How to enroll
These internet banking services are available to customers only. The advantage is that these services are free to enroll and customers can access their online accounts anytime. Follow these steps to login:
Step 1-Visit the Homepage and click "enroll in online banking"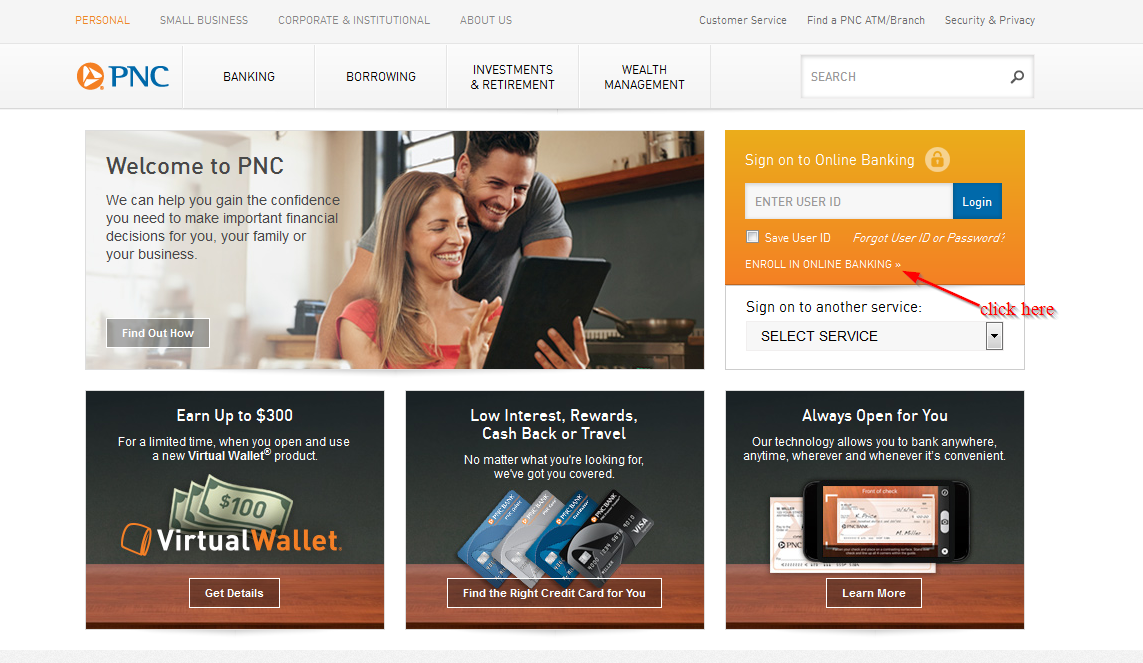 Step 2-Click "get started"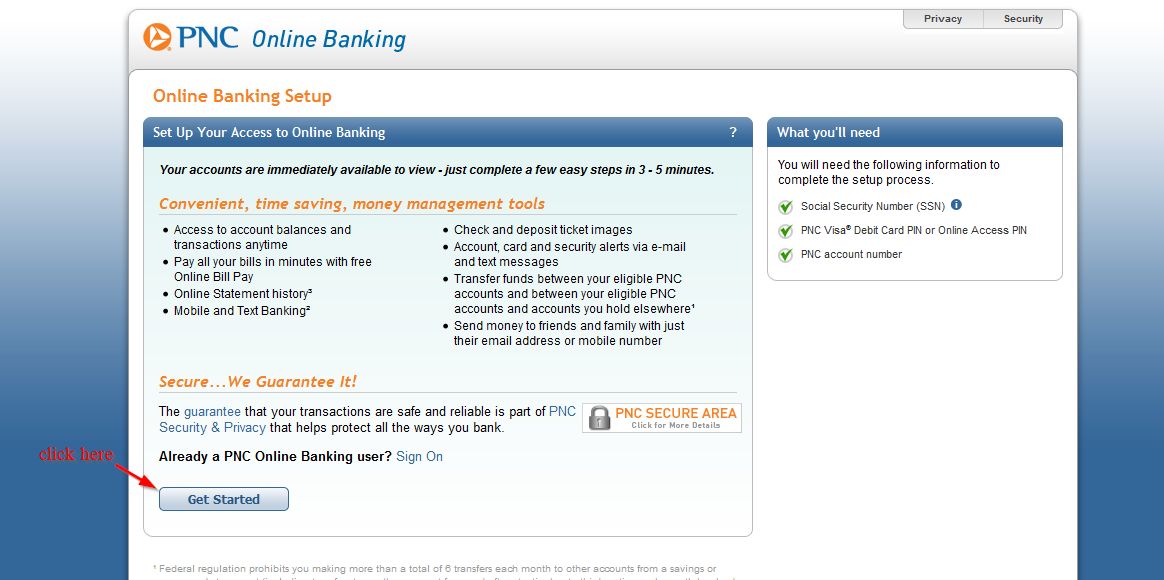 Step 3-Enter your social security number, PNC Online & Telephone Banking Account Access PIN or PNC Visa® Debit Card PIN*, PNC account number and click "next"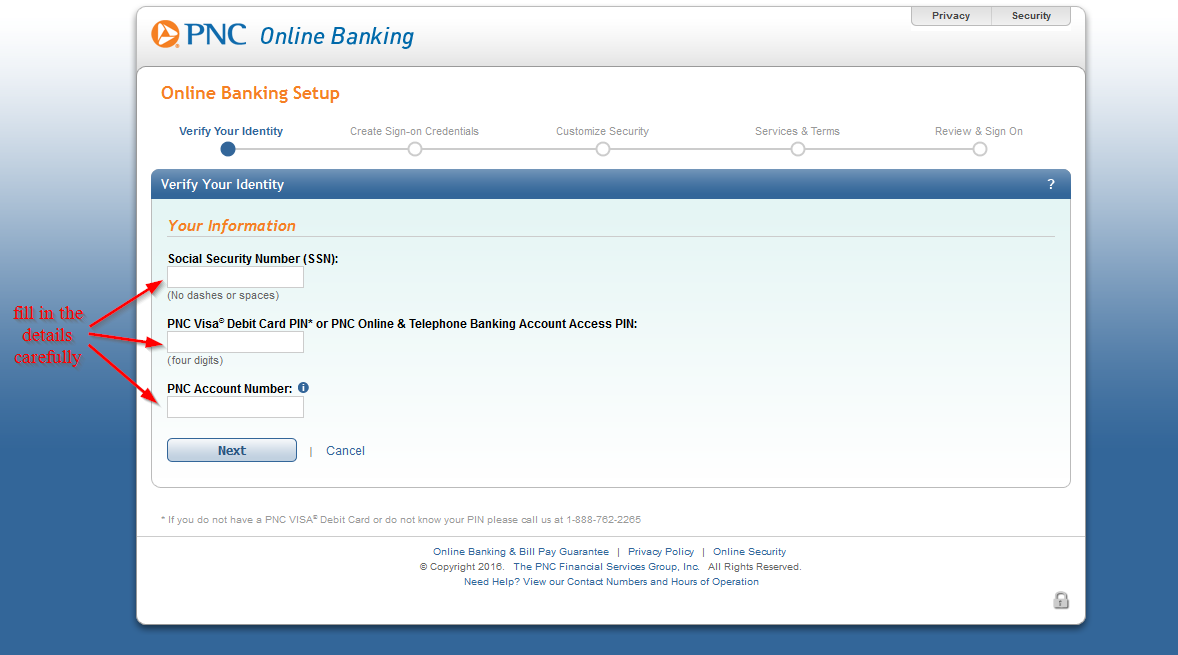 Manage your PNC Bank online account
Here are the benefits of having an online account with the bank:
You can make payments, including paying your bills
Access to your eStatements
You can check your transaction history
You can transfer money between accounts
PNC Bank Review
PNC Bank is a subsidiary of PNC Financial Services Group, Inc and has been providing financial services for more than 150 years. As of 31st December 2016, the bank has assets of approximately $366 billion and deposits of about $249 billion.
PNC Bank operates in 19 states in the United States and has 9,024 ATMs and 2,520 branches. It is the 5th largest bank in the United States by number of branch offices, 6th largest by deposits, 9th largest by total assets and 4th largest in number of Automatic Teller Machines.
In this PNC Bank review, we will provide you with an overview of the banking services and products offered by PNC Bank.
Products and services offered by PNC Bank
There are many options at PNC Bank, which is anyway good for customers who are looking for a broad range of lending services and deposit accounts. Some of the most popular products offered by PNC bank include:
Checking accounts-PNC Bank offers a range of checking account with overdraft options and online banking services. There are three checking options to choose from. Their mobile banking option makes it easy for them to manage their accounts from the comfort of their homes and the bank also reimburses ATM fees for its customers.
Savings account-The bank offers a range of saving accounts, including savings accounts for your children to learn the importance of saving money. The bank also offers traditional saving and money market account options. Any customer should be able to find a bank account that meets their needs.
Certificate of Deposit accounts (CD)-The bank also offers CD accounts with a minimum 90-day term and minimum balance of $1,000. To earn high CD rates, customers have the option for a longer Certificate of Deposit term.
Auto loan-The bank's auto loans make it easy to finance a loan, whether you are buying from a private seller or dealer. You will hear from the bank the same day whether the loan has been approved or not. The rates are competitive and the process is easier to manage.
Mortgages- The bank also offer traditional mortgages as well as refinance option and customers can also get a home equity loan through the bank. The mortgage rates offered by the bank are competitive with the current market rates. The bank offers a closing date guarantee and gives its customers a pre-approval if they are ready to look for a house
Benefits
One of the main advantages of banking with PNC bank is the many locations across the Eastern part of the U.S. The convenience that comes with having regular access to your bank accounts is truly appealing, particularly when you need access to a branch or ATM while traveling. The bank's mobile application also makes it easy for you to manage your bank accounts from anywhere in the world.
Another benefit is the policy of ATM fees refunding with certain accounts since the savings can simply add up, particularly when you travel extensively for business. The bank's customer service has also received good reviews from its customers.
Downsides
PNC Bank is a large bank in the United States, and this means that you may experience difficulty in getting the same level of customer support and the attention that you would get at a local credit union or small local bank. Reviews on commercial account are also more mixed when compared to reviews of personal accounts. Your banking experience will be influenced largely by the main bank branch and whether you like the mobile app provided by the bank or not.
Conclusion
It goes without saying that PNC Bank is a highly recommendable bank. Being a large bank, it is ideal for those who want easy access to their accounts across the country. And the refundable ATM fee is attractive and most depositors are required to meet their minimum balance requirements in order to qualify for this particular option. The fast response on loan applications as well as competitive interest rates on the bank's mortgage and auto loan products makes it easy to find financial help when you need it.
For those looking for a small bank that will give you a hometown feel, then you may have to look somewhere else. However, if you are looking for a basic bank with many locations then you should consider this bank.
---