BMO Harris bank was founded in 1882. The bank provides personal, business and commercial banking products and financial advisory services. The bank operates as a subsidiary of BMO Financial Corp.
Website: https://www.bmoharris.com/
Routing Number: 071025661
Swift Code: See Details
Telephone Number: +1 888-340-2265
Founded: 1882 (141 years ago)
Bank's Rating:
BMO Harris Bank is one of the most trusted banks in the US offering personal and business banking services. And now, it's offering internet banking services which enable customers to conveniently bank with BMO Harris Bank anytime. In this guide, we will be taking you through a comprehensive step by step guide to accessing your online accounts, changing your password and enrolling
How to login
You can login into your BMO Harris Bank online account from anywhere around the globe as long as you have internet connection. And you can also download an app on your mobile phone to access the bank account. Here are simple steps to help you login:
Step 1-Open https://www.bmoharris.com/ in your web browser
Step 2-Enter your username and password and click "login"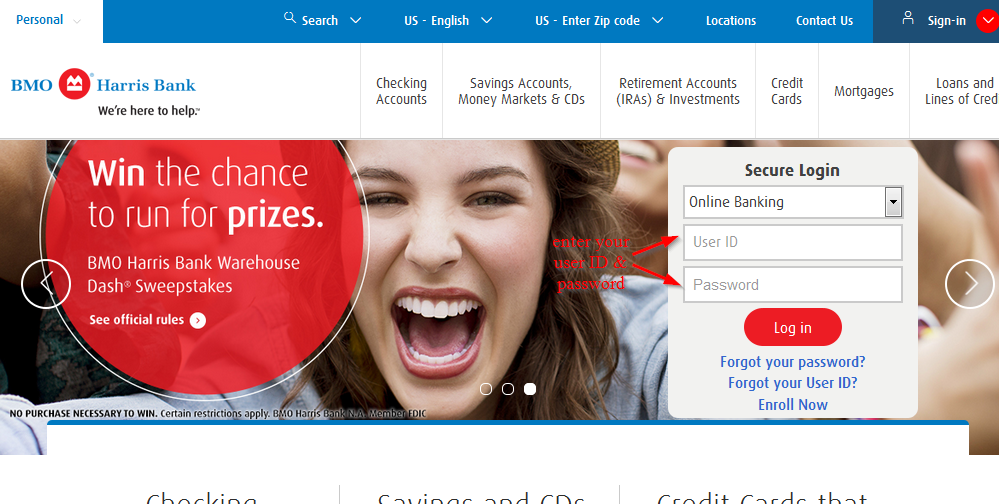 As long as you have used the correct login ID and password, you will be able to access your online account
How to reset your password
If you have not used the correct password, you won't be granted direct access to your online account. To verify that you are a holder of an online account with bank, you will be required to use your login ID to reset your password. Follow these simple steps to login:
Step 1-Click "forgot your password" as show in the below image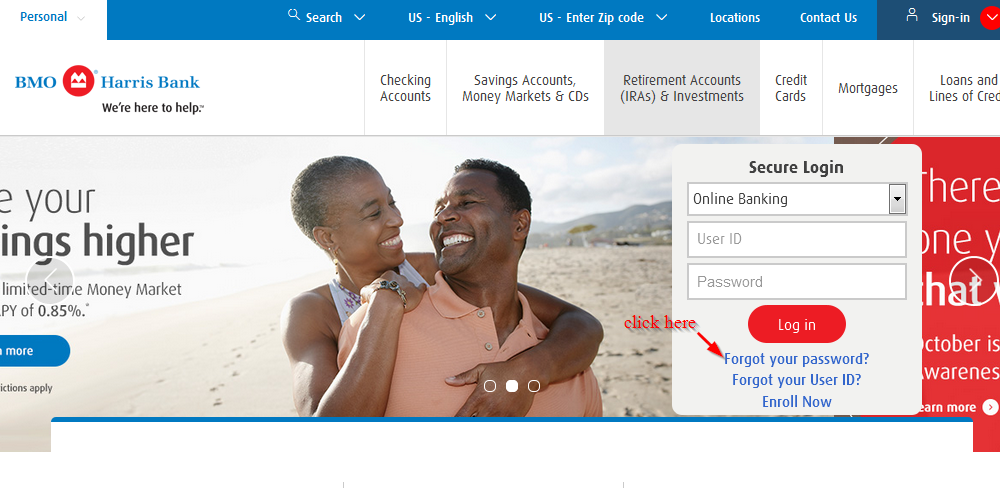 Step 2-Check what you need by reading the info on the page and click "continue"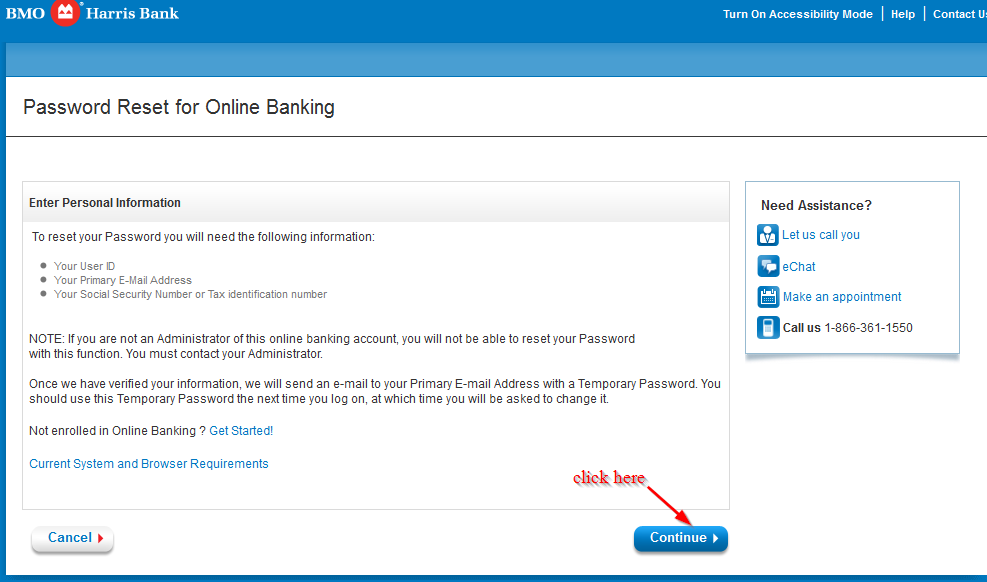 Step 3-Enter your user ID, email address and SSN and click "reset password"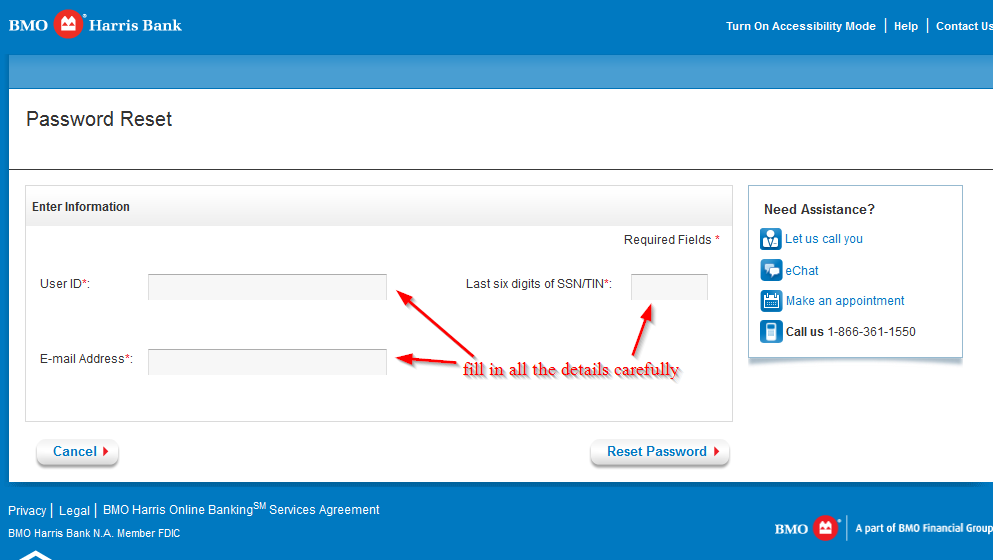 How to enroll
BMO Harris Bank has made it convenient for their customers to create a free account for the internet banking services. This service is only available to customers who have an account with the bank and once you are enrolled, you can login anytime and manage your bank account. Here are the steps to follow:
Step 1-Click "enroll now" as shown in the below image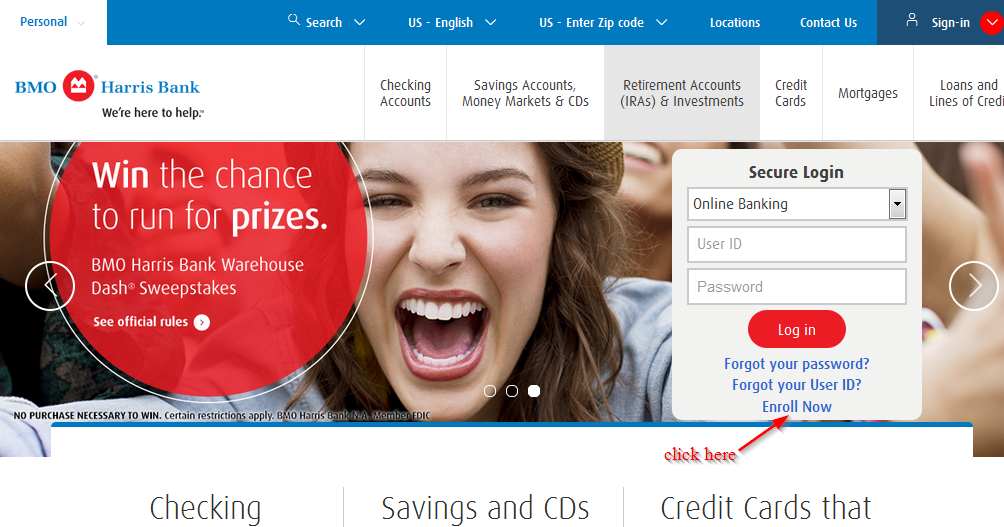 Step 2– Select how you want to get started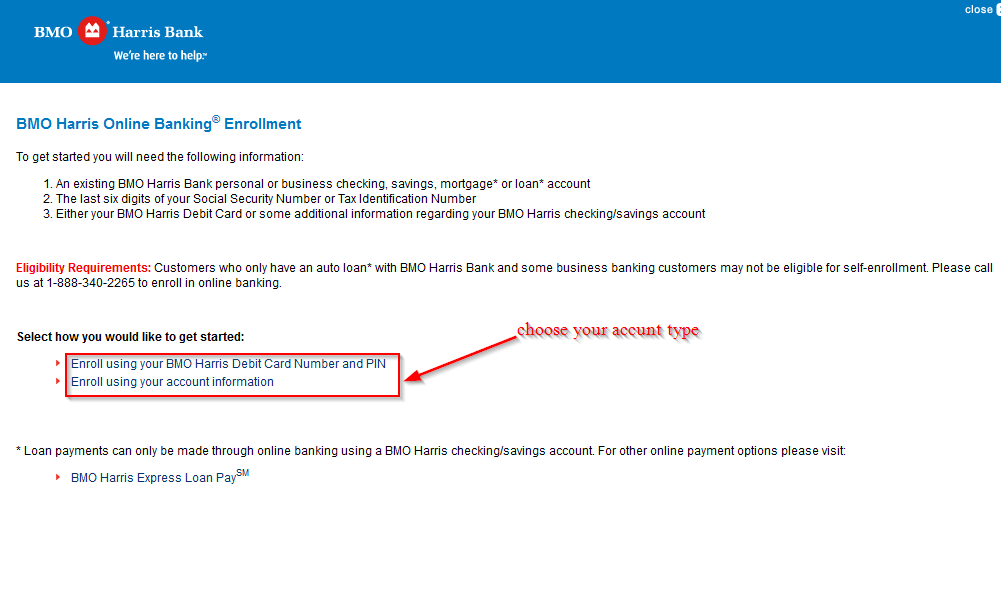 Step 3-Provided all the details required in the page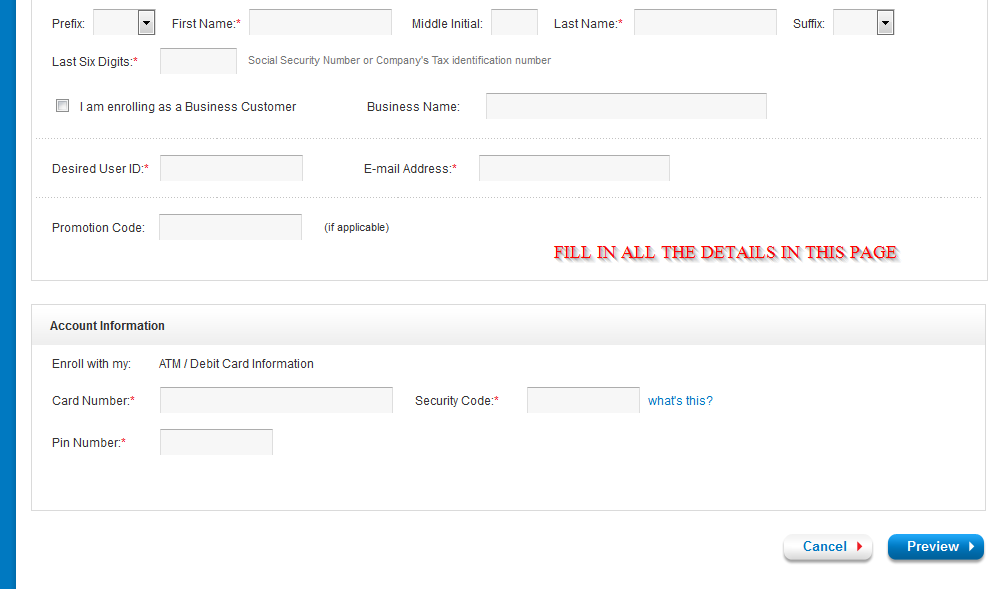 Manage your BMO Harris Bank online account
There are many advantages of having an online account with the bank, and they include:
Pay your bills from the comfort of your home
Check your transaction history
Find the nearest ATM location
Access to mobile banking services
BMO Harris Bank Review
BMO Harris Bank was founded in 1882 as Harris Bank and has developed to become one of the largest banks in the Midwest. The bank serves individuals, businesses, and affluent customers. There are more than 600 branches and more than 1,300 ATMs.
BMO Harris Bank services can be found in 8 states and include financial, banking and investing solutions.
Benefits
BMO Harris Bank has many benefits that we will be discussing below. Continue reading to learn more:
BMO Harris Bank offers several banking solutions for individuals, small business owners as well as commercial purposes.
The products offered include checking accounts which allow customers to easily manage their everyday finances and CDs and savings for extra security. The bank also offers credit cards to meet all financial needs.
Through the bank, customers can choose between three different types of accounts. Despite the account that a customer chooses to go with, they will enjoy these benefits: online account alerts, online banking with bill pay, real-person assistance through online chats, more than 1,300 ATMs and more than 600 locations.
The bank's accounts can be broken down into:
BMO Harris Everyday Checking-This account will help you meet your every day checking account needs. It includes a $100 minimum opening deposit, monthly maintenance fee of $12 and a chip-enabled debit card. Overdraft services are also offered by the bank.
BMO Harris Select Checking-This account option includes getting special discount and earning interest. It comes with a chip-enabled debit card and a monthly maintenance fee of $15 and a minimum opening deposit of $100.
BMO Harris Portfolio Checking-This account earns higher interest, and you get special discounts and more benefits. It earns interests and comes with a chip-enabled debit card and a $25 monthly maintenance fee.
There are many services accounts that you can choose from. The accounts allow customers to see their savings grow and meet their financial goals and take advantage the confidence of financial cushion. The bank's savings accounts include:
Statement savings-This is an interest earning account that gives account holders the flexibility to access their money whenever you need it
BMO Harris Select Money Market-this account enables account holders to grow their investment with the high-yield market account and also maintain your liquidity
Certificate of deposit-This account offers competitive fixed interest rates for both short term and long term savings goals
Wealth management and retirement planning solutions include important features like financial advisors. They will help you to plan through the various stages of life.
Regarding wealth management, the advisors at the bank will help you to set your goals to align with your aspirations and values. BMO Harris Bank premier services give clients the chance to enjoy the benefits of personalized investment relationship and banking.
Downsides
BMO Harris Bank has its own downsides which you should know if you want to bank with this bank. The downsides include:
BMO Harris Bank has limited availability. Since they don't operate nationwide, it means that customers that don't live in the state of their operation will not be able to bank with them.
Despite being in service for more than 130 years, BMO Harris Bank never made its way to the western or southern regions of the U.S. States serviced by the bank include Illinois, Wisconsin, Indiana, Florida, Arizona, Kansas, Missouri and Minnesota.
Aside from service area questions, a negative service item that should be pointed out is basically the monthly maintenance fees. For most savings and checking accounts, a maintenance fee is charge for management of accounts and traditional services.
These services can be waived when certain requirements are met, but if the requirements are not met then the monthly fee will have to be assessed.
Conclusion
BMO Harris Bank offers credit card, savings, checking, retirement, and lending solutions to a number of clientele. In addition, the bank also offers premier services, wealth management options, and financial advisors as well.
To bank with BMO Harris Bank, you should expect the following from the bank: online and mobile banking; a wide range of savings and checking accounts; credit card and retirement solutions; monthly maintenance fees; and limited availability. Generally, BMO Harris Bank is a good bank
---