Dade County Federal Credit Union is an American based credit union offering financial services and products. The credit union was founded in 1939 and is headquartered in Doral, Florida.
Website: http://www.dcfcu.org/
Routing Number: 266080107
Swift Code: See Details
Telephone Number: (305)471-5080
Founded: 1939 (84 years ago)
Bank's Rating:
Accessing financial services offered by Dade County Federal Credit Union has become a lot easier with the online services they are offering. Customers around the world and those in the US can take advantage of these services. For smartphone users, things can be a lot easier for them. Here is a comprehensive guide to walk you through the steps involved in the online banking services.
How to login
Logging in is a pretty simple step by step process that can only take a couple of seconds to complete. Follow these steps to login to your online account:
Step 1-Open http://www.dcfcu.org/ your web browser
Step 2-Click "eBranch account login"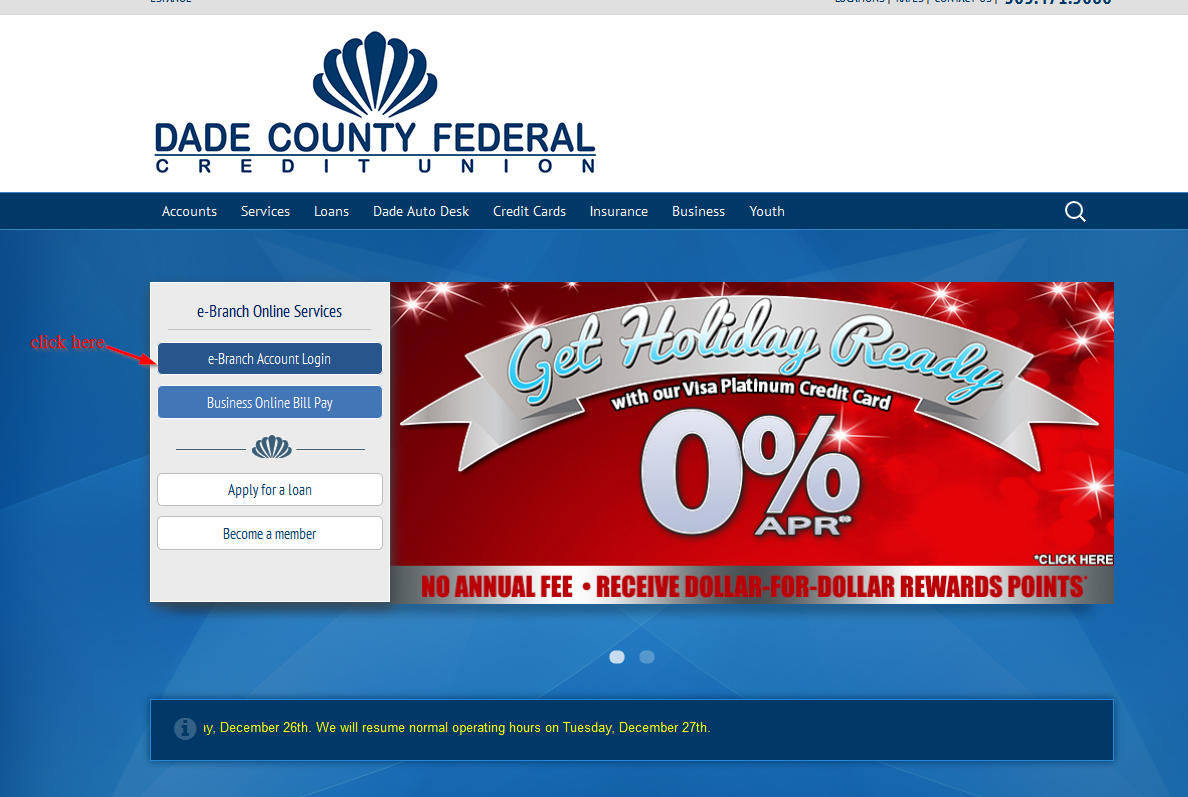 Step 3-Enter your username and click "sign in"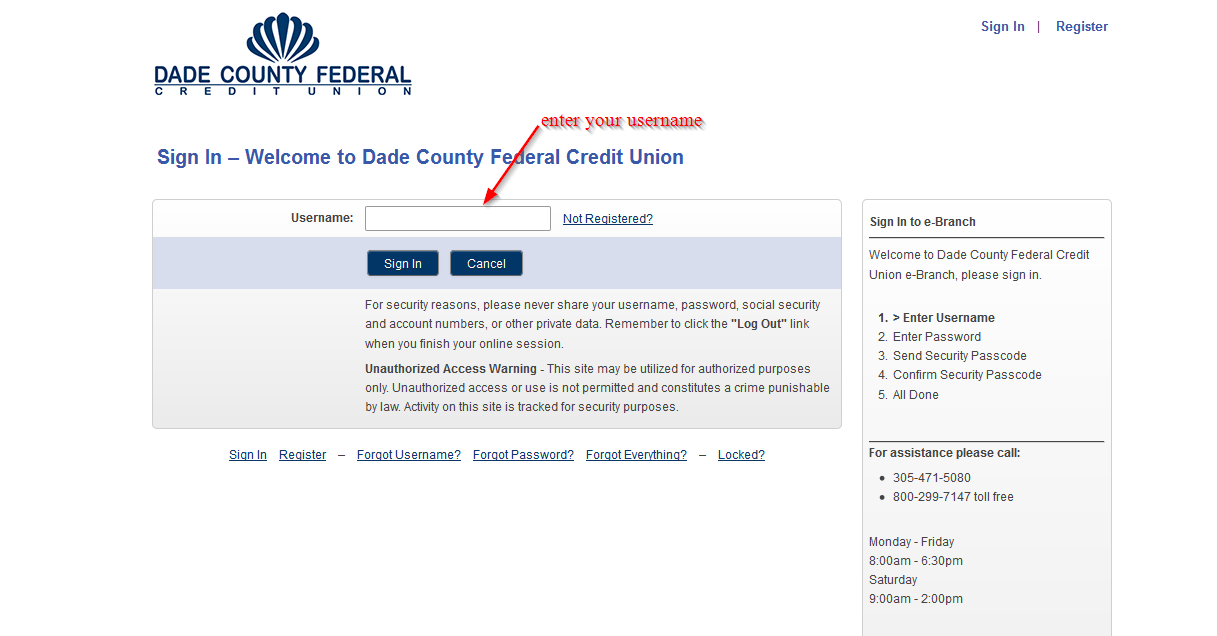 Step 4-Enter your password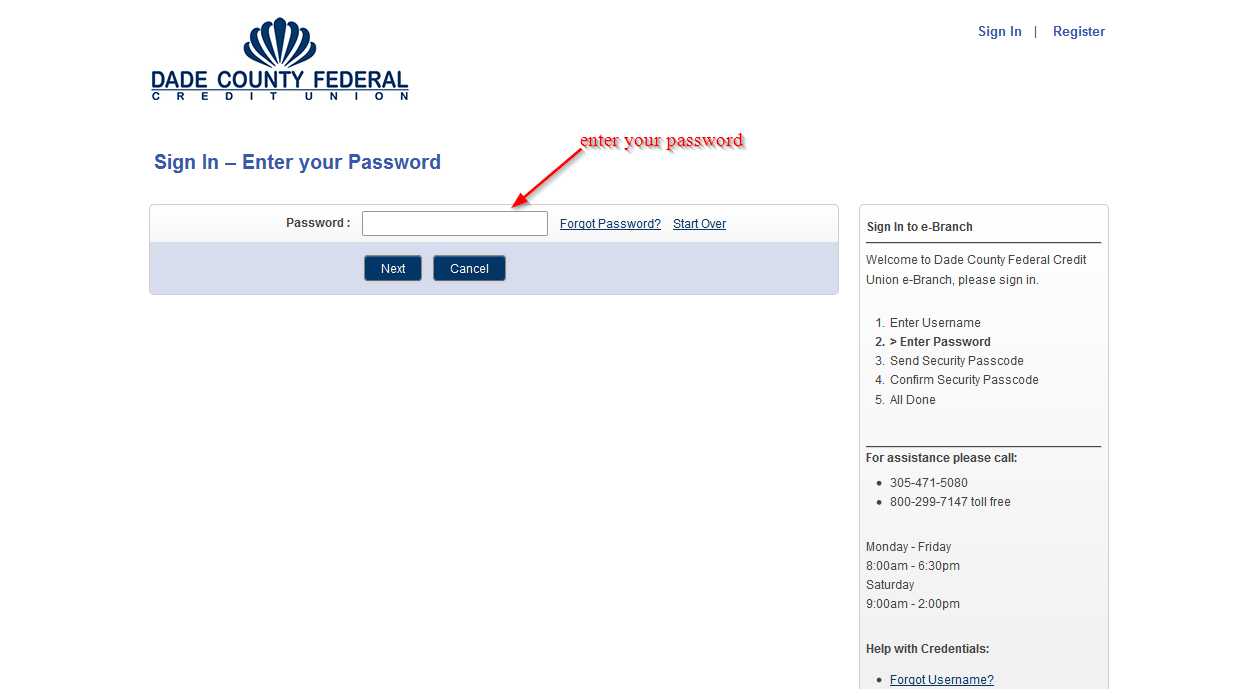 If the login details you have used are correct, you will be able to access your online account.
How to reset your password
Just in case you can't login into your online account, you can change the password so that you can easily login anytime with the new password. The process is very simple. Here are the steps to follow:
Step 1-Follow step two shown above and enter your password in order to access the password page
Step 2-Click 'forgot password?'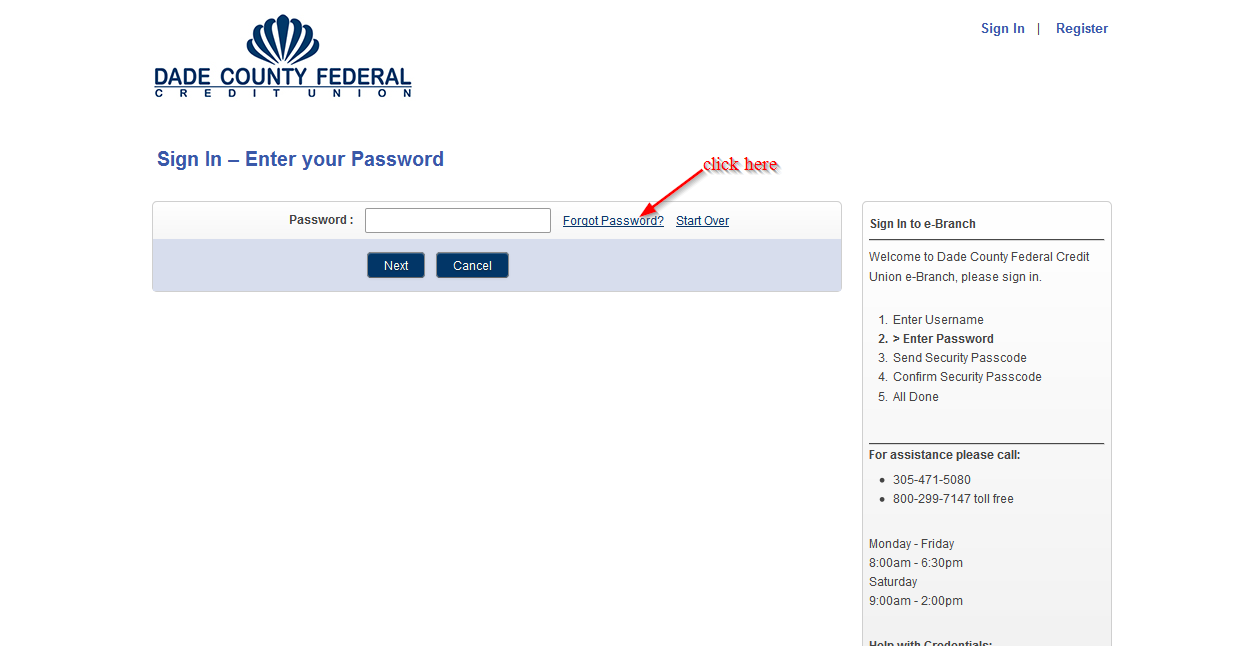 Step 3-Key in your account number, last four digits of your ssn, date of birth, and username and click "start"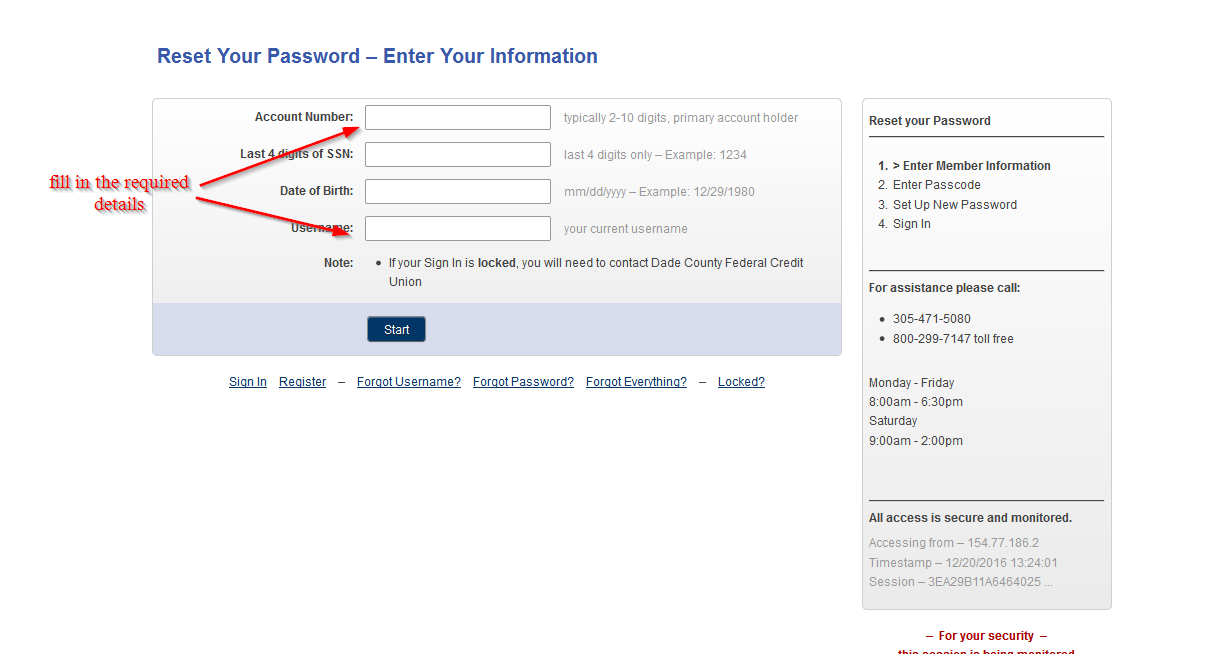 How to enroll
To take advantage of these services, you will have to sign up. If you bank with the credit union then signing up should only take a few minutes. You will have to provide certain details. Here are the steps you need to follow to sign up:
Step 1-Go to the website's homepage again and click "eBranch account login"
Step 2-Click "not registered?"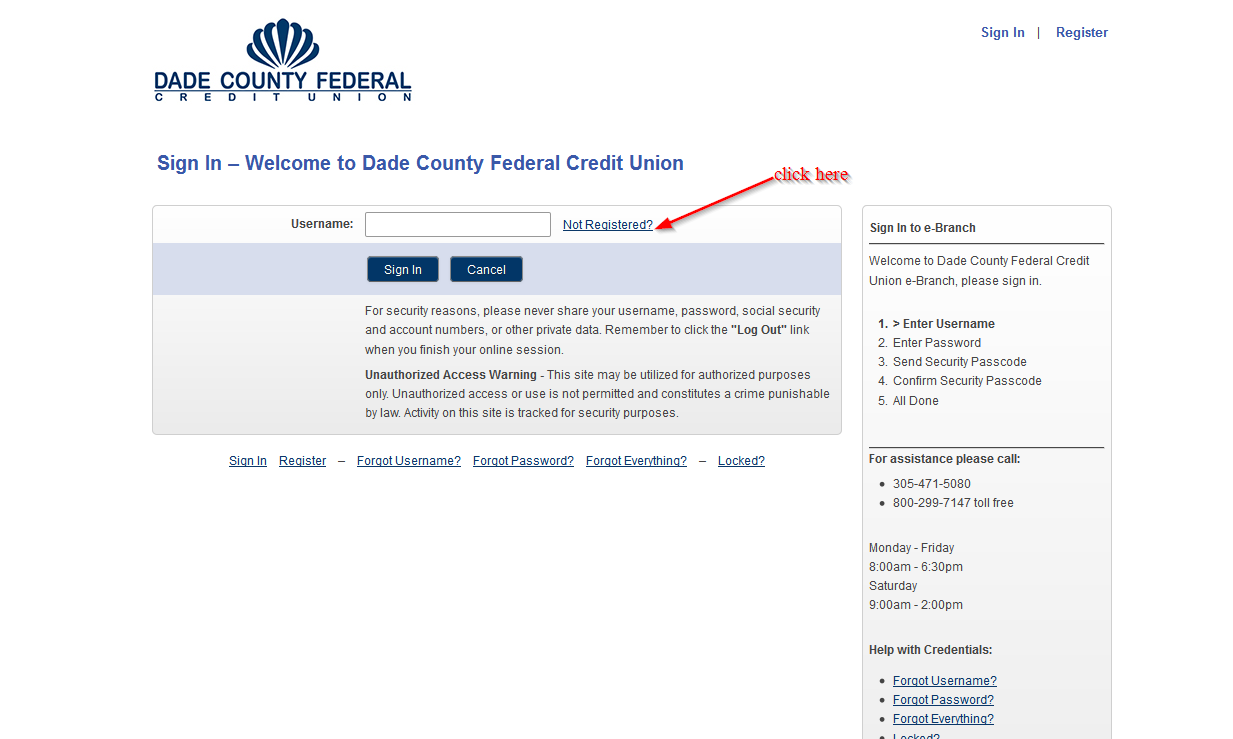 Step 3-Provide your account number, the last four digits of your primary SSM, date of birth and types "ACCEPT" and click "start"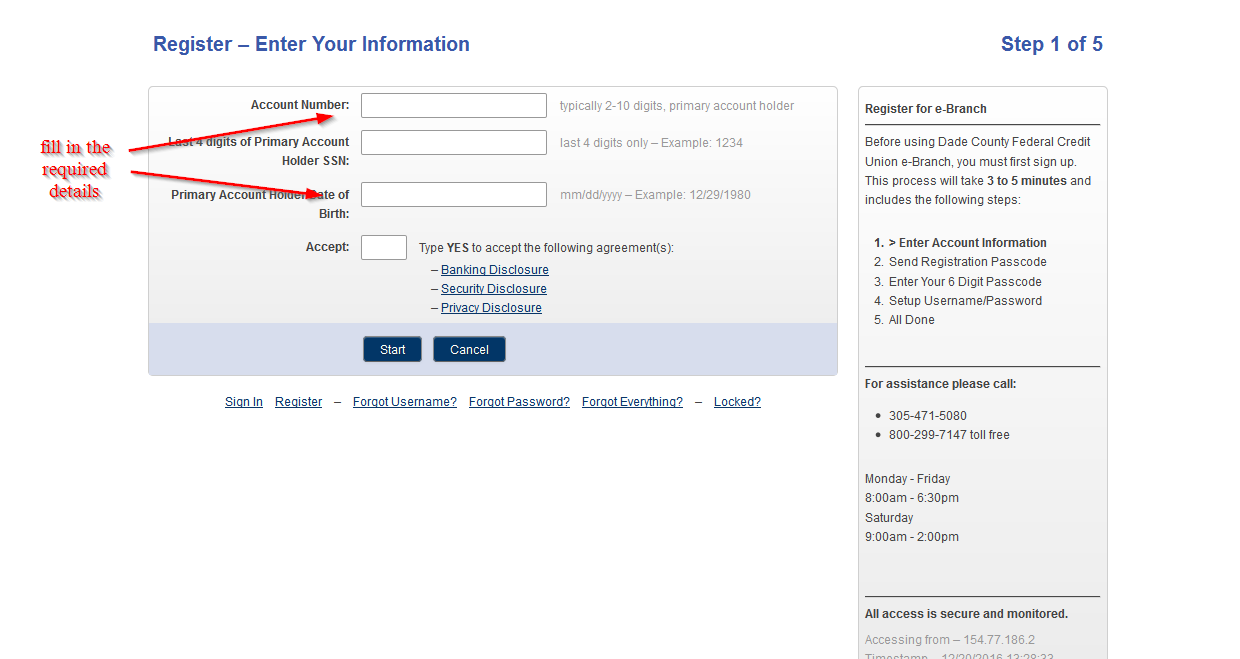 Manage your Dade County Federal Credit Union account online
The credit union online services offered many benefits for their customers. These benefits include:
Full time access to their account
They can pay bills
They can check their balance
They can request estatement
And so much more