Established in 1939, the Desert Schools Federal Credit Union is a fully-fledged financial institution. It provides tailor-made financial solutions to its members. Be it auto, home, personal or business loans, it has all available to its members.
Website: https://www.desertschools.org/
Routing Number: 122187238
Swift Code: See Details
Telephone Number: 602-433-7000
Founded: 1939 (84 years ago)
Bank's Rating:
As an Arizona-based credit union, Desert Schools is a dedicated financial lender and investment institution that offers a wide range of banking services to its customers. In terms of making the lives of the local community better, Desert Schools has come out to address their financial problems. It is a member institution and aims to improve their lives through genuine and affordable lending, investment and banking.
How to log in
The role of your login account is to provide an avenue through which you can access your account. It is unique to every account holder and thus you have to remember your login details. Assuming you already have your password and username, follow the steps below to login:
Step 1: Got to the link https://www.desertschools.org/
Step 2: Put in your username and proceed as shown below.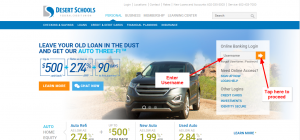 Step 3: Insert your account password and submit to access your account.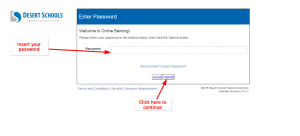 How to reset your account password
Being a new customer, you can easily forget your password. When this arises, you will be unable to access your account. With a few attempts to log in and it turns out that you have entered the wrong password, there is the need to reset it. The process of doing this is as follows:
Step 1: Tap the button as shown below.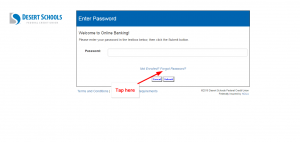 Step 2: Enter your account details and click next.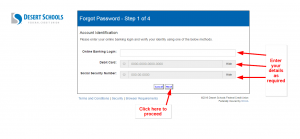 Proceed with other 3 steps to retrieve your account password.
How to enroll
For those who want to manage their accounts online, you have to enroll for internet banking. Use the credit union's website to register for this service. Enroll for online banking and take advantage of the convenience of banking.  The steps include:
Step 1: Click the sign up now button.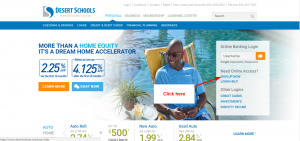 Step 2: Enter your account number, select the type of account and then click next.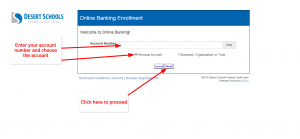 You will go through few more actions before you can enroll for internet banking.
How to manage your Desert Schools Federal Credit Union account online
Use the online banking platform to access your bank online and have your way with banking. It is similar to when you are accessing your account over the counter only that in this case, you will be the one managing it. You can pay bills from your account and have unlimited access to it.