First Republic Bank provides private and business banking products and services.  The company was founded in 1985 and is headquartered in San Francisco, California.
Website: https://www.firstrepublic.com/
Routing Number: 321081669
Swift Code: See Details
Telephone Number: +1 888-408-0288
Founded: 1985 (38 years ago)
Bank's Rating:
The internet has revolutionized the way things are done these days, and First Republic Bank has not been left behind. The bank works to ensure that they give their customers the best customer experience and with internet banking, customers can access their bank accounts from anywhere around the world. If you have an account with First Republic Bank, you can follow these simple steps to login, reset password and enroll.
How to login
If you have already registered an online account with First Republic Bank, you can login to manage your bank account. In this case, you will need your username and password. Follow these simple steps to login:
Step 1-Open https://www.firstrepublic.com/ in your web browser
Step 2-Click "secure sign in"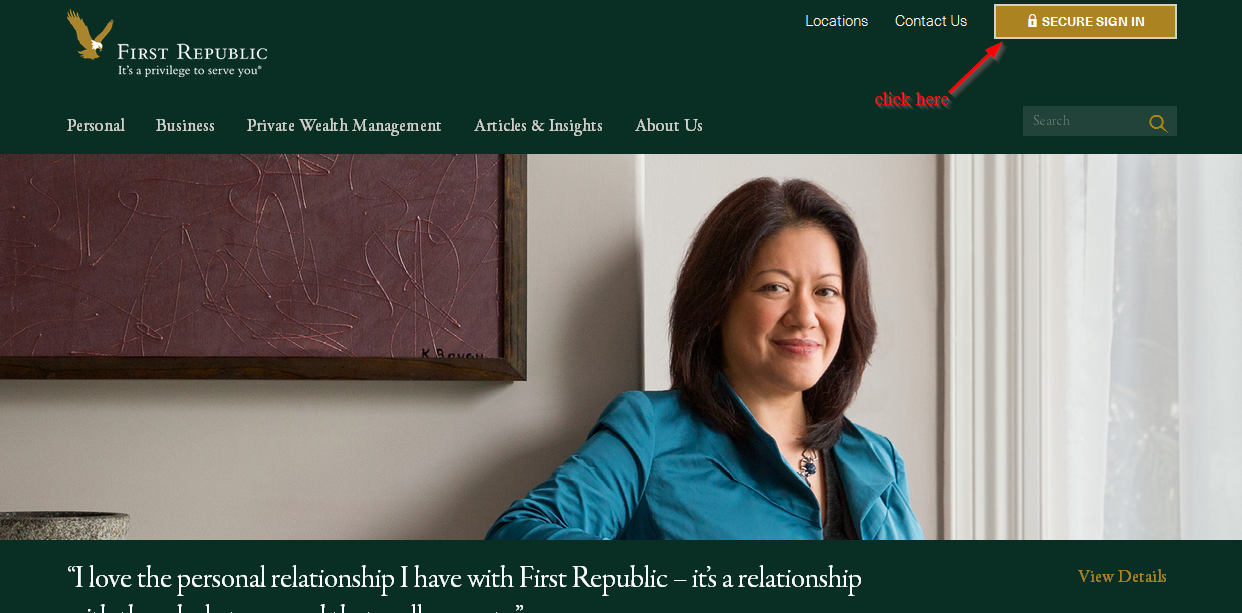 Step 3-Enter your username and password and click "secure sign in"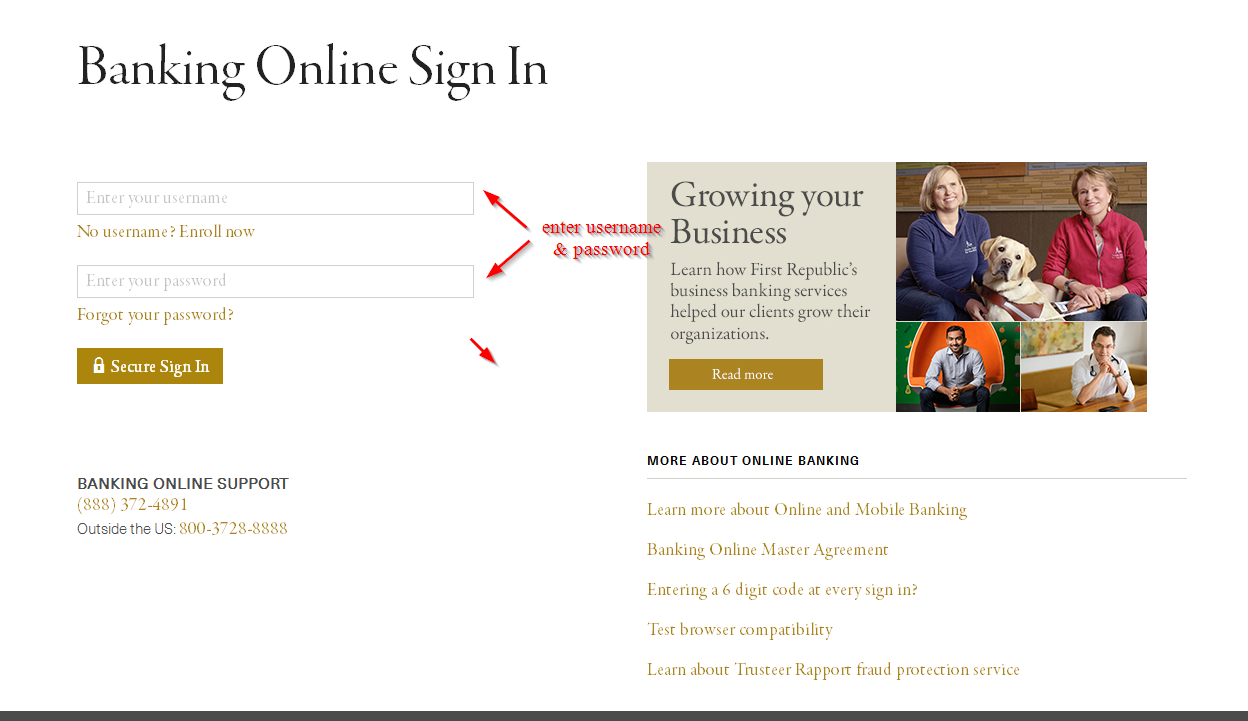 You can access your online account anytime as long as you use valid logins
Forgot your password?
Can't remember your password? Well, it's good to know that you can reset your password to regain access to your online account. The bank has a simple password resetting process that enables you to easily do so. Follow these steps:
Step 1-On the homepage, click "secure sign in"
Step 2-Click "forgot your password"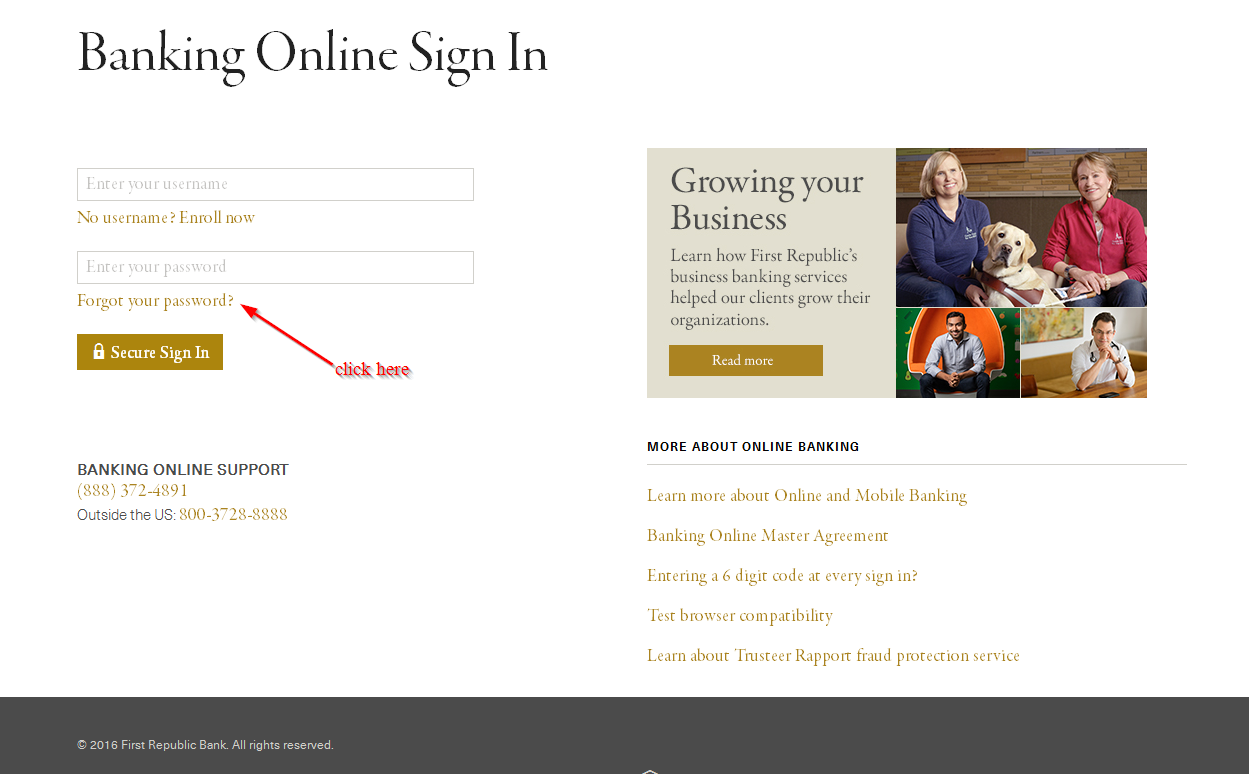 Step 3-Enter your phone number and username and click "send me a new password"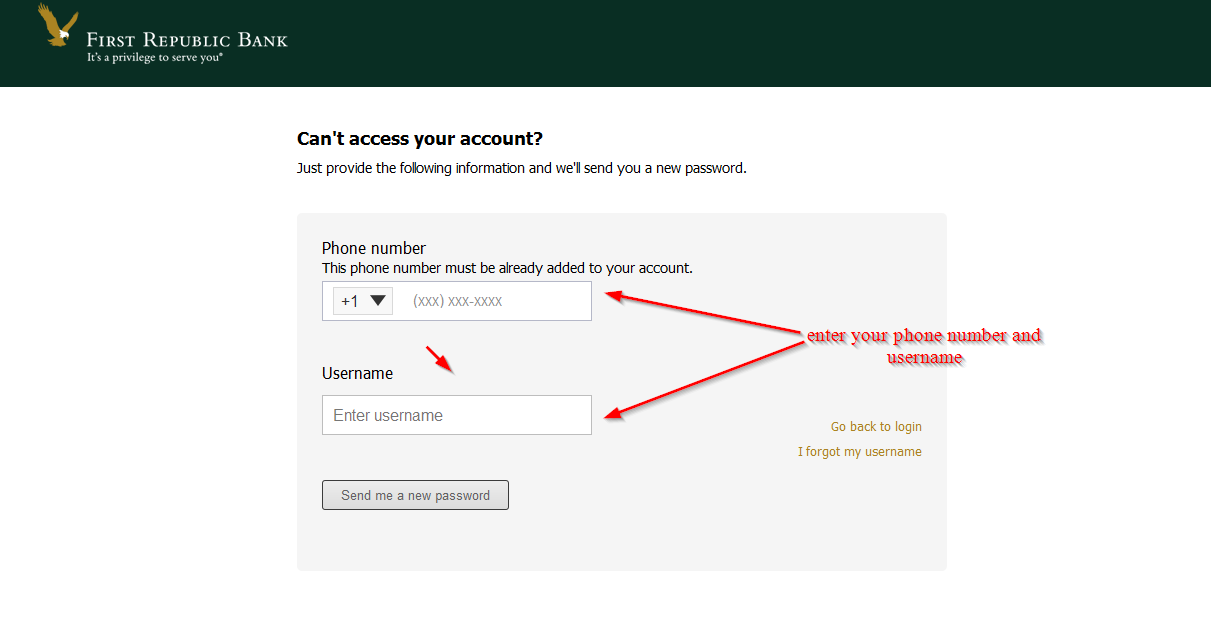 The bank will send you a new password via email
How to enroll
It only takes a couple of minutes to register an online account with First Republic Bank. You will need to provide your bank details, which will verify that you have an account, whether personal or business, with the bank. Here are the steps you need to follow to enroll:
Step 1-Go to the homepage and click "secure sign in"
Step 2-Click "enroll now"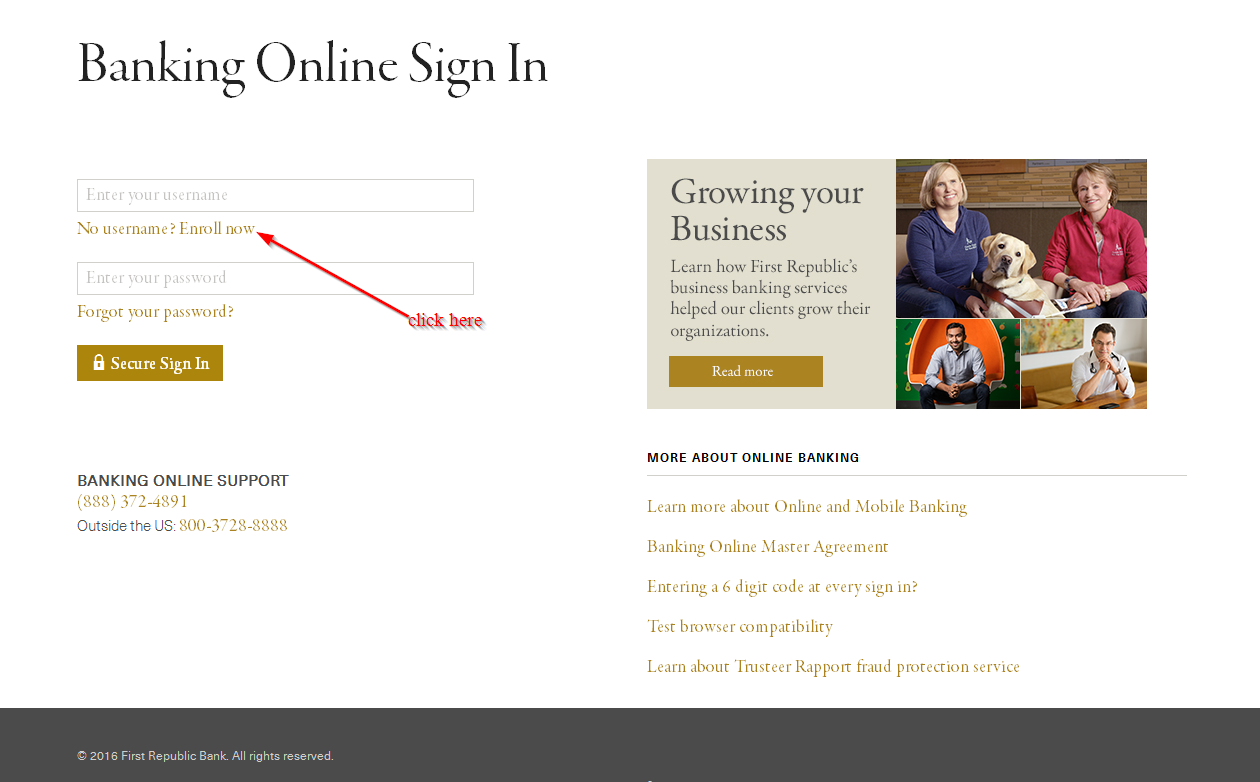 Step 3-Fill in all the details required on the page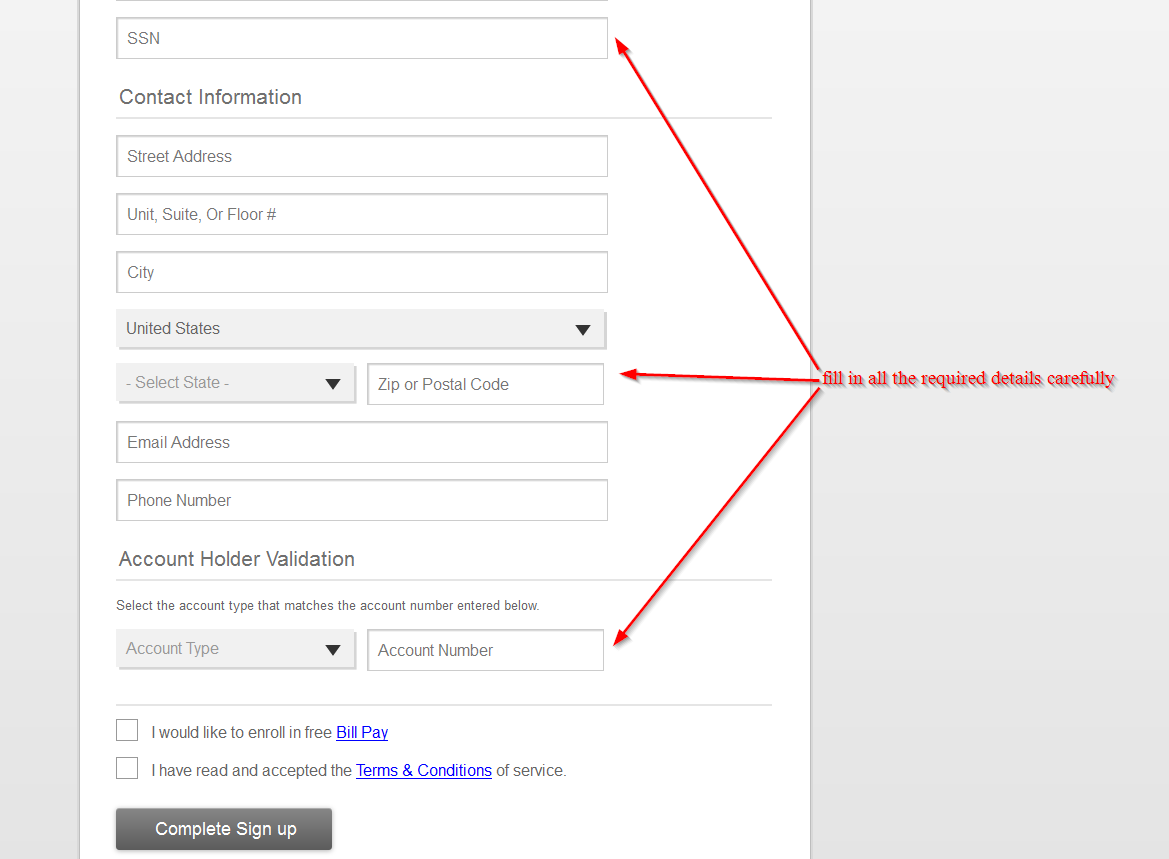 Manage your First Republic Bank account online
When you register an online account with First Republic Bank, you will not only have the freedom to access your bank account anytime, but you will also enjoy these benefits:
Online customer support
Safe and secure platform
Check your account balance
Apply for loans
Find the nearest branch or ATM
Report stolen or lost card
First Republic Bank Review
First Republic Bank was founded by James Herbert and Roger Walther in 1985. The bank became FDIC insured in 1991 and was listed in NASDAQ with an IPO of $23M and had 100 workers. The bank launched internet banking services in 1991 and have experienced great expansion over the years.
By the years 2000, the bank established First Republic Securities Company, employed 423 workers and deposits amounting over $2B. The followed decade consisted of acquisition and mergers and more growth.
The bank then moves to wealth management sector, which they offer today with lending and personal banking services with 60 offices around the nation and more than 2000 employees.
Its locations span from New York City, San Francisco, Greenwich, Palo Alto, Boston, Los Angeles, Palm Beach, Santa Barbara, Portland, Newport Beach and San Diego.
Benefits
There are many benefits that come with banking with First Republic Bank. These benefits include:
Liquid CD
The bank has 4 unique selling points. Liquid Certificate of Deposit is the first one. When compared to a tradition CD charges fees for early withdraws, Liquid CD gives customers access to their money after every 7 days free of charge while earning higher interest that an checking account
Penalty-free withdrawals are allowed after every 7 calendar days
Interest rate is guaranteed for a fixed period of time
FDIC insures
$10,000 minimum opening deposit
You cannot open the account in connection with an IRA
Minimum daily balance of $10,000 must be maintained to earn interest
However, there is a penalty for closing a Liquid CD account before maturity as well as penalty for making more than one withdraws with the seven-day calendar
Unlimited ATM
The second feature that stands out at the bank is the unlimited use of ATM for checking customers. The bank offers ATM/Debit Card and ATM card that allows customers to access funds from the around the world.
Customers can use ATM cards to:
Withdraw money from ATMs from around the world 24/7 free of charge with ATM Rebate Checking accounts
Use ATM cards to buy anything at merchants that accept personal identification numbers
Use the ATM/Debit Card anywhere that Visa is accepted
Protection plan for all the items that have been purchased using the ATM/Debit Card
Receive transactions that have been list on account statement monthly, showing the amount, date and location
The bank's ATM Rebate Checking account gives customer's access to over 800,000 ATMs around the world as well as interest on balances that are above $3,500. Here are the account details:
Free online banking with free bill pay
Free ATM withdrawals
ATM withdrawal fees are usually rewarded
Interest is earned on balances that are $3,500 or more
Overdraft protection is available for at no charge via Overdraft line of credit or linked savings account
Requires a minimum opening balance of $500
Must maintain a minimum balance of $3,500 in order to avoid the monthly service fee of $25
Downsides
There are a number of disadvantages that we discovered while reviewing this bank:
A long list of fees
You need to be aware of the long list of additional fees. Some of these fees include:
$50 per hour reconciliation or account research
They charge $25 to set up ACH preauthorized transfer
Cashier's check us $10 each
Check copies are $5 each
To setup Certificate of Deposit account loan, pay $50
Nonconforming Check costs 24 cents each
Insufficient funds and overdraft: overdraft item is paid $30 for every item; insufficient funds item returned is $30 per item; overdraft protection by transfer from account linked is $3 per transfer; returned deposit item costs $10 each statement
Other fees include automated banking service which costs $8 each, online banking costs $8 and outgoing wire transfer domestic costs $30 per wire.
Conclusion
Unlike many cash offers or bonuses and rewards that require rebates of other hoops in order to jump through, this bank makes its own cash bonus easy to claim and verify.
The bank offers online banking which allows customers to bank anywhere anytime, and with mobile apps, they can bank even when they are on the go. They also offer customers support and the bank has received positive reviews for being friendly.
---