Founded in 1952, VyStar Credit Union is owned and managed by its members. It has its branches spread across Florida to help serve its members better. Apart from that, it has invested in the modern way of banking that involves, internet and mobile banking.
Website: https://vystarcu.org/
Routing Number: 263079276
Swift Code: See Details
Telephone Number: 1 (800) 445-6289
Founded: 1952 (71 years ago)
Bank's Rating:
The VyStar Credit Union is a members' credit institution that offers affordable loan services to its customers. Like all the credit unions, you have to a member to enjoy the great services they have in store. It offers lower rates as compared to banks and thus makes credit reliable and available. The Florida-based credit union offers more than just low-interest loans for business and personal use. It has internet banking solutions that make it easy for its members to manage their accounts with ease.
How to log in
The need for an account that you can manage on your own comes with the level of flexibility you desire in banking. In this era, most banks have invested in this form of banking for their customers. The VyStar Credit Union offers reliable internet banking services for their customers. You can log in using the steps below:
Step 1: Use the link https://vystarcu.org/ to visit the homepage.
Step 2: Put in your username and password. Click Login to proceed.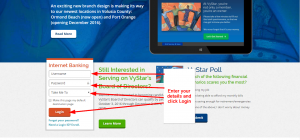 How to reset your account password
You have an account but cannot access it due to a forgotten password. You can retrieve it in short period using simple steps. The steps include:
Step 1: Click the phrase as shown below.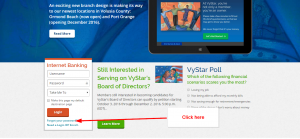 Step 2: Insert your username and date of birth. Click next to reset your password.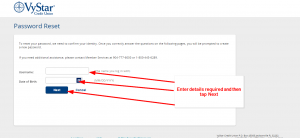 How to enroll
Customers who want to manage their accounts online can enroll for internet banking. It is not only convenient but offers a platform, on which you can check your account balances and view your bank statements. The process of enrollment includes:
Step 1: Click the space as shown below.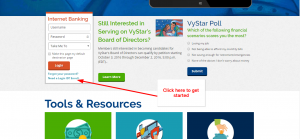 Step 2: Read the terms and check the box before accepting to the terms.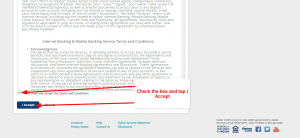 Step 3: Choose how you want to authenticate your account and continue to proceed.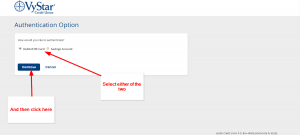 Step 4: Enter your information in all the fields and continue.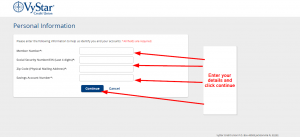 You have to complete few more steps before you can successfully enroll for internet banking.
Manage your VyStar Credit Union account online
Whether it is from your mobile device or PC, you can access your VyStar Credit Union account. It allows you to be efficient in your banking as you can deposit or withdraw cash, check your account status, pay bills and much more. All this, at your comfort.
---