1st National Bank provides business and personal banking services to the people of Ohio and US in general.  Founded in 1853, the bank has its headquarters in Lebanon, Ohio
Website: http://www.bankwith1st.com/
Routing Number: 42208006
Swift Code: See Details
Telephone Number: 513-932-3221
Founded: 1853 (170 years ago)
Bank's Rating:
1st National Bank customers can now get full access to their bank accounts by signing up for the internet banking services that the bank offers. The services are very convenient and for customers who have smartphones, they can download apps to login into the safe and secure platform. This guide has made it easier for you by outlining easy steps for logging in, changing your password and registering.
How to login
One of the simplest and basically the most important part of the online banking services offered by the bank is logging in. Just like other online accounts, you will need your username and password. Here are steps you will follow:
Step 1-Open http://www.bankwith1st.com/ in your web browser or just click the link
Step 2-Enter your access ID and click "submit"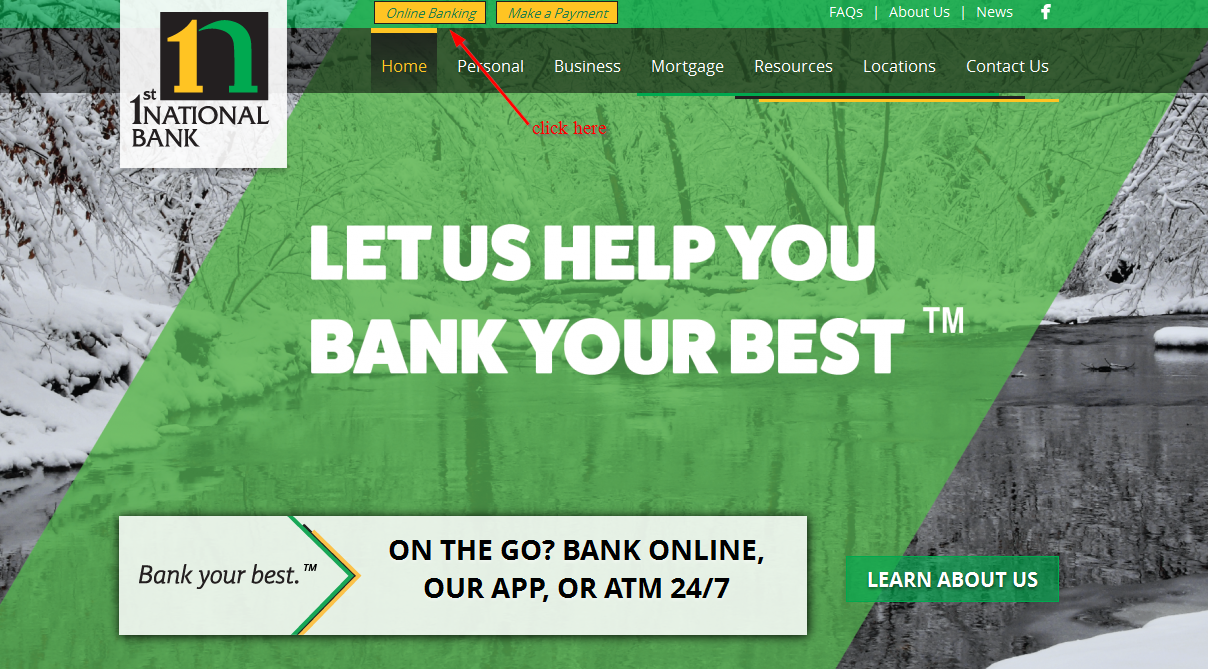 Step 3– Enter your password and click "submit"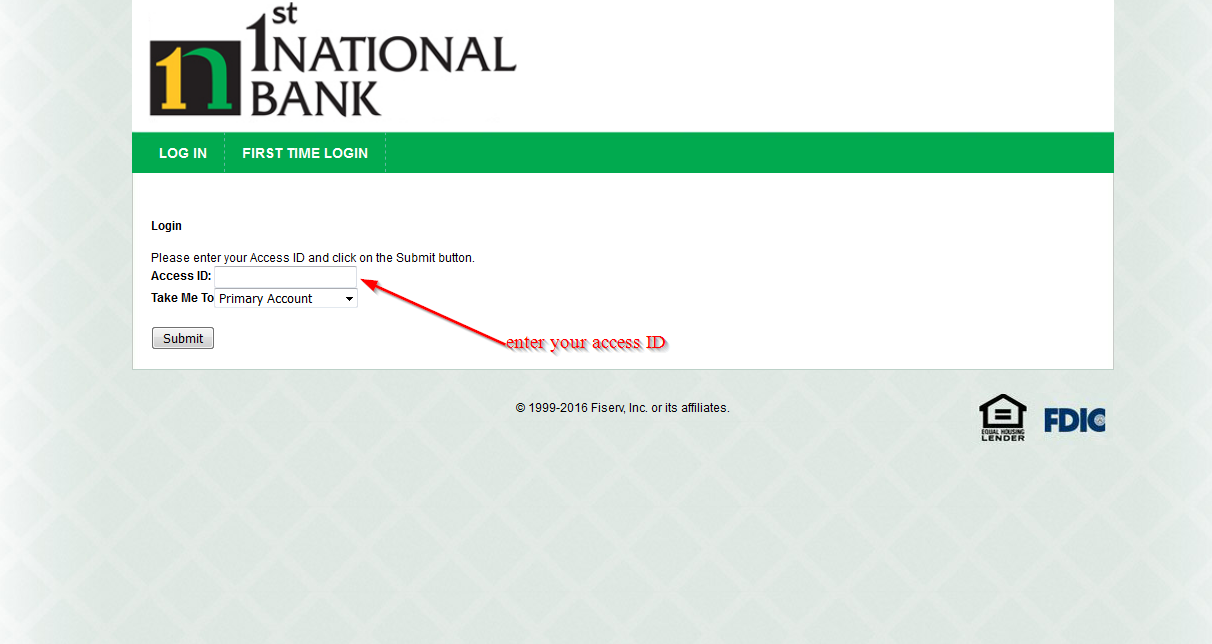 How to reset your password
Just in case you can't remember your password, you can change it on the bank's website to continue enjoying the advantages. It's a pretty simple process and we have highlighted the steps here:
Step 1-Click the bank's logo and enter your user ID to reach the password page
Step 2– Click "forgot password"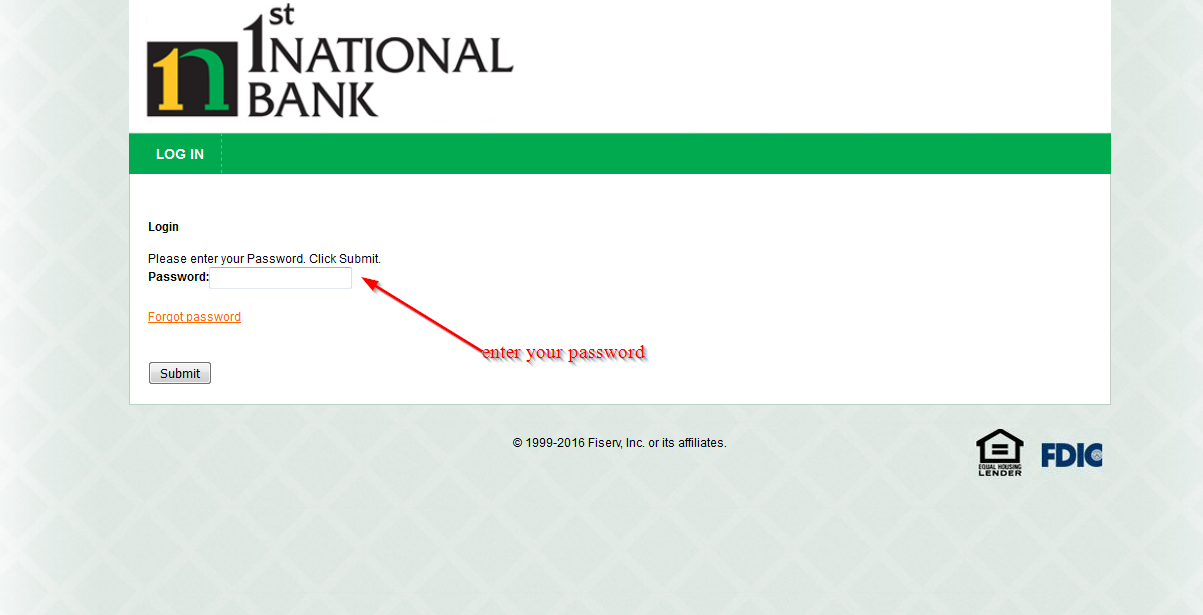 Step 3-Enter your access ID, the last 4 digits of your tax ID number and email address and click "submit"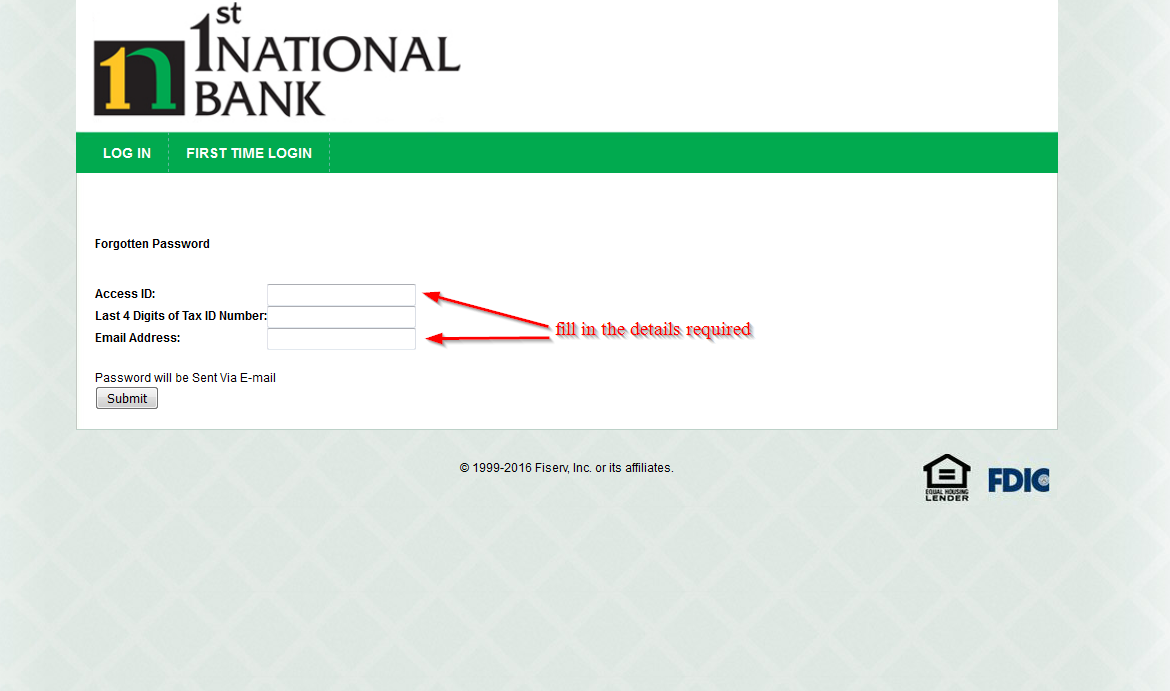 You receive a new password in the email address associated with this account
How to enroll
If you want o access your online account online then you will need to enroll. You don't have to worry because enrolling doesn't require you to make any payment. Here are the steps you need to follow:
Step 1-Click "online banking" as shown below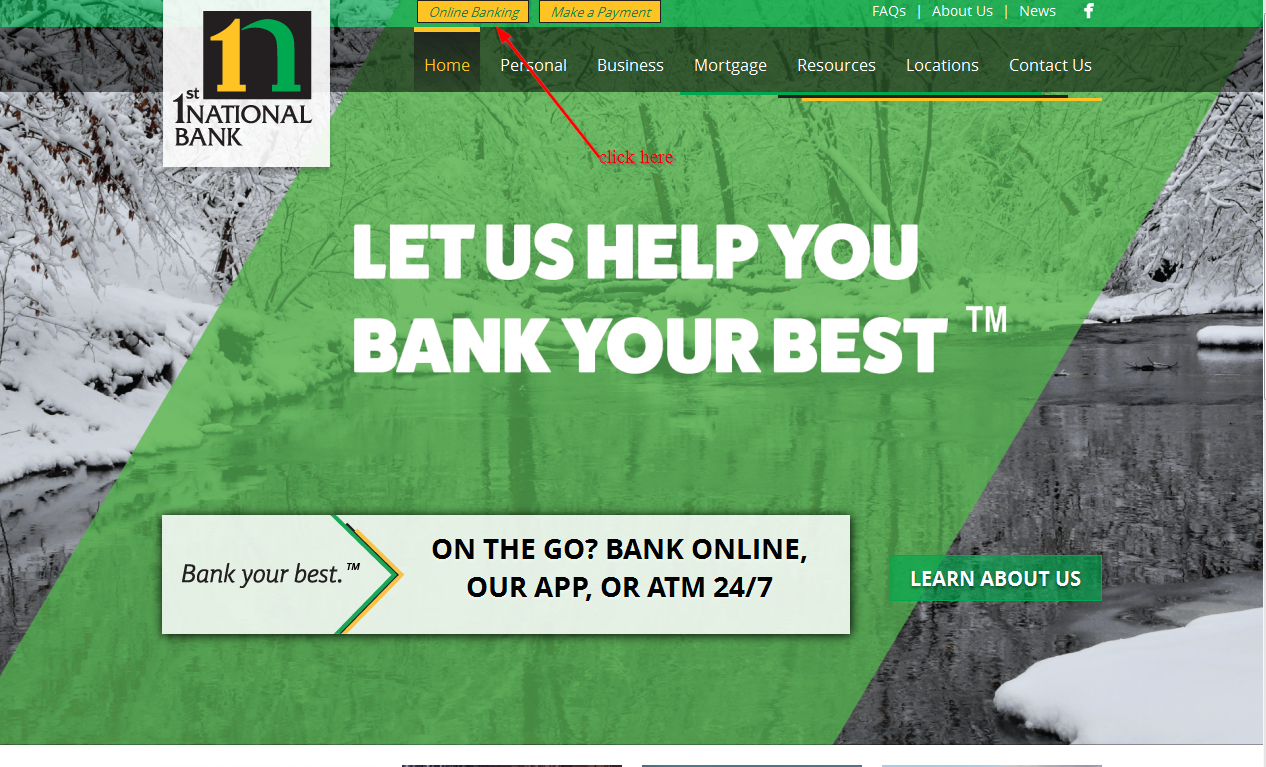 Step 2– Click "first time login"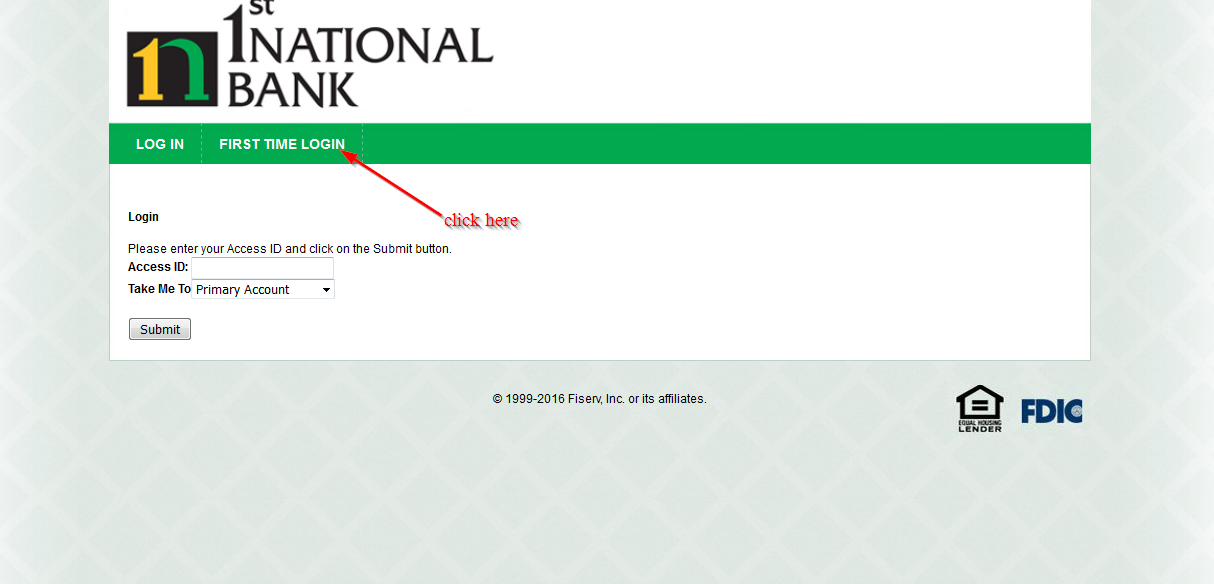 Step 3-Fill in all the details that are required in the below section, including your social security number, first name, last name, company name, email address, home phone, date of birth, account number  and the last four digits of your SSN.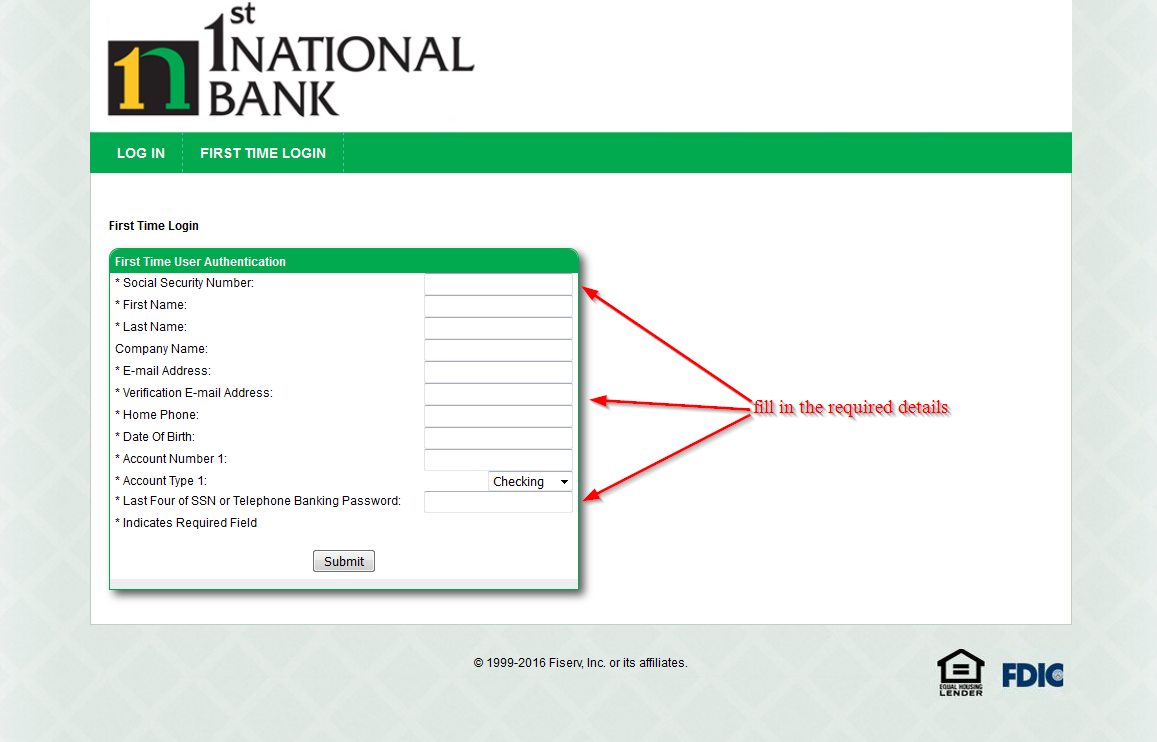 Manage your 1st National Bank account online
If you enroll, there are many benefits that you will get to enjoy, and the fact that its free makes it incredible. Here are the benefits:
You can pay your bills
You can find a location for the nearest ATM or branch
You can contact the customer support
You can check mortgage rates
---