Chemical bank provides financial solutions to non-profit clients, individuals and businesses in Michigan. The company was founded in 1917 and it operates as a subsidiary of Chemical Financial Corporation.
Website: https://chemicalbankmi.com/
Routing Number: 072410013
Swift Code: See Details
Telephone Number: (800) 867-9757
Founded: 1917 (106 years ago)
Bank's Rating:
Customers with an account at Chemical Bank can access their bank accounts and manage it through internet banking services offered by the bank. With its easy to use website, customers can manage the bank account activities anytime. Below is a guide on how to login into your online account, retrieving your password and registering.
How to login
After registering a free account with Chemical Bank, you can login anytime and manage your bank account. Here are steps to help you access your online account:
Step 1-Open https://chemicalbankmi.com/ in your web browser
Step 2-Click "login"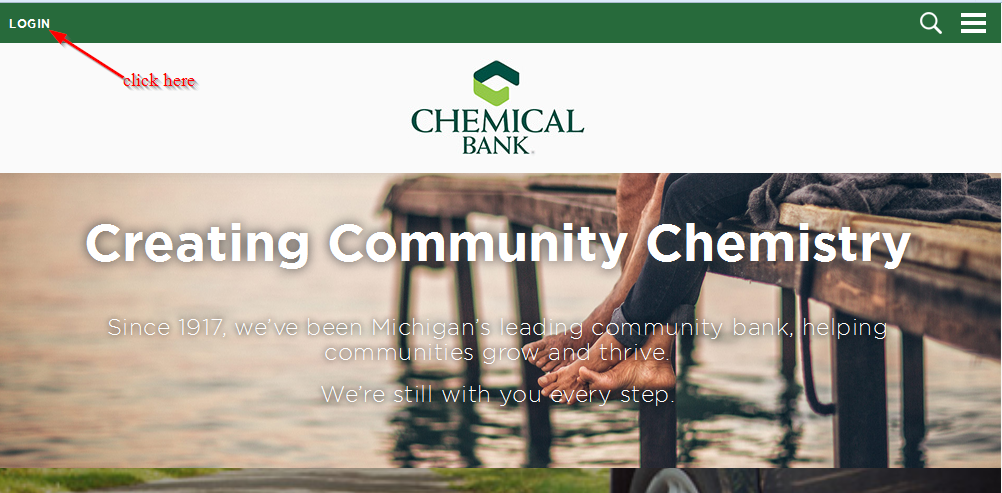 Step 3-Enter your password and click "login"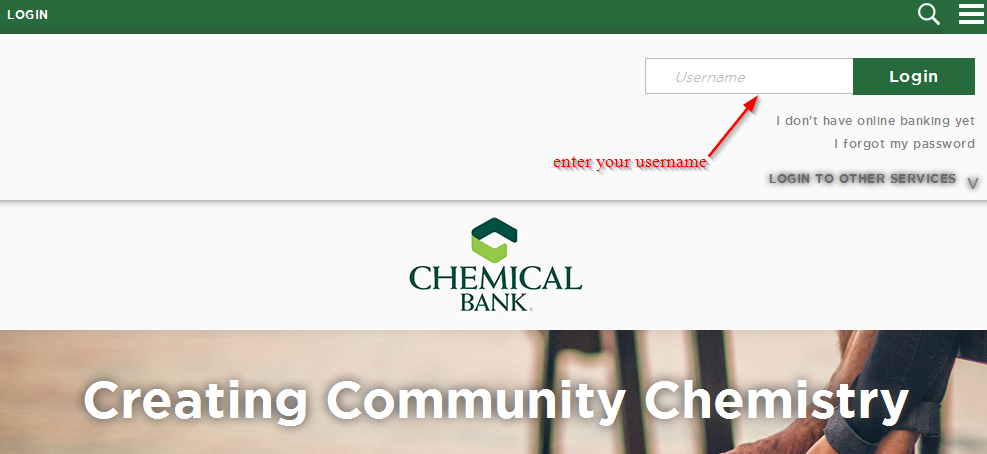 How to reset your password
To reset your password, you will need to use a valid user ID. This is very important in helping the bank to ascertain that you are indeed a customer with an online account with the bank. The user ID must exist on the bank's database for you to reset the password. Here are simple steps to reset your password:
Step 1-Click "login" as shown in the below image
Step 2-Click "I forgot my password"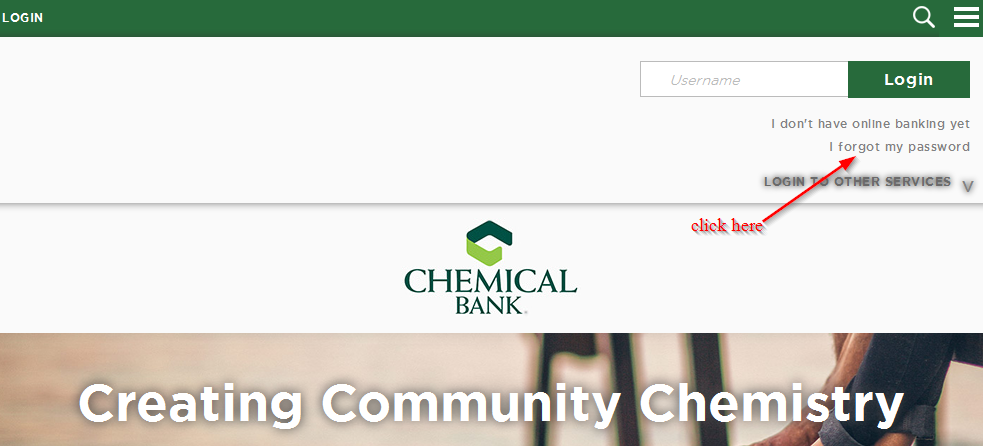 Step 3-Fill in all the details required and click "submit"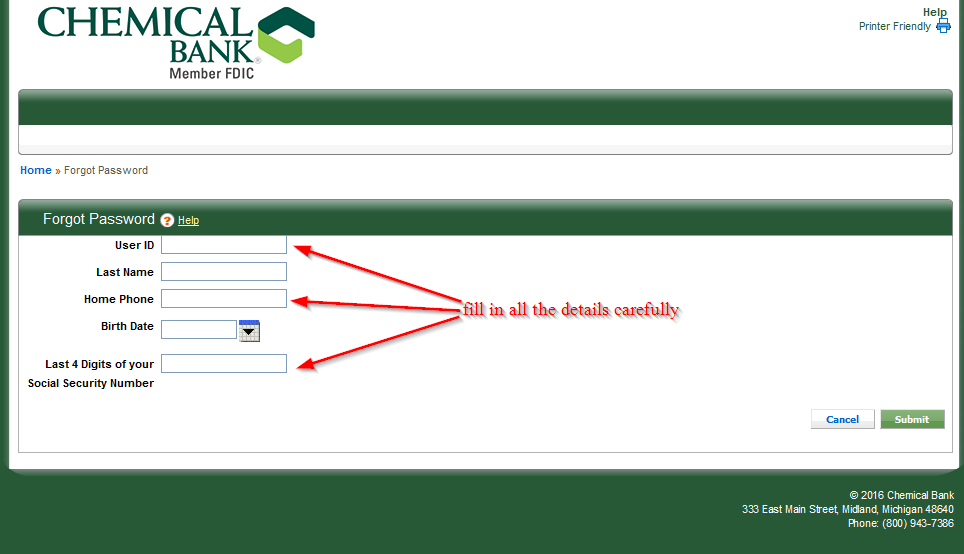 How to enroll
Resetting your password is a simple step by step process that can take less than five minutes. With these steps, it will be a lot easier for you to set up an online account with the bank. You will need to provide some details about your bank account and additional information. The following steps will help you enroll for the internet banking services:
Step 1-Click "I don't have online banking yet"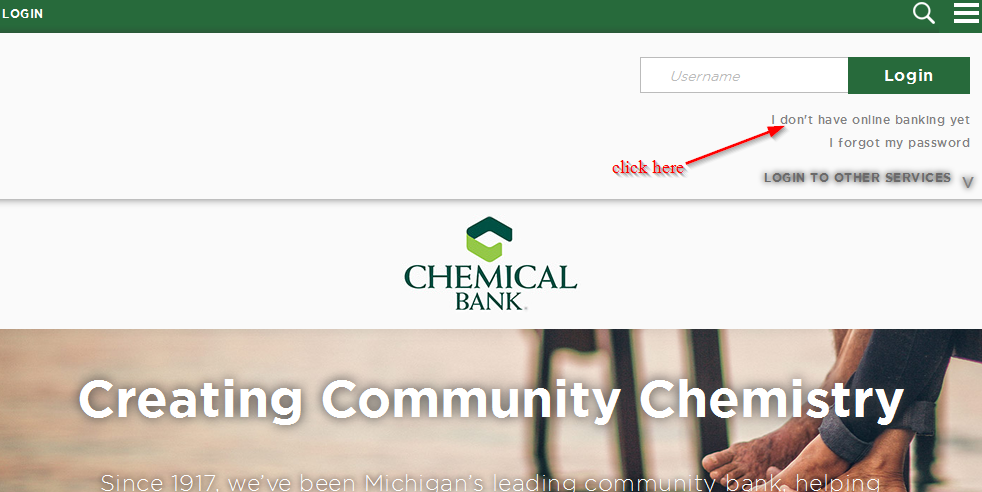 Step 2-Read the terms and conditions and click "I accept terms of this agreement"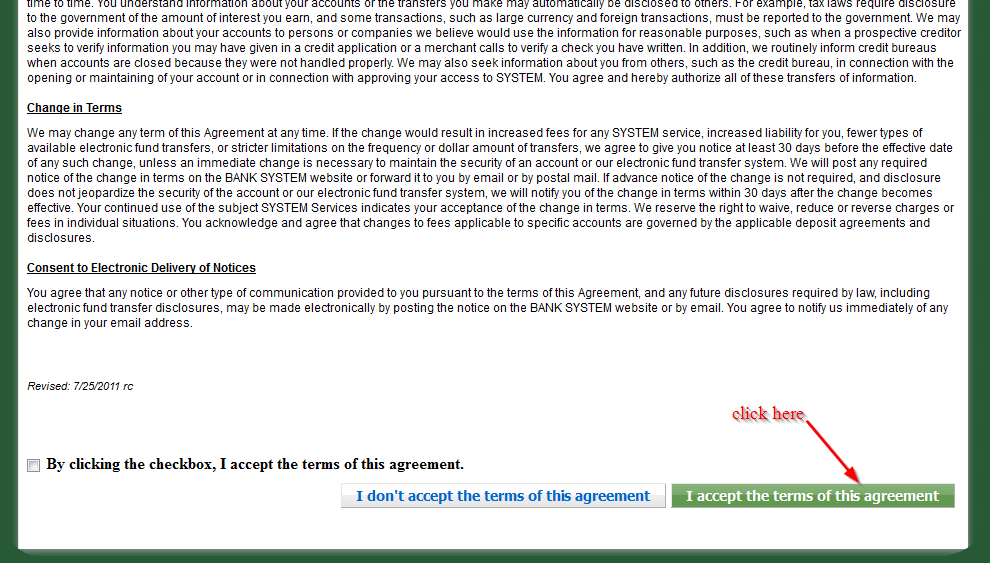 Step 3-Fill in all the details carefully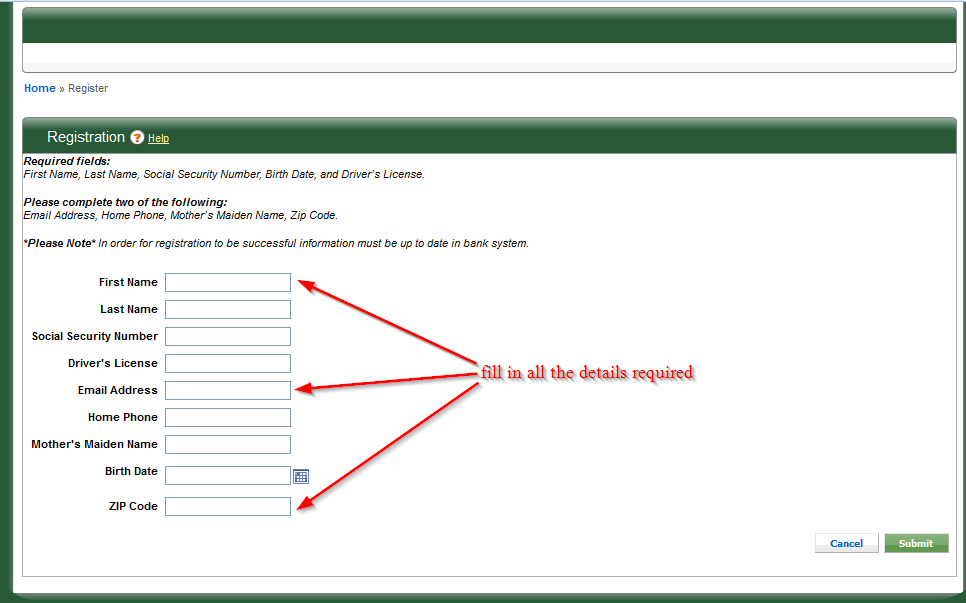 Manage your Chemical Bank online account
As we mentioned earlier on, it is free to set up an online account with Chemical bank as long as you are a customer. Once you have registered, you cal login anytime and do the following:
Pay your bills
Check your account balance
Use a safe and secure platform
Access your account balance
Get all notices and bank statements
Chemical Bank Review
Chemical Bank was founded in 1917 and is headquartered in Midland, Michigan. The bank is a fully owned subsidiary of the Chemical Financial Corporation and has 187 offices across the lower peninsula of Michigan. Chemical Bank is the second largest bank in Michigan.
The bank has $182.9 billion in assets and over 39,000 employees around the globe. Before the bank's merger with Chase Manhattan Bank at the end of 1995, Chemical bank was the third largest bank in the U.S. by total assets.
Benefits
There are many benefits that are offered by Chemical Bank. If you are considering opening an account with the bank then here are a few benefits you will enjoy:
Money management tools
Chemical Bank gives its customers a hometown approach making sure that they focus on devotion to the personalized and community service. The good thing about the bank is that they provide money management tools which help customers to make better financial decisions and understand effective money management.
Checking account
There are various personal checking accounts that customers can choose at Chemical Bank that are specifically meant to meet the lifestyles of many people. Chemical Bank offers six different options, but they all come with a backed-guarantee of excellent customer service. The accounts offered by include:
Advantage-This an interest-earning account for those who maintain daily balances. The benefits of this include monthly paid interest, a range of statement options to meet your needs, voice banking service, online banking, mobile banking, discount on loan rate and variable interest rate based on the current market conditions
ChemBasic-This account doesn't require any services charges and no minimum balance. The benefits of this account include free ATM transaction, free eBanking, and free voice banking service, mobile banking, free unlimited eBill payments and free debit card transactions.
ChemPlus-This is the right account for individuals who 55+. The features include free ATM transactions at all Chemical Bank ATMs, unlimited debit card transactions, online banking, voice banking service, free notary photocopies and eBill pay service
Classic-This account has a low minimum balance requirement, per-check charge or no check writing limitations. The account features unlimited check writing and no charge per check
Green-The bank's paperless account makes it easy for customers to access money electronically 24/7. Customers can also access funds on the go and there is no requirement for minimum balance. This is for customers who don't plan on writing many checks.
Saving account
Chemical Bank also offers a number of savings accounts. Actually, there are 9 different type of savings account that can be for retirement, opportunities or events. These accounts include:
Classic-This is an internet-earning account with low minimum balance requirement
MI savings-This account earns tiered interest and there is no minimum balance
Youth Savings-This is a savings account for children who are 18 years an below
Holiday club-This is the right account for saving for any annual expenses
Money market-Immediate liquidity and competitive market rates
Premier Money Market-This account pays a competitive market interest while at the same time offering liquidity
Certificate deposit-This is the best way to save while earning higher interest rate
Chem Flex Investment-This account helps you to earn a higher interest rate on short-term investments
There are also credit cards being offered by the bank
Downsides
Chemical Bank has its own downsides, which we believe you must know. They include
The lending capabilities of this bank are rather lacking. Although they can help finding the perfect lending solutions for certain opportunities, loan offers end there. The bank offers two types of loans: consumer loans and mortgage loans
The bank only operates in the Michigan, considerably reducing the number of customers that can be served. Potential customers who don't live in this state will not be able to use the bank's platform. As of now, the bank's banking offices can be found only in 47 counties in the state of Michigan.
Conclusion
Chemical Bank has been providing Michigan with the best banking solutions for some time now. If you are considering banking with Chemical Bank, you should expect the following:
A range of savings and checking account options
Limited availability
There are no many loan options to choose from
Credit and debits cards provided
---