Coastal Credit Union was established in 1967. It's a non profit organization which is owned by the members. It provides banking solutions such as savings and credit to its members in its 16 branches and its online portals. The bank's branches are located at Apex, Carrboro, Cary, Durham, Garner, Raleigh, and the Research Triangle Park.
Website: https://www.coastal24.com
Routing Number: 253175494
Swift Code: See Details
Telephone Number: 800-868-4262
Founded: 1967 (56 years ago)
Bank's Rating:
Coastal Credit Union is a members' owned non-profit organization established in 1967 to offer banking services to its members. The organization serves its clients through its 16 branches and its online platforms which can be accessed from anywhere. Some of the services offered are mortgage, savings, home equity, and wealth management.
HOW TO LOGIN
If you have an online account with Coastal Credit Union, you can access its services online using your mobile devices or computer. You should follow the following steps.
Step 1. The first step is to go to the website. The URL for the union is https://www.coastal24.com/
Step 2. In the homepage, enter your User ID and then click Login as shown below.
Step 3. In the next page, you should confirm the image shown in 1 below. If it is the image associated with your account, you should enter your password (2) as shown below.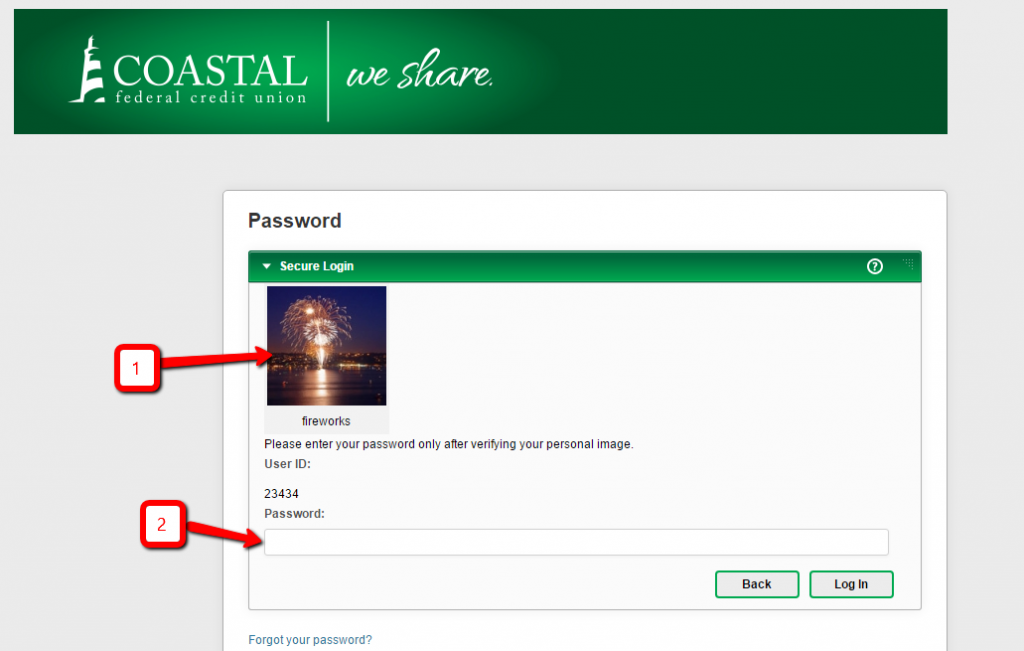 If you have entered the correct password, you will be taken to your online account.
HOW TO RECOVER LOST PASSWORD
If you have forgotten your password, you should follow the steps below.
Step 1. First, go to the website's homepage and enter your user ID as shown in the steps above.
Step 2. In the next page, click the forgotten password as shown below.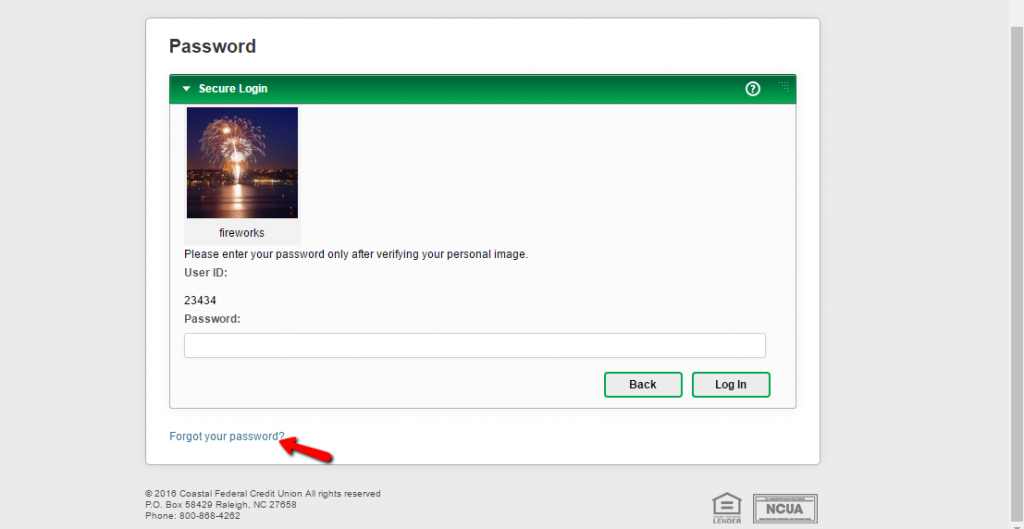 HOW TO REGISTER
To register for an online account, you should follow the steps below.
Step 1. In the homepage, click register as shown below.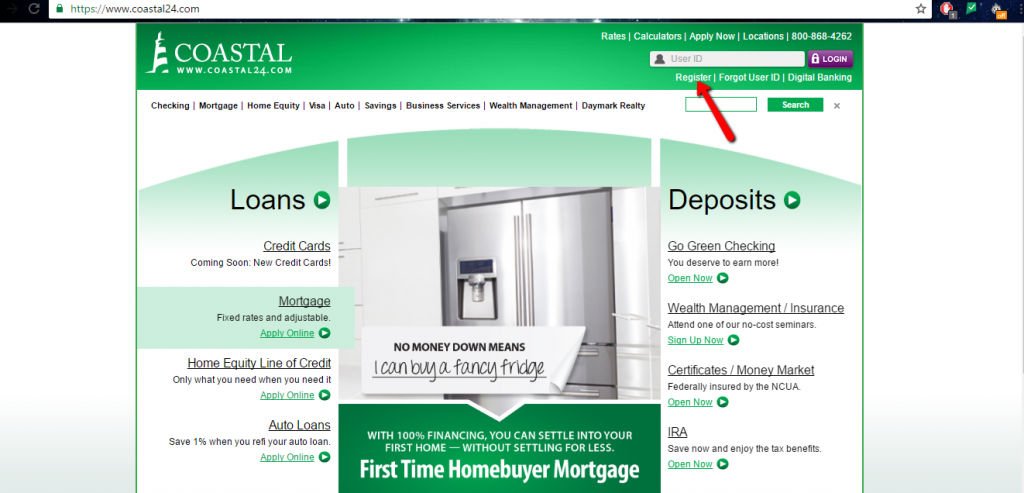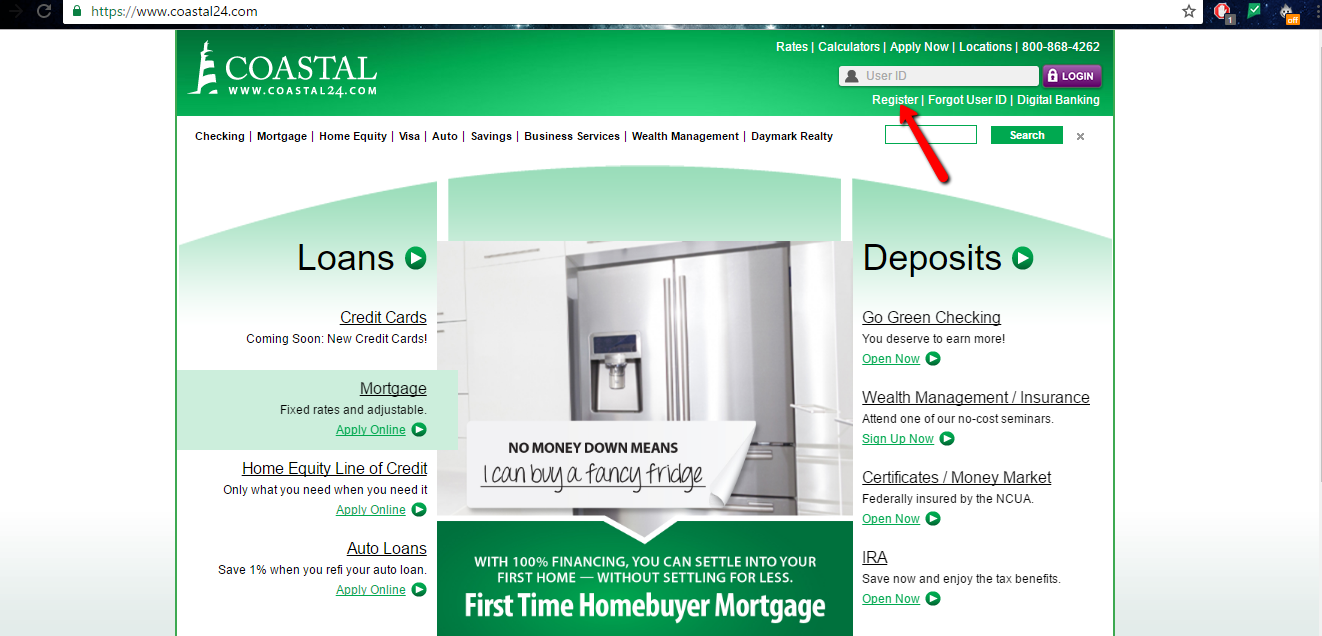 Step 2. Step 1 will take you to a new page containing the terms and conditions. You should now read these terms carefully. Only accept the terms if you accept them as shown below. The entire terms can be found here.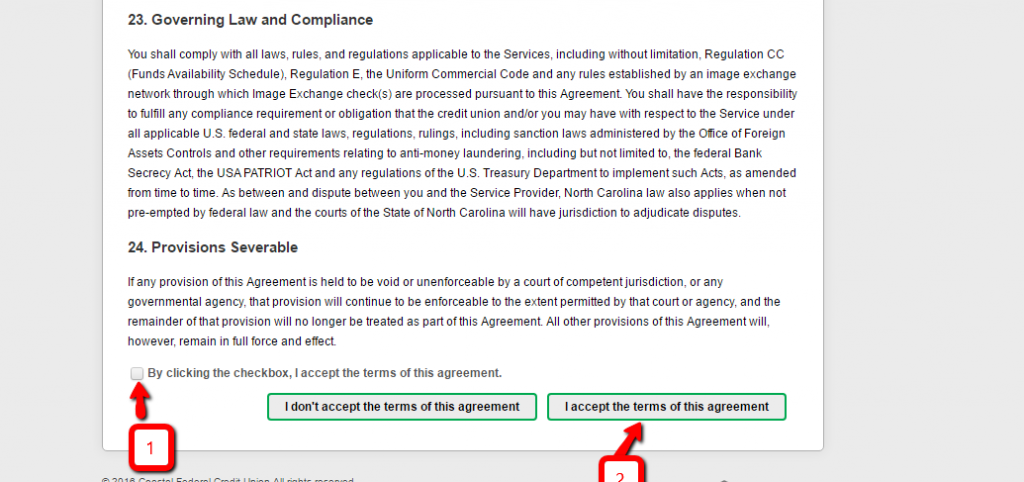 Step 3. In this page, enter the asked details and click submit. Then follow the next steps carefully to create the account.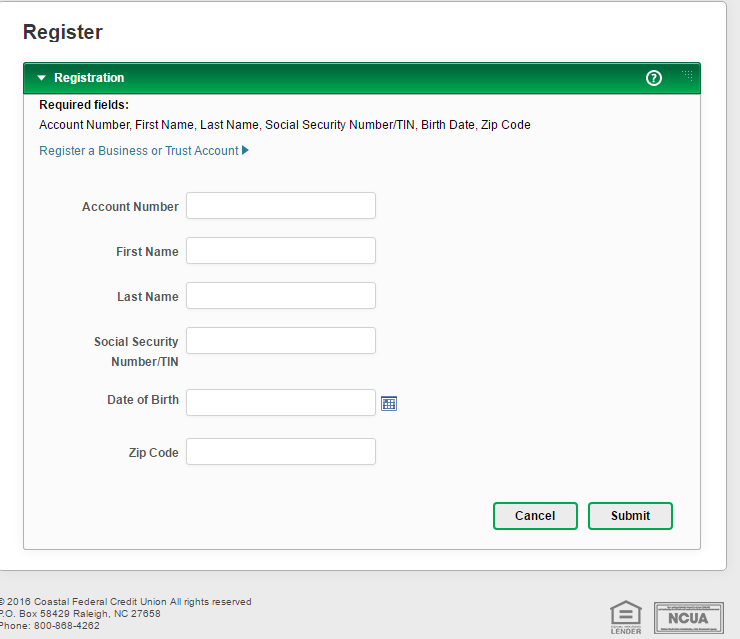 WHAT YOU WILL FIND IN THE ONLINE ACCOUNT
The online account enables you to perform your banking services online without the need to visit the physical bank branch. Some of the services you can do with your online account are:
Checking your bank balance.
Requesting a loan.
Requesting your mini statement.
Monitoring the transactions of your account
sending money
Making payments
Get in touch with customer care
Coastal Federal Credit Union Review
Just like most credit unions, Coastal Federal Credit Union was founded with the need to help a certain group of people. In this case, the credit union was founded to help employees of IBM.
However as Coastal Federal Credit Union has continued to grow, the membership allowed has expanded to include employees of other companies located in North Carolina.
Since Coastal Federal Credit Union was founded in 1967, it has been committed to providing high quality services to its members, including checking accounts, home equity, mortgage loans, credit cards, savings accounts, auto loans and more.
Customers can also bank online at any of the credit union's branches throughout the Triangle including Apex, Rocky Mount, Carrboro, Cary, Raleigh, Durham, Garner or Henderson.
Benefits
In our Coastal Federal Credit Union review, we found a number of benefits that many customers can enjoy. The credit union has been in service for a long time and there are many benefits of becoming a member of the credit union.
Aside from being the traditional brick and mortar credit union, it has also embraced technology and gives its customers access to the accounts and other banking services through the internet. Here are the benefits that you will gain for becoming a member of Coastal Federal Credit Union:
One of the most amazing things about Coastal Federal Credit Union is that they don't charge annual fee which must be paid by all those who have a card.
This can save customers a lot of money each year considering the fact that many credit unions today are charging this fee.
The credit union offers several different Visa cards that come with different features that fill the individual needs if each card holder.  For instance, customers can choose from cards that have certain card limits, reward programs and interest rates.
This credit union usually advertises APRs starting at 7.5%. This is low when compared to the rates that are offered by other companies and credit unions. It is however unclear what the credit union's maximum APR is.
This is one of the main benefits of becoming a member of the credit union. With the online portal, customers can bank from anywhere provided they have internet connection.
They can make payments, check their account balance, find an ATM near them, pay their bills, check transaction history and access online customer support
High interest rates and lower fees
Since this credit union is meant to benefit its customers who are also members, they have high interest rates for their savings and checking accounts and lower fees.
All this is meant to benefit the members, unlike banks whose main goal is to earn a huge profit at the end of the year.
Another advantage of Coastal Federal Credit Union is that it is easy to become a member. As we stated earlier on, the credit union was open to IBM workers but it now accepts members from other companies that are situated in the region.
Downsides
Coastal Federal Credit Union has its own downsides, which we believe that you must know as a customer. The downsides of being a member include:
It goes without saying that security is very important, especially when using credit cards since they are very vulnerable to theft and fraud. A significant number of financial institutions are improving their security measures so as to best protect their customers.
But Coastal Federal Credit Union's card security is not so good. It looks like the only safeguard that is in place is the chip technology which is anyway common throughout the whole industry and doesn't make the credit union unique in any way
The credit union has not disclosed a number of important pieces of details on its website. For instance, it is not clear whether the credit union charge foreign transaction fees or not
Conclusion
Coastal Federal Credit Union offers many features that are beneficial to their members. Being a credit union, it focuses on providing customers with good services rather than making profit.
The credit union offers high interest rate and low fees on its savings and checking accounts and it is also easy to join
---