Delta Bank offers private banking services to high networth customers in Latin America. The bank was founded in 1986 and is based in New York, New York. The bank operates as a subsidiary of Delta North Bankcorp Inc.
Website: http://deltabank.net/
Routing Number: 111101144
Swift Code: See Details
Telephone Number: +1 (212) 315-3131
Mobile App: See Details
Founded: 1986 (37 years ago)
Bank's Rating:
Delta Bank customers can take advantage of the convenience that comes with banking online when they register for the online banking services that are offered. The bank's website has an easy to use interface so that customers can login anytime and bank from their convenient places. Follow this guide for steps on logging in, resetting password and also signing up.
How to login
If you want to access the banking services then you will need to type in valid login details, which include your login ID and password. Just follow the steps shown below in order to login:
Step 1-Open http://www.deltabank.net/
Step 2-Type in your access code and click send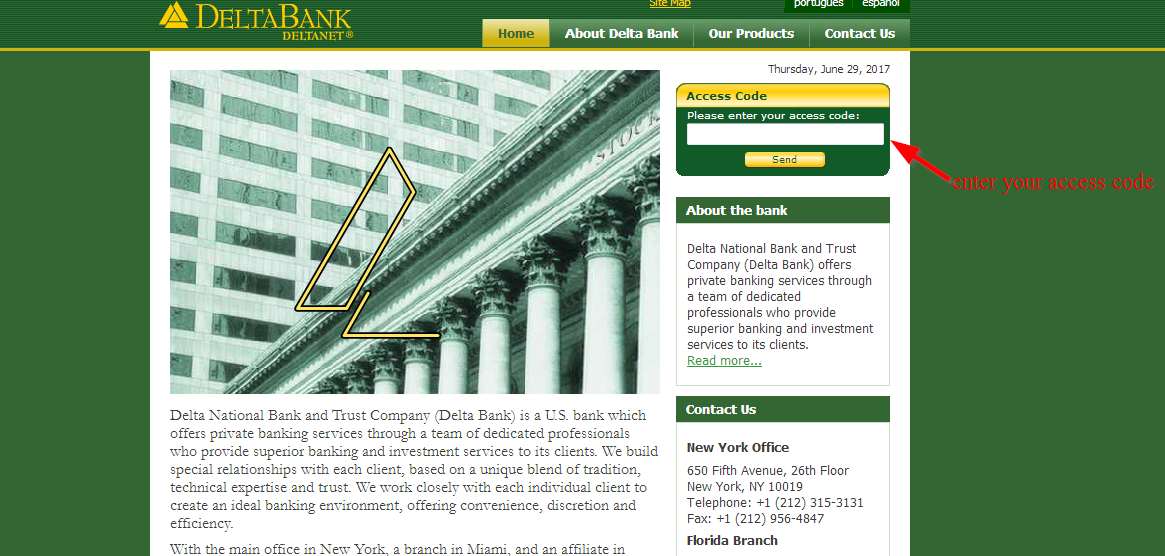 Step 3-Provide your password
In order for you to access the next page where you will key in your password, you will need to use a valid user ID
Forgot your password
Many people have a tendency to forget their passwords because of either a busy lifestyle or they simply want to change it for security reasons. Well, whatever the reason you are resetting your password, you need to make sure that you are an online account holder.
And in order for you to change the password, you must provide a valid access ID to get a through pass. Otherwise, the website won't grant you any further access. Resetting your password is only possible if you use a valid access ID
How to enroll
If you are a customer with a valid account with the bank, you will need to register so that you can access the financial services online. The password resetting process is quite simple and straightforward. However, unlike most online websites, you will need to visit the nearest branch and they will help you with registering an online account. A representative at the bank will help you to set up the online account.
Manage your Delta Bank account online
Deposit check images
Transfer funds
Check account balance
View your eStatement
Access customer support
---