Eastern Bank provides products and services to individuals, families, executives, small-business owners, and not-for-profit organizations. The company operates as a subsidiary of Eastern Bank Corpoiration.
Website: https://www.easternbank.com/
Routing Number: 011301798
Swift Code: See Details
Telephone Number: +1 617-897-1100
Founded: 1818 (205 years ago)
Bank's Rating:
The internet has made it a lot easy for people around the world to conveniently perform certain tasks just by the click of a button. Eastern Bank is one of the best banks in the US, and with its internet banking services; it has made it possible for the customers to manage their bank accounts. Continue reading this guide to learn how you can login into your account, retrieve your password and enroll for the free internet banking services.
How to login
To login into your online account, you will need to use valid login details. If you have a Smartphone, you can download and app from playstore or itunes. Here are a few steps to help you login into your online account:
Step 1-Open https://www.easternbank.com/ in your web browser
Step 2-Enter your HomeConnect ID and click "go"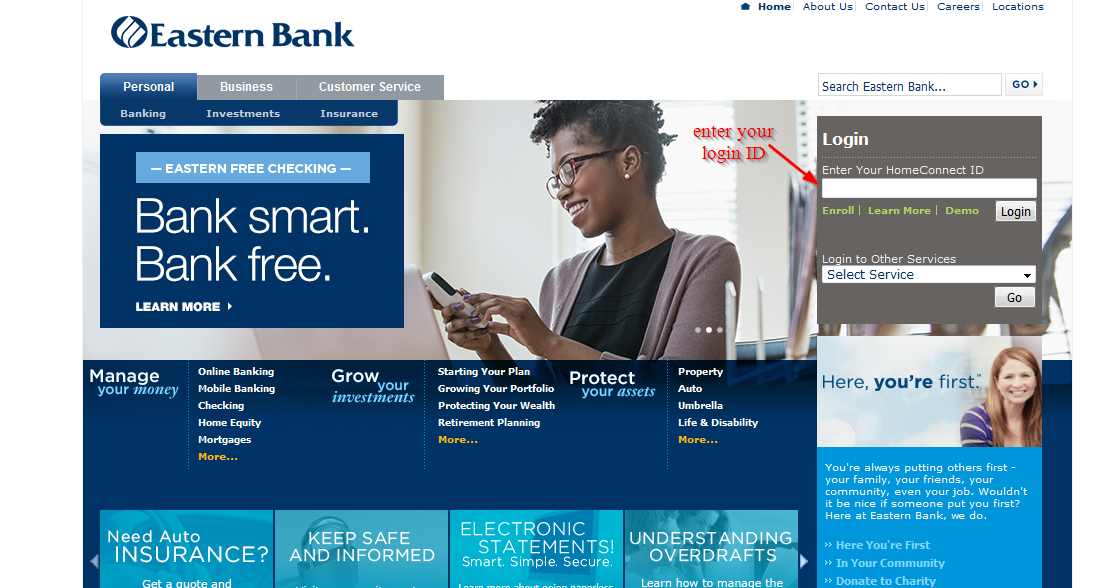 Step 3-Enter your password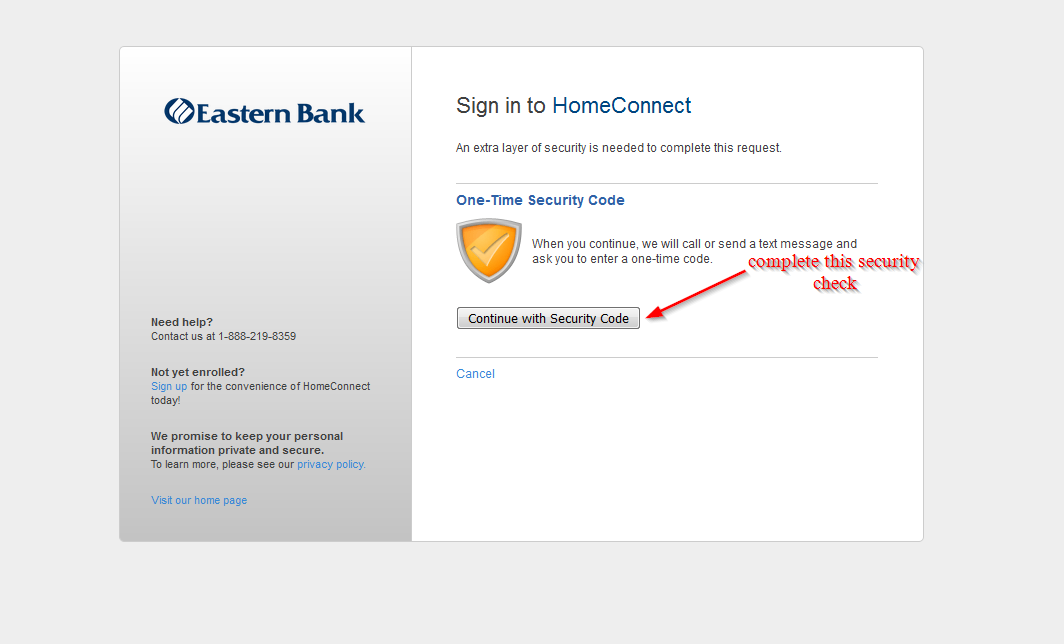 If the logins you have used are correct, you will be directed to your online account
Forgot your password?
In the event that you have forgotten your password, you can get a new password so that you can regain access to the account. However, in this case, you won't be able to reset your password if you don't use a valid user ID. This is a way of verifying that you are a customer with an online account the bank. Once you have used the correct password, you will be granted access to the password reset page.
How to enroll
You can enroll for the internet banking services offered by Eastern Bank. Since this service is only available to customers with a bank account with the bank, you will be required to provide certain details about your bank account. Follow these simple steps to enroll:
Step 1-Click "enroll" on the homepage. You can see the below image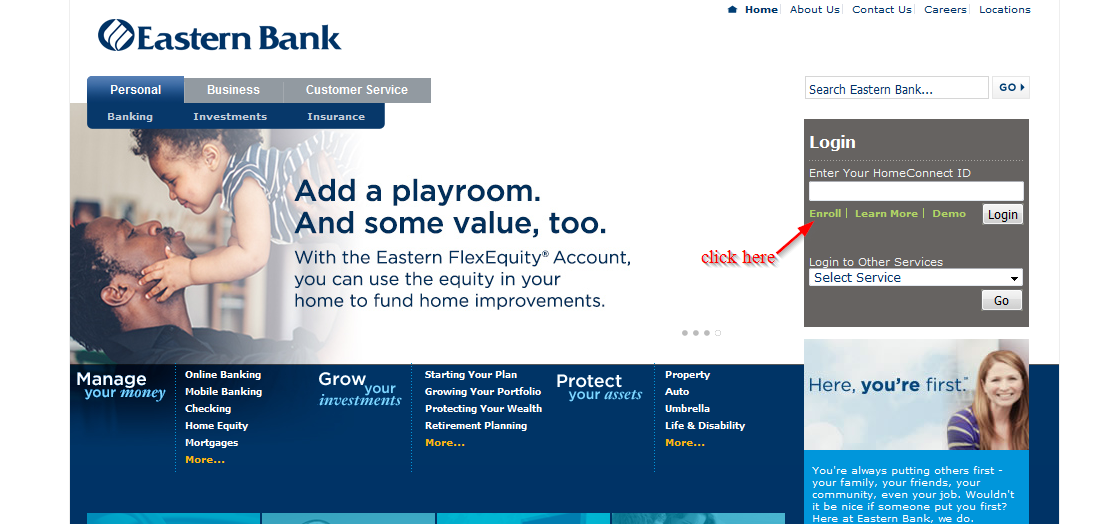 Step 2– Read all the terms and conditions on the page and click "continue"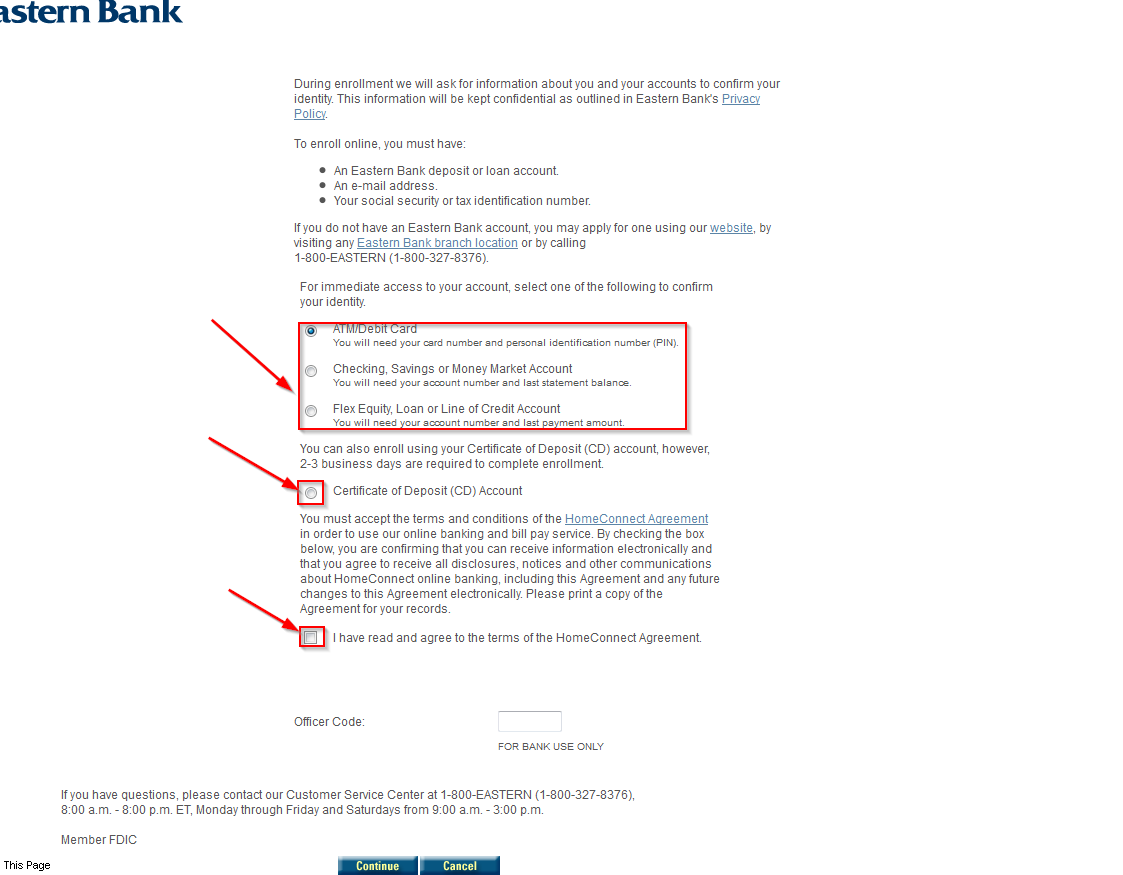 Step 3-Fill in all the required details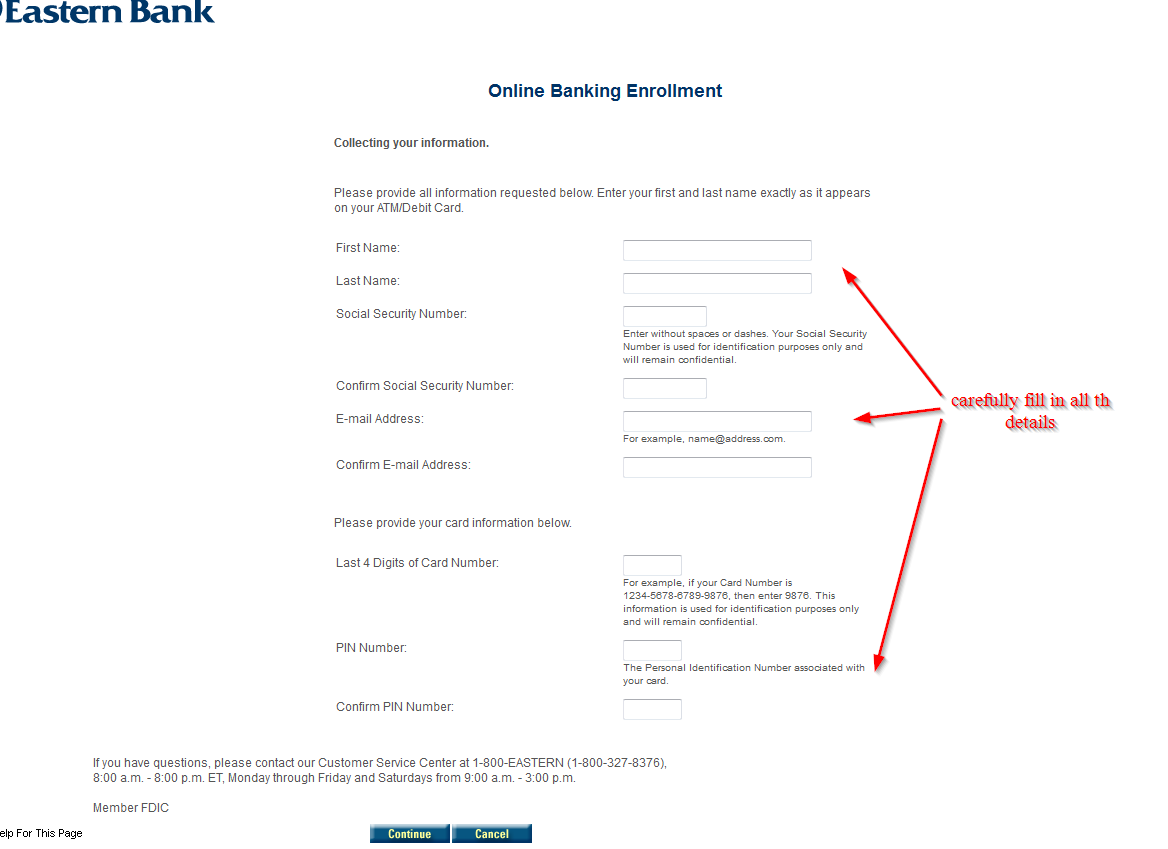 Manage your Eastern Bank online account
Here are the benefits of having an online account with Eastern Bank online account:
Pay your bills
Track your transaction history
Locate the nearest ATM
Transfer money to other accounts
Eastern Bank Review
It is not always easy to choose the right bank. First and most importantly, you need to identify your personal goals and then set out to find a financial institution that will meet your expectations.
You need to consider factors like: your long term financial goals, whether you want to avoid paying fees and how you want to bank. These considerations will put you on the right track.
Eastern Bank might be the right financial institution for you if you live in Massachusetts. The bank was founded in 1818 and offers a wide range of products to help you plan your finances.
From investment products to checking accounts, this bank will certainly earn your trust. Continue reading this review so that you can learn more about this bank.
Savings account
Savings account usually different from one person to another and this Bank understands why it is important to offer varying products. There are two regular savings account options to choose from and you only get started with an opening deposit of $10.
Monthly service charge is $3 which can be waived if you maintain a $250 minimum balance.
The options, however, don't stop there. You can open a money market account with zero deposit and zero monthly service charge and if you want an account for long-term savings needs, then you can choose a certificate of deposit.
Checking accounts
Eastern Bank offers three checking account options: Premier checking, eZ checking and Free Checking.
The minimum opening deposit for this account ranges from between $25 and $500 depending on the checking account that you have opened and each checking account offers free mobile banking, free bank debit card, and free online bill pay.
Mobile and online banking
The internet has really simplified the way things are done these days. Bankers have no time to write checks these days. People want a convenient and faster manner of managing their finances.
When you open an account with this bank, you will get easy access to your finances through mobile and internet banking. You can check your balance from your mobile device or computer; deposit your paycheck with your mobile phone, transfer funds and set up auto bill pay.
Mortgage loans
Buying a house is one of the main decisions that you will ever have to make. Eastern Bank offers a wide range of mortgage products that you can choose from.
Enjoy competitive fees and rates and you can use an online mortgage calculator to determine affordability and estimate interest rate before meeting the mortgage loan officer.
The bank has fast mortgage loan approval and you only need to complete an online application
Credit cards
Eastern Bank offers both rewards credit cards and regular credit cards. You can apply for the Signature or Platinum Bonus Rewards Card. For this, you get to earn one point for every one dollar you spend, in addition to bonus points every month.
You can also earn cash bank on every first purchase and then redeem rewards points for gifts, cash, travel and so more. For those who prefer the no-frills card, then the Visa Platinum Card by Eastern Bank is ideal as it features no annual fee a low introductory rate.
Benefits
As you have seen, Eastern Bank has many benefits that you get to enjoy when you bank with them. The benefits include:
Lower fees than other banks
Rates for Savings account are lower than those of other banks
More locations per statement than most regional financial institutions
On Saturdays, some locations are open until 3 p.m as well as 7 p.m on certain weekdays
Downsides
A review wouldn't be complete without writing about the downsides of Eastern Bank. The downsides include:
Locations are only limited to Massachusetts
Some branches are usually not open during weekends
Some locations don't offer longer weekday hours
Conclusion
Easter Bank has a user-friendly website and an intuitive mobile app, multiple savings and checking account options, in addition to many financial products which make the bank an attractive option.
While customers are limited to Massachusetts only, if you are looking for a bank that will give you a hometown feel and has a good reputation, then you should choose this bank.
---