Randolph-Brooks started operations in 1952 as a chartered credit union in the region of South Central Texas. With assets of over $6 billion, it has proven to be a stable financial institution. The member-owned and managed credit union thrives in making the lives of its members better through financial support.
Website: https://www.rbfcu.org/
Routing Number: 3 1 4 0 8 9 6 8 1
Swift Code: See Details
Telephone Number: 1-800-580-3300
Founded: 1952 (71 years ago)
Bank's Rating:
Randolph-Brooks is a trusted and reliable credit union based in Texas. It boasts of being an award-winning credit union in the region with over 50 locations in the region. Due to its online and mobile banking platform, it has become a dedicated financial institution in providing affordable financial solutions to its members. With over half a million members, it has won the hearts of many as a stable credit union and a broad range of business and personal loans.
How to log in
When it comes to logging in to your account, you need the account details. Each customer or user will have a unique password and account username. If you have all this, you can proceed to login. The following steps will help you out:
Step 1: Visit the credit union's home page via the link https://www.rbfcu.org/
Step 2: Find the login space, enter your username and password. Click the log on button to access your account.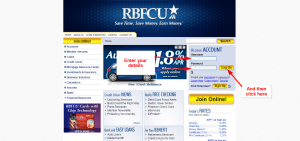 How to reset your account password
You can reset your password either by choice or if you have forgotten it. For the latter, you may have tried to log in a couple of times with no success. The reason is; you cannot remember your password details. Luckily, you can reset your password and create a new one. The process is as follows:
Step 1: Click the button as shown below.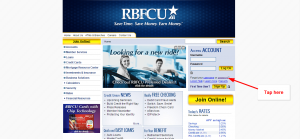 Step 2: Insert your username and social security number. Click next to proceed.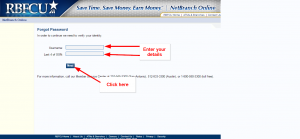 You will go through a few more actions before you can retrieve your account password.
How to enroll
Customers with a normal Randolph-Brooks Federal Credit Union account can sign up for online and mobile banking. It is easy when you have an account. However, you have to submit your account details to verify you as an account holder. The steps include:
Step 1: Click the Sign up button.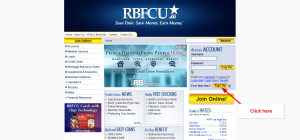 Step 2: Enter your member number and social security number. Click sign up to proceed.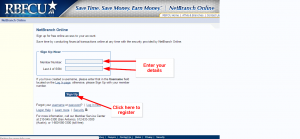 How to manage your Randolph-Brooks Federal Credit Union account online
You can manage your online account from your PC or mobile phone. After you are enrolled for internet banking, you can apply for loans and withdraw cash with utmost convenience. Other tasks you can complete virtually include:
View your bank statements.
Check your account balance from your mobile phone.
Deposit cash into your account.
---