Santander bank offer personal and business banking products and services. Founded in 1857 the bank operates as a subsidiary of Santander Holdings USA, Inc.
Website: https://www.santanderbank.com/
Routing Number: 231372691
Swift Code: See Details
Telephone Number: +1 877-768-2265
Founded: 1857 (166 years ago)
Bank's Rating:
Internet banking services offered by Santander Bank give customers 24/7 access to their bank accounts. With an internet banking account, customers can make payments, transfer between accounts and check their account balances from anywhere around the globe. Follow this simple guide to learn how you can login into your online account, how you can reset your password and how you can register for the internet banking services.
How to login
As mentioned above, you can access your online account anytime; anywhere provided you have internet connection. You will need your login details to access the online account. Here are simple steps to follow:
Step 1-Open your web browser and click https://www.santanderbank.com/
Step 2-Click "login"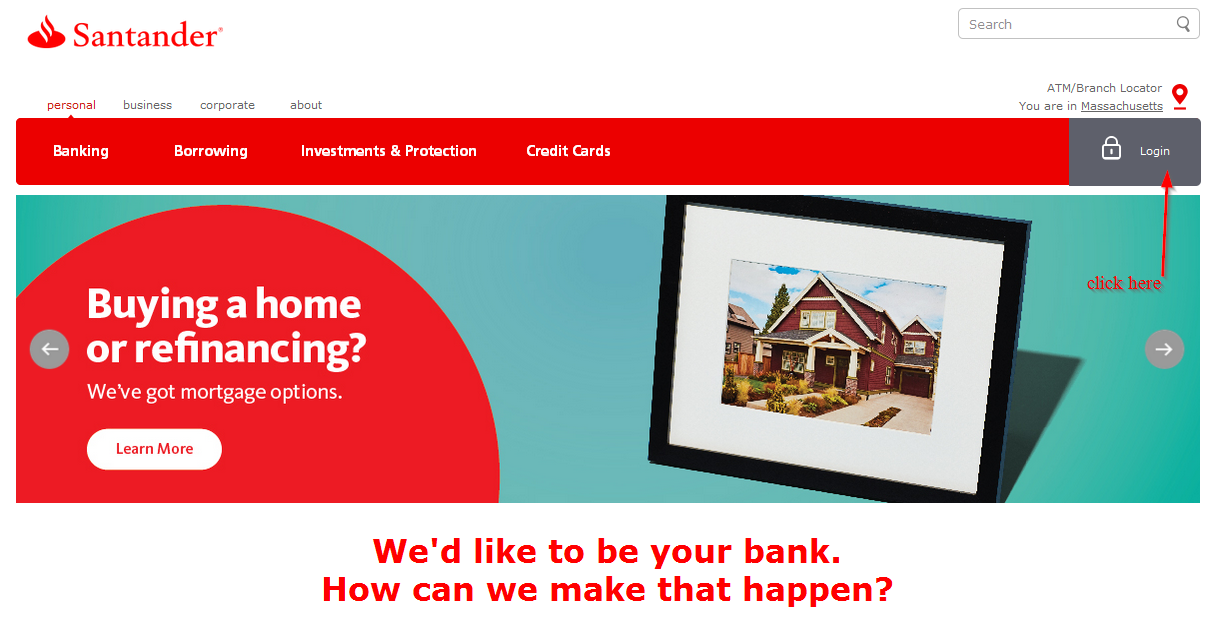 Step 3-Enter your user ID and click "login"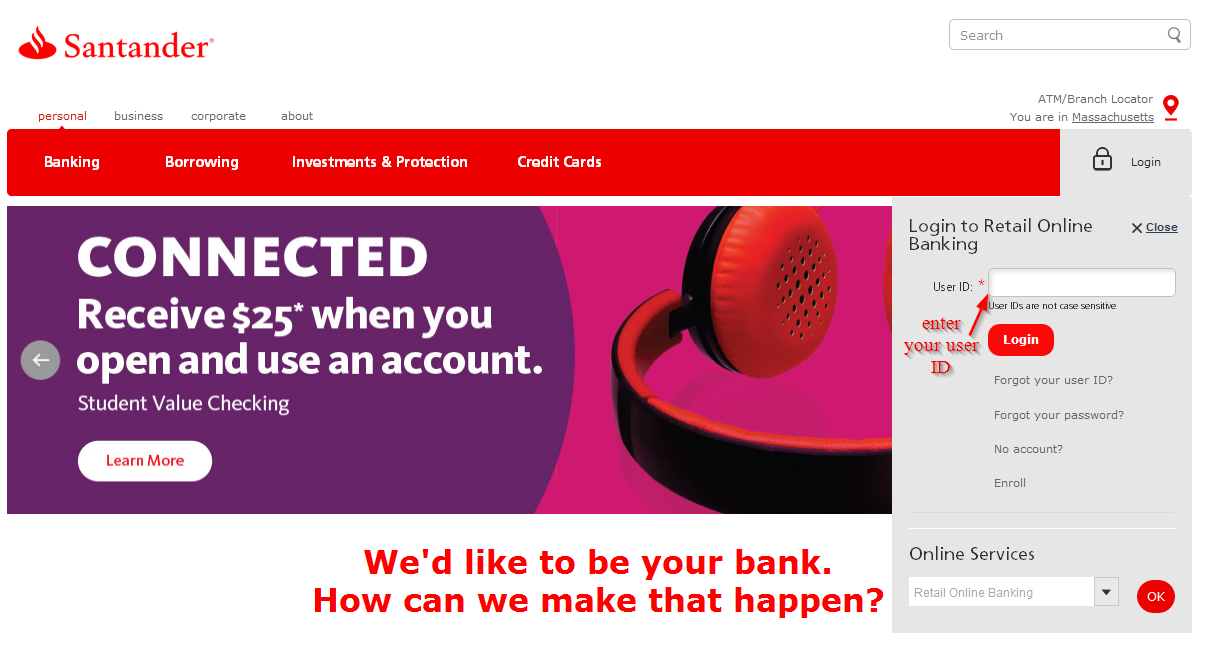 You can only access your online account if you use a valid user ID
Forgot your password?
If you can't remember your password, you can reset it anytime provided you have your user ID with you. The process requires that you use a valid user ID, which is a way of validating your existence as a customer on the bank's database. Follow these steps to reset your password:
Step 1-Go to the bank's homepage and click "login"
Step 2– Click "forgot your password?"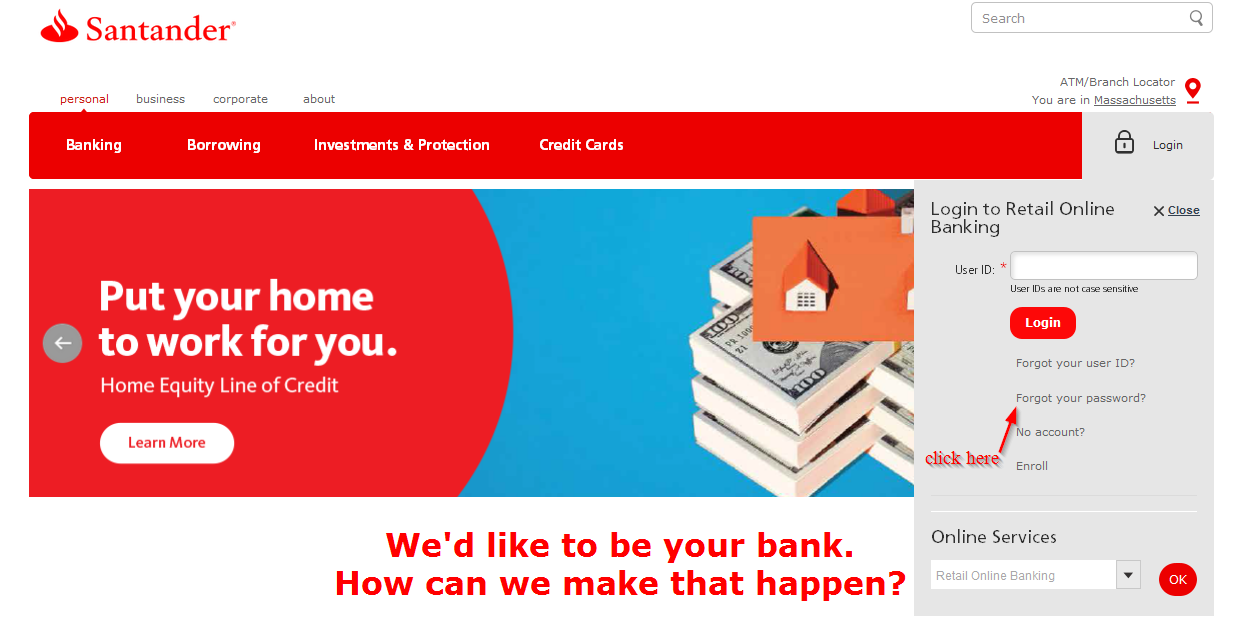 Step 3-Enter your user ID and date of birth and click "continue"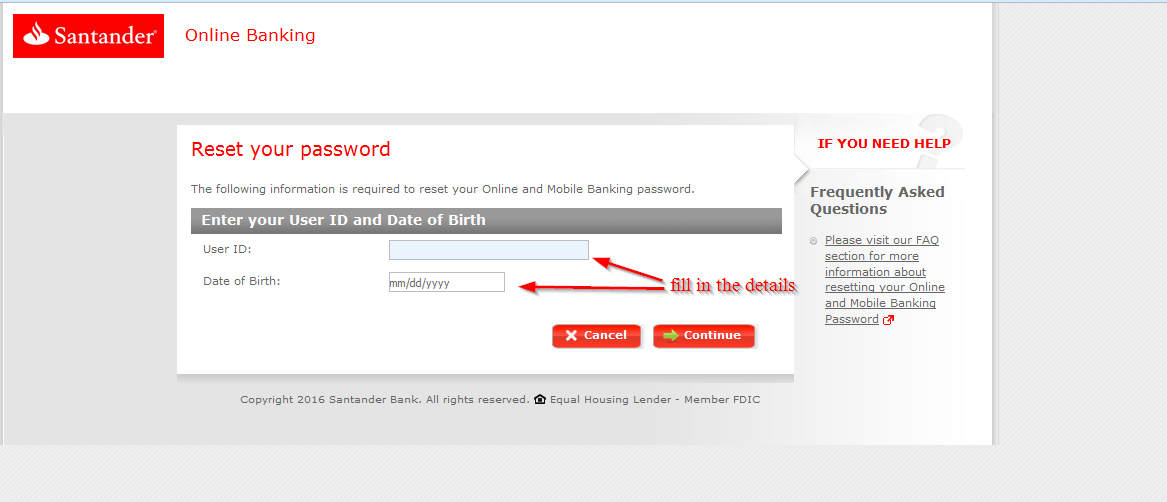 How to enroll
Enrolling for the internet banking services offered by the bank is free. However, this service is only available to customers who have an account with the bank.  Here is a step by step guide to help you enroll for the internet banking services:
Step 1-Navigate to the homepage and click "enroll"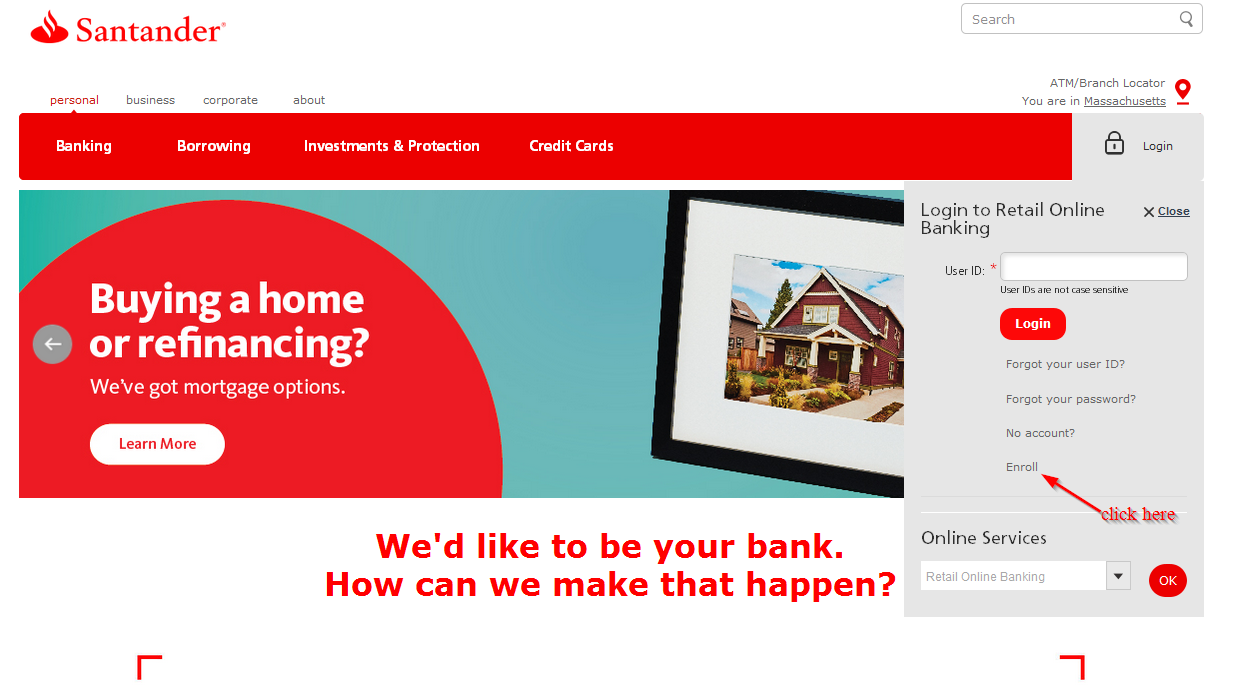 Step 2– Click "enroll now"
Step 3-Fill in the details required, including last 4 digits of your SSN, ZIP code and email address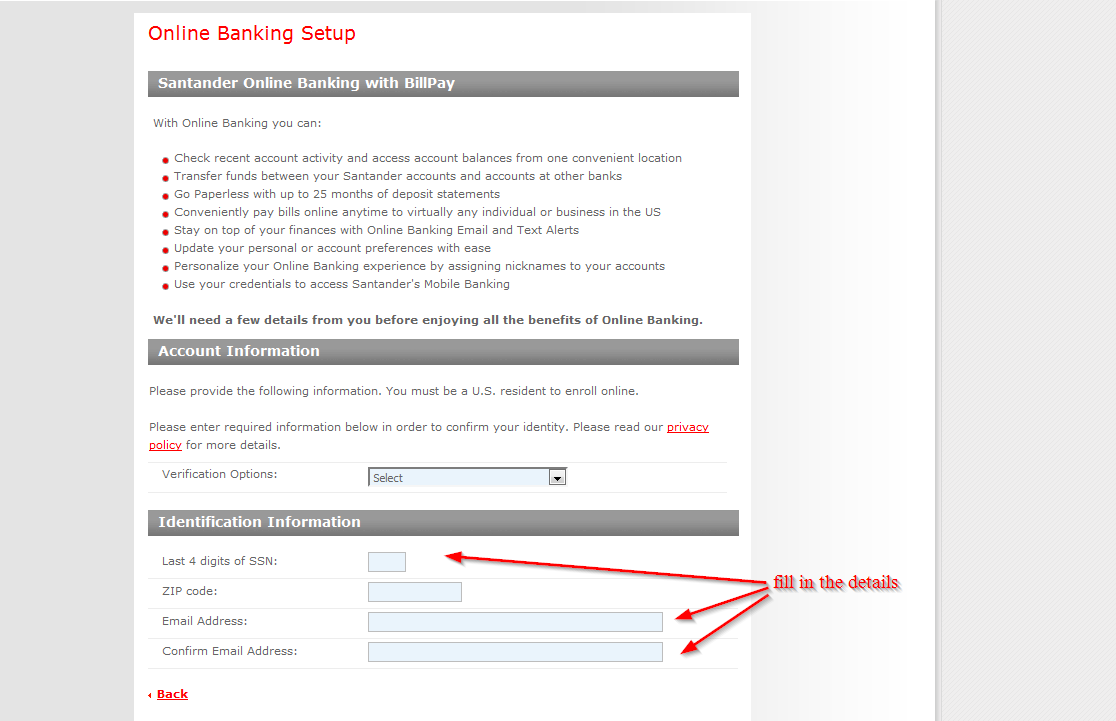 Manage you Santander Bank online account
It's free to register an online account with Santander Bank. Once you have enrolled, you can do the following:
Pay your bills anywhere anytime
Transfer money to another bank account
Check you transaction history and account balance
Santander Bank Review
Santander Bank is the world's 10 largest bank, and in its Santander USA, is the 22nd largest bank in the United States by assets. Santander Holdings has $58.9 billion in deposits and $89.4 billion in assets as of 2015. The bank has more than 9,399 employees working in 676 branches that spread over 8 states in the U.S. The bank is headquartered in Wilmington, Delaware.
Banco Santander was founded in 1857 in Spain. It is one of the largest banks in the Euro-zone and one of the largest in the world. In 2006, the company acquired Sovereign Bank, the largest regional bank with a strong presence in Northeastern U.S., and changed its name to Santander.
Banco Santander has seen a $1 billion loss on its investment in Sovereign. The company completed the acquisition of Sovereign Bank in 2009 for about $2.51 per share.
Checking account
Santander Bank offers three basic checking accounts: Santander Premier Plus Checking, Simply Right Checking and Santander Basic Checking.
Santander Basic Checking has a monthly fee of $3. The account doesn't earn interest and requires a minimum deposit amount of $25. eStatements are free, but customers are required to pay $3 per statement if they choose paper statements. For non-Santander ATMs, a fee of $3 is charged per withdrawal. Clients receive a free Santander Money market savings account or Santander savings.
Simply Right Checking-This type of account has a monthly fee of $10, but it can be waived if at least one financial transaction is conducted during the month. A transaction includes a payment, transfer, withdrawal or deposit. This account does not earn interest and requires a minimum opening deposit of $25. Clients can also receive a complementary money market savings account or savings account, but they are required to pay $3 for every transaction at all non-Santander ATMs.
Santander Premier Plus Checking-This is an interest earning checking account that requires a $35 monthly fee. The monthly fee can be waived by maintaining a combined minimum balance of $75,000 or maintaining total monthly deposits of $6,000. This account a minimum opening deposit of $50, but provides free statements as well as free access to Premier Plus Money Market Savings.
Savings
Santander Bank has three savings accounts: Santander Money market savings, Santander savings, and Santander premier plus money market savings.
Santander savings-This account doesn't have a monthly fee provided you maintain the Santander checking account. To avoid paying the $1 monthly fee, you must have a checking account and maintain a $100 minimum daily balance. You can also arrange for automatic transfers to savings account. A $25 minimum opening amount is required.
Santander Premier Plus money savings account-This account is complimentary for those who maintain a Premier Plus checking account. Those who open this account enjoy higher interest rates and a dedicated banker.
Benefits
Santander UK regularly offers first-time customers £100 bonus for opening an account with them
Santander US have a promotion where customers are paid $20 every month. With the bank's "extra20 checking account" you can receive payments every month when you pay bills online or make direct deposits.
The bank also has an easy to use website. The information is important and clear information such as mortgage rates; opening hours and other details are set out in an easy to understand way
Most banking transacts can be done online
Customer support is on point, with excellent English speaking staff in the UK and US
Online and mobile banking services
Mobile banking apps allows customers to bank on their smartphones
Balance accounts to go with all circumstances from children to students to cash back to current accounts
Low minimum opening deposits
Extensive network of ATMs
Wide range of accounts
Downsides
Monthly service fees
Low rates
Minimum balances
Most complaints from customers involve the banks mortgage and investment products and service
It is also the 5th highest most complain about brick and motor bank in the UK
According to the Financial Conducts Authority, the bank had the most banking issues as per their customer's complaints
Conclusion
Santander Bank is one of the best banks in the United States. The bank believes that customer relation is very important and they do everything possible to ensure customers are happy. However, there is one big issue, which has to do with mortgages and investment.
---