Founded in1888, the Sterling National Bank is a full-service bank with many years of great customer service. It offers commercial, personal, and business banking solutions to its growing customers. With a great team of professional and reliable banking services, the financial institution is set to continue changing the lives of its customers.
Website: https://www.snb.com/
Routing Number: 021912410
Swift Code: STETUS33XXX
Telephone Number: 855-274-2801
Founded: 1888 (135 years ago)
Bank's Rating:
Headquartered in New York, Sterling National Bank is not just a financial institution but it is also a relationship hub. It has invested in hiring the best relationship managers to handle the unique needs of their customers and look beyond their financial needs. They offer the best support and care to every customer. From commercial to business and personal banking services, the Sterling National Bank has become a full-service financial institution.
How to log in
Your login details will help you to access your bank account online. For those who have not enrolled for internet banking, they cannot access their account online. Existing customers can use the platform to make their banking experience flexible. The process involves:
Step 1: Go to the link https://www.snb.com/
Step 2: Hover your mouse over the My Account space and select personal online banking.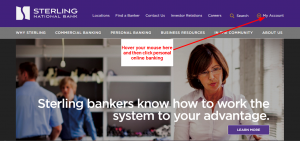 Step 3: Enter your Login ID and password. Click the Login button to access your account.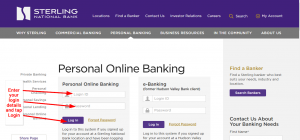 How to reset your account password
The goal is to access your account. However, if you cannot remember the login details, then you will not be able to do this. Mostly, people will forget their passwords as compared to the account user ID. To reset and have a new password, you can follow the steps below:
Step 1: Click the button as shown below.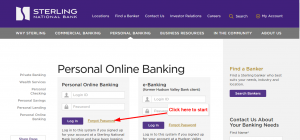 Step 2: Type in your account User ID and click Next.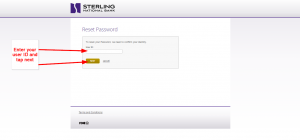 Step 3: Choose how to receive a verification code.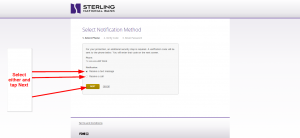 Step 4: Enter the code you have received and then verify.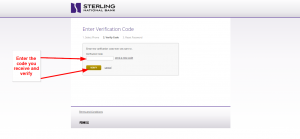 The next step that follows will help you to reset your current password.
How to enroll
New customers can enroll for internet banking. The Sterling National Bank offers reliable mobile and online banking for its existing customers. You need to open an account with the bank to qualify for this service. The process is simple and involves:
Step 1: Tap the button as shown below.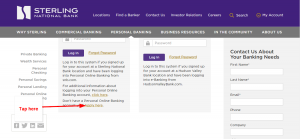 Step 2: Enter your personal details as required and Enroll.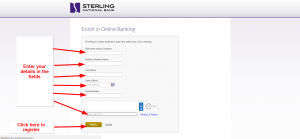 How to manage your Sterling National Bank account online
A bank that offers internet banking services means that you can manage your account on the move. You can use your mobile device to access your account and pay bills. Other benefits that accrue from having an online account involve:
Viewing of e-statements from your mobile phone.
Mobile banking on the move.
Payment of bills and other services via the internet.
---