Woodforest National Bank Inc. provides business and personal banking services and products in the United States. The bank operates as a subsidiary of woodforest Financial Group, Inc.
Website: https://www.woodforest.com/
Routing Number: 031319058
Swift Code: See Details
Telephone Number: +1 877-968-7962
Founded: 1980 (43 years ago)
Bank's Rating:
The online banking services offered by Woodforest Bank allow customers to conveniently and securely access their bank accounts using their computers. And with mobile apps now available on itunes and playstore, customers can use their mobile phones to access their online accounts. In this guide, we will be taking you through the process of logging into your online account, resetting your password and enrolling for the internet banking services.
How to login
If you have registered an account with Woodforest, you can login into your online account anytime and manage your bank account. It's pretty easy to login, and all you need is your login details. Follow these simple steps to login:
Step 1-Open https://www.woodforest.com/  in your web browser
Step 2-Click "login"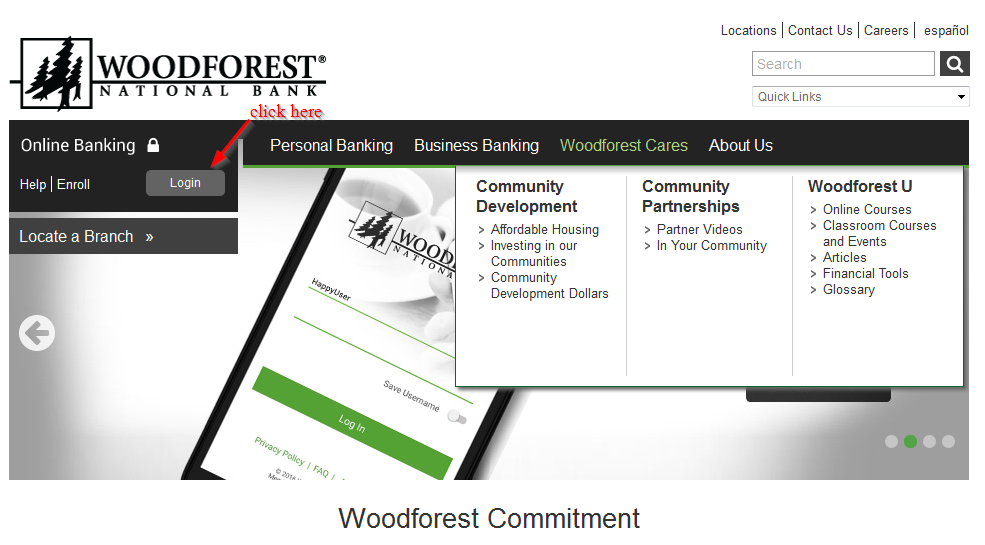 Step 3-Enter your username and password and click "login"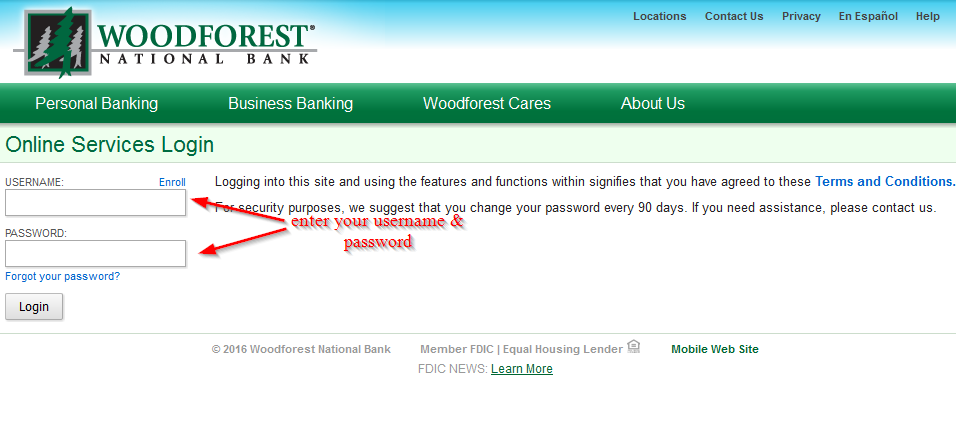 Forgot your password?
If you can login into your online account because you have forgotten your password, you can reset it as long as you have a valid login ID. You can reset your password in these simple steps:
Step 1-Go to the homepage and click "login"
Step 2-Click "forgot your password?"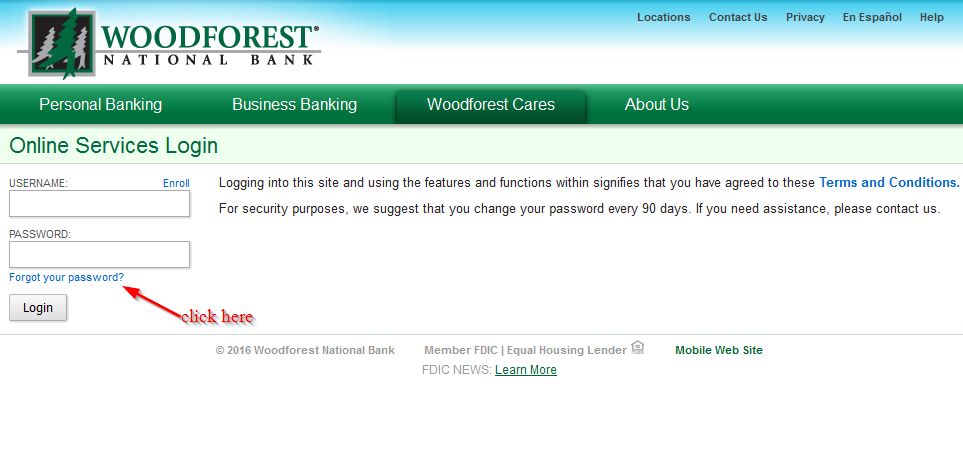 Step 3-Enter your user ID and click "continue"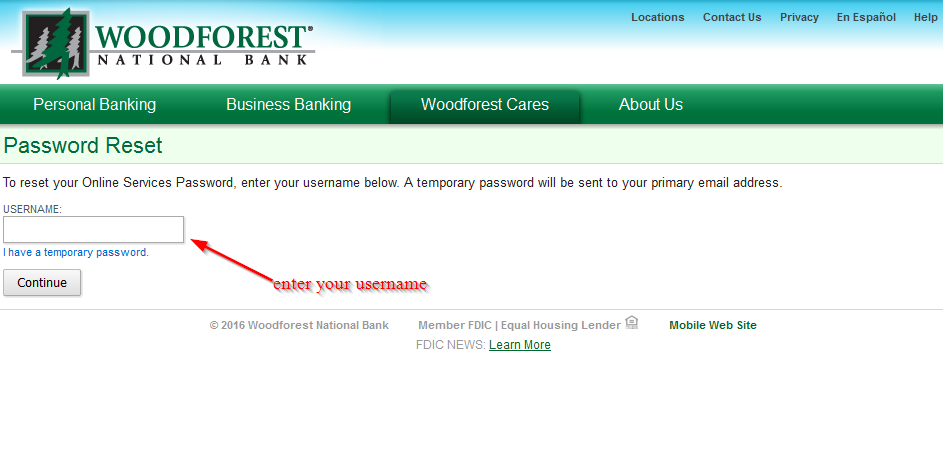 Wioodforest Bank will send a new password to your email address
How to enroll
Creating an online account with Woodforest Bank is simple. In fact, it only takes a few minutes to set up an online account with the bank. But you should know that these services are only available to people who have an account with the bank. Here are the steps to follow to login:
Step 1-Click "enroll" as shown in the image below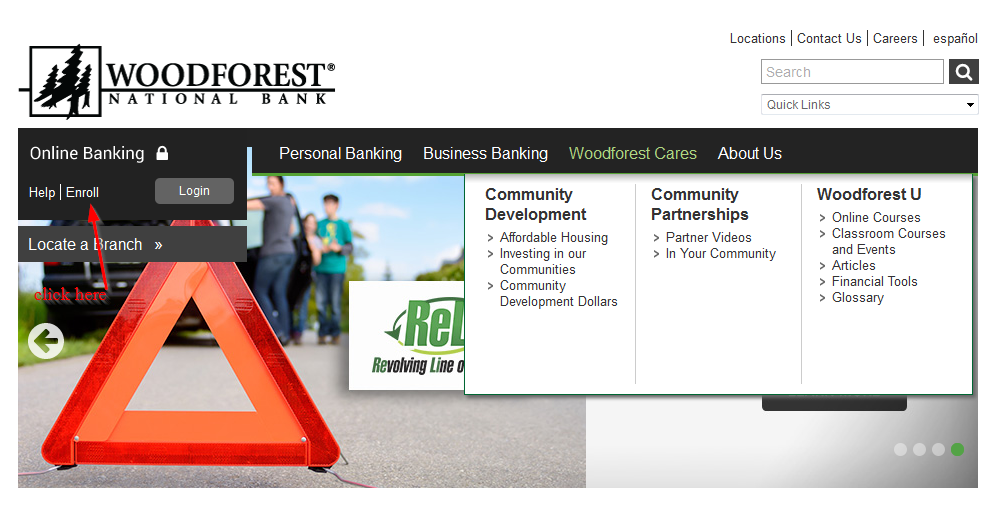 Step 2-Click "click here to sign up!"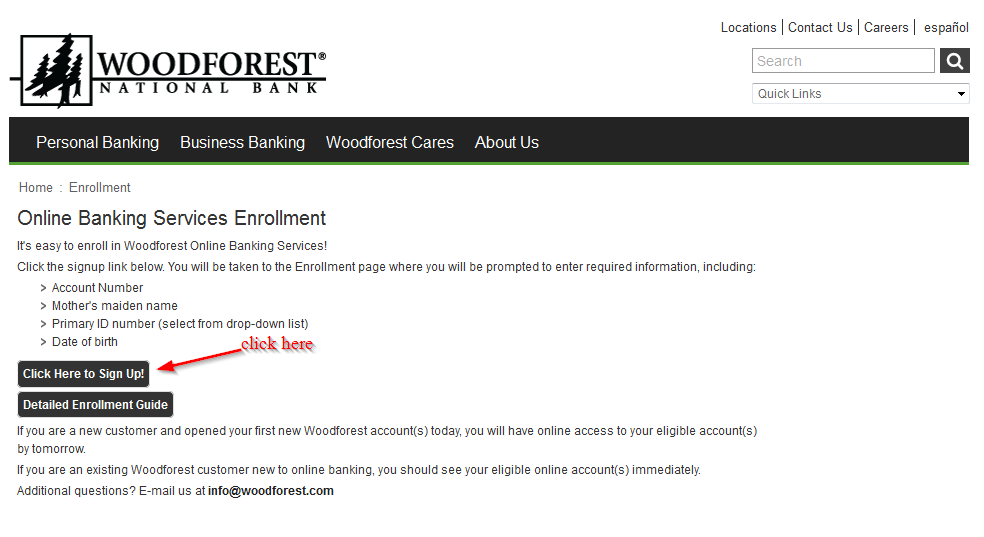 Step 3-Choose your identification type, identification number, verify yourself and click "continue"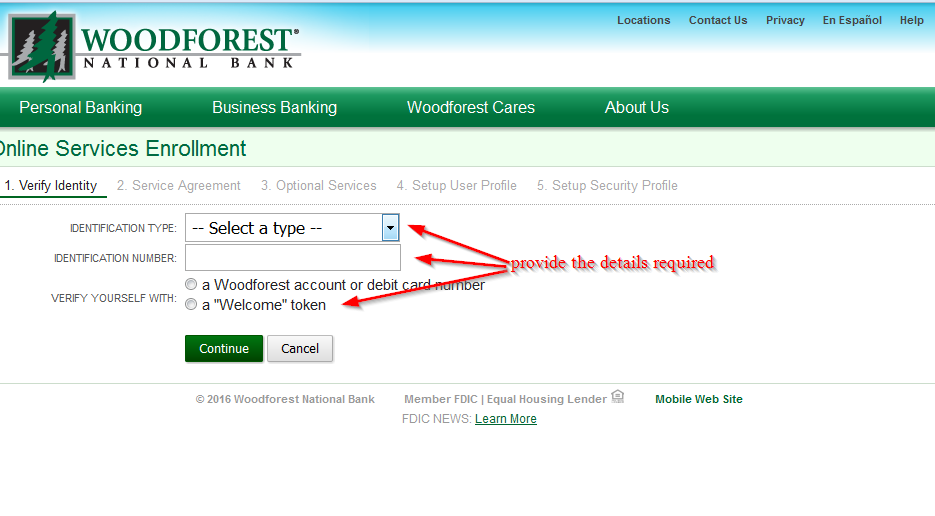 Step 4-Complete four more steps (service agreement, optional services, setup user profile and security profile)
Manage your Woodforest Bank online account
The advantages of having an online account with Woodforest Bank include:
Pay bills
Save or print your eStatements
Save or print images of your posted checks
See your transaction history
Woodforest Bank Review
Woodforest Bank is an American based bank founded in 1980, and since then, it has been working to provide the best and most convenient financial solutions for its customers.
For this reason, the bank has developed a lending system so that everybody can choose one that suits them best. In this post, we will be looking and the benefits and downsides of banking with Woodforest Bank.
The bank's superior customer satisfaction and competitive banking products have made it easy for the bank to meet the individualized needs of its customers time and again. Woodforest Bank personal banking solutions include:
Checking accounts
Woodforest Bank has three types of personal checking accounts:
Woodfored Checking-This is a basic account with unlimited transactions and only requires $25 to open an account
Second checking account-This is the perfect account for people who have experienced previous banking challenges. This is a perfect chance for them.
Choice Checking-This is an amazing, interest-bearing option that has variable monthly fees that become smaller when you deposit more
Savings accounts
Big account-This account helps you to get a competitive money market rate the more you save
Savings account-This account offers a simple way for customers to get started. It does not require any monthly balance fees provided you maintain a minimum daily balance of $200.
Benefits
Woodforest Bank, being one of the oldest banks, has been providing quality banking services to its customers. There are many benefits that you would want to know before banking with Woodforest Bank:
The first advantage of banking with Woodforest Bank is with the bank's refinancing program. The bank wants to provide help to its customers rather than causing financial problems. That's why whenever current customers have issues to pay interest and principal; they can contact any bank representative. They are always open so that they can offer customers low interest rates, make financial periods longer and change from foxed to adjustable one. You should also know that this service has no hidden fees and it's free
Another benefit has to do with the bank's system of lending. The bank has an organized system for lending so as to cover personal and business needs of its customers. There are many types of personal loans offered by the bank which are worth noting such as home equity loans, auto loans, mortgages, home equity lines of credits and special lines of credit. For business loans, options available are secured and unsecure lines of credit, Woodforest merchant select and small business preferred loans.
The bank's customer services are also good. Many customers have reported satisfaction with the quality of customer support offered by the bank. Most of them have said the customer support staff is friendly and always willing to help. In addition, the representatives are approachable and more helpful.
Downsides
Despite being one of the best banks in the United States, Woodforest Bank also has its own disadvantages. And a review wouldn't be complete without taking about the disadvantages of the bank:
Limited locations-This is one of the main disadvantages of banking with Woodforest Bank. The bank does not have branches in all states in the United States. Clients that can access these services are only those who live in these states: Virginia, Texas, West Virginia, Illinois, Pennsylvania, Indiana, Ohio, Maryland, and North Carolina.  In some reviews posted on independent review sites, customers say they wish the bank had more locations. However, since the bank is young and medium size, it is still under development; therefore, expecting a branch in every location can be difficult at the moment.
The pace of transaction is also slow. Many customers have said that transactions are very slow. In reviews, one client has said that that he experienced problems with checks. Woodforest Bank held his check for a very long time. There is also another client who is still waiting for his debit card.
Conclusion
As you see on this post, Woodforest Bank has its own advantages and disadvantages which you should definitely consider before opening an account with the bank. The bank's customer service and lending system is truly remarkable, but it does not have branches in all states in the U.S. You must reside in certain states for you to enjoy a good banking experience with Woodforest Bank
---