America First Credit Union provides banking products and services. The bank specializes in business loan, online banking, e-statement, saving accounts, real estate loan, debit card, checking accounts, personal loan, direct deposit, mobile banking,  , and insurance services.
Website: https://www.americafirst.com/
Routing Number: 324377516
Swift Code: See Details
Telephone Number: +1 800-999-3961
Founded: 1939 (84 years ago)
Bank's Rating:
America First Credit Union online banking services are designed to give customers an easy and more convenient way to access their bank accounts without necessarily visiting the nearest ATM or branch. Here is a step by step guide to help you login, reset your password and enroll.
How to login
You can login into your online account from anywhere around the world. The process is simple but most importantly, you will need your logins. Here are the steps to follow to successfully login:
Step 1-Open https://www.americafirst.com/  in your web browser
Step 2-Enter your account number and click "login"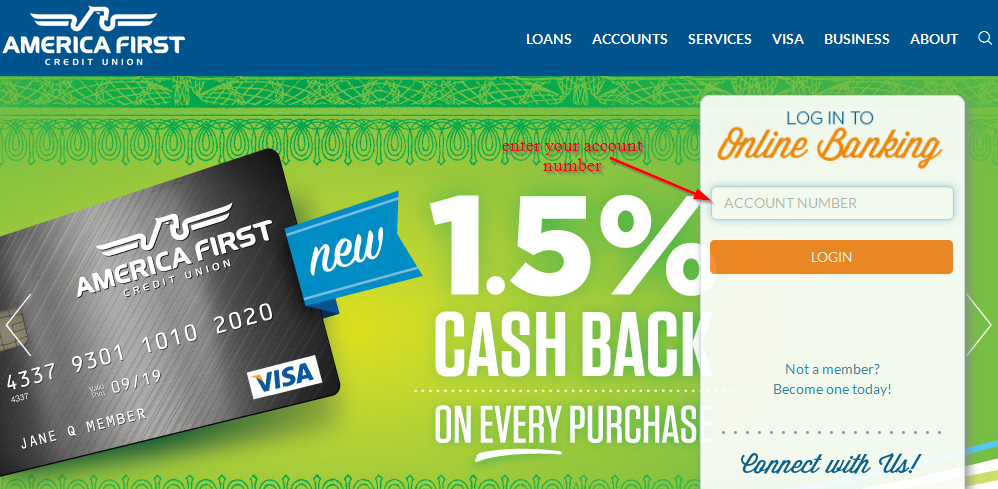 Step 3-Enter your PIN
If the logins you have used are correct, you will automatically navigate to your dashboard
How to reset your password
America First Credit Union has made it easy for their customers to reset their passwords anytime. To reset your password, you will need to contact the bank. They will reset your password the password and send it to you. You may also want to contact the bank for more information about password.
How to enroll
There are many advantages that come with enrolling for online banking services offered by the bank. First, it only takes a few minutes to enroll. And you must also be a customer with the bank to be able to register for the internet banking services. Here are the steps to follow:
Step 1-Start over on the homepage and click "not a member? Become one today!"
Step 2– Enter your first name, last name, gender, email address, preferred phone, phone type, street address, apartment number, city, state, zip code, and click the small box and click "Next: employment information"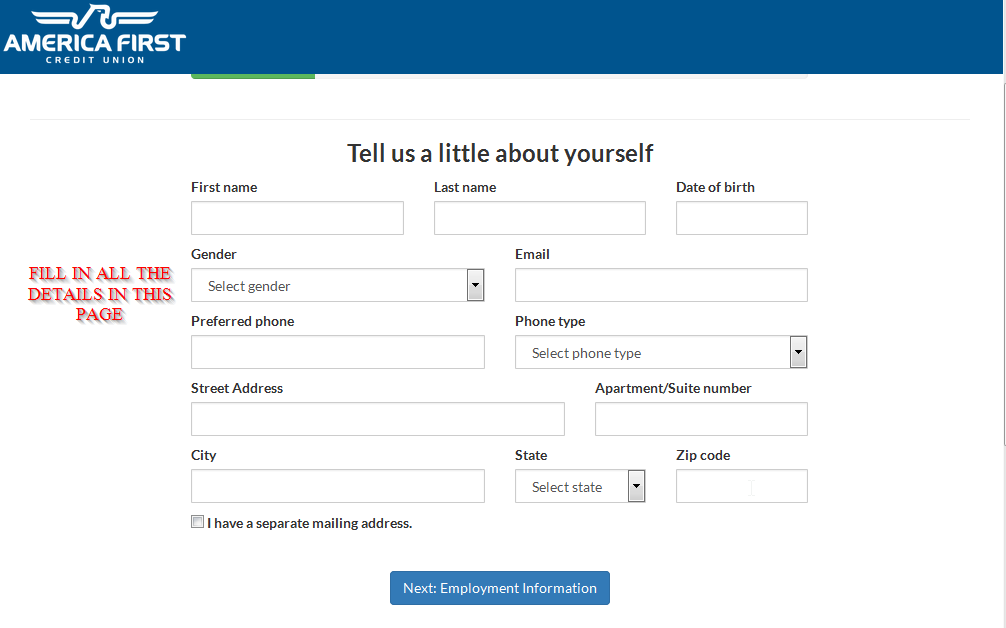 You may be required to complete a few more steps
Manage your America First Credit Union online account
When you sign up for the internet banking services offered by America First Credit Union, you will enjoy these benefits:
Conveniently manage your bank account
Unlimited access to your bank account
Online customer support
Online safety and security
Transfer funds
Check account balances
America First Credit Union Review
America First Credit Union is a federal chartered credit union based in Riverdale, Utah. The credit union is the sixth largest credit union in the U.S in total members and eleventh largest in assets in the United States as of January 2017.
America First Credit Union has more than 818,000 members, 121 branches and more than $8.22 billion in assets. The credit union is a member of the CO-OP Network of ATMs that provides members with free access ATM networks almost 30,000 ATMs around the country.
Anyone who lives, worships, attends school, works, volunteers, or conducts business in any major Clark County in Nevada or County in Utah is eligible to me a member of the America First Credit Union. Also those who live within a 12-mile radius in Clark county or Utah in Nevada are eligible to join. Members of immediate family can also join.
In 2005, America First Credit Union announced that it will offer Small Business Administration loans to its members. Most of the credit union members who serve in the military held the Operation Best Wishes in 2007. On 12th Aug 2009, America First Credit Union purchased Las Vegas-based Community One Federal Credit Union after its closure by National Credit Union Administration.
America First Credit Union savings and checking accounts are not only easy to open but also fee-free. But the credit union's certificates are what shine. For those live in Phoenix, Nevada and Utah, and are looking for a place to keep their money, then America First Credit Union is certainly worth considering.
Checking accounts
America First Credit Union offers two options of checking accounts: Money Market checking and regular checking. Regular checking account is free to open, but you must have a minimum of $500 in your account to start earning some interest. To open a Money Market account, you need $10,000 to open the account.
Both accounts don't have high rates to start and customers will probably get higher returns when they put money in savings account
Benefits
No minimum opening deposit or no monthly fee
Credit union Co-op ATM network means that customers have access to more than 30,000 ATM nationwide
Downsides
Customers don't earn interest unless they maintain a minimum balance of $500
Savings and money market accounts
America First Credit Union savings and money market accounts sets this credit union apart from others with low minimum opening deposits of $0 for money market and $1 for savings. Interest rates for these accounts are decent but average.
Benefits
Requires minimum deposits of $0 or $1
With tiered interest rates, it means that if you have more funds in the account, you will get higher interest rates of up to 0.3%
Downsides
Interest rates are not very much competitive. The regular savings account will only earn 0.10%
In order to be eligible for higher interest rates, you need at least $10,000 in your account
Share certificates
With low minimum deposits and high-interest rates, America First Credit Union's share certificates are basically some of the best products that are being offered by the credit union.
Benefits
Competitive rates-the 2.55% APY on its 5-year certificate is close to the highest rate in the industry
A manageable minimum deposit of $500 for all certificates
Offers a comprehensive list of terms from 3 months to 5 years
Downsides
 Customer experience
Those who reside in the area can become members of America First Credit Union by keeping only $1 in a Share Savings Account. The credit union's website has an easy-to-use interface and also provides mobile apps that allow customers to apply for loans, transfer money between account and deposit checks no matter their geographical location.
To bank in person, customers are limited to certain parts, Arizona, Nevada, Idaho and Utah where all its branches and clustered.
Conclusion
America First Credit Union offers good checking and competitive rates on share certificates to be found. Interest rates for savings accounts are not as competitive. For those who live in Nevada, Utah and some parts of the metro Phoenix area, joining the credit union is easy. They only need to keep $1 in Share Savings Account and the will be able to access to all America First Credit Union services and products
---