Mountain America Federal Credit Union provides financial products and services for consumers and businesses in the United States. It was founded in 1934 and is headquartered in West Jordan, Utah.
Website: https://www.macu.com/
Routing Number: 324079555
Swift Code: See Details
Telephone Number: (801) 325-6292
Mobile App: Android |
Founded: 1934 (89 years ago)
Bank's Rating:
Mountain America Credit Union online services allow their customers to bank anytime as long as they have internet connection. Once you have registered an online account with the bank, you can login anytime using your computer or through you're a mobile app on your Smartphone. Enrolling only takes a few minutes and in this guide, we will provide you a step by step process on how you can enroll, login and reset your password.
How to login
As mentioned above, it's easy to access your online account once you have registered. You will need your login details to login. Follow these simple steps to login:
Step 1-Open https://www.macu.com/ in your web browser
Step 2-Click "login ID"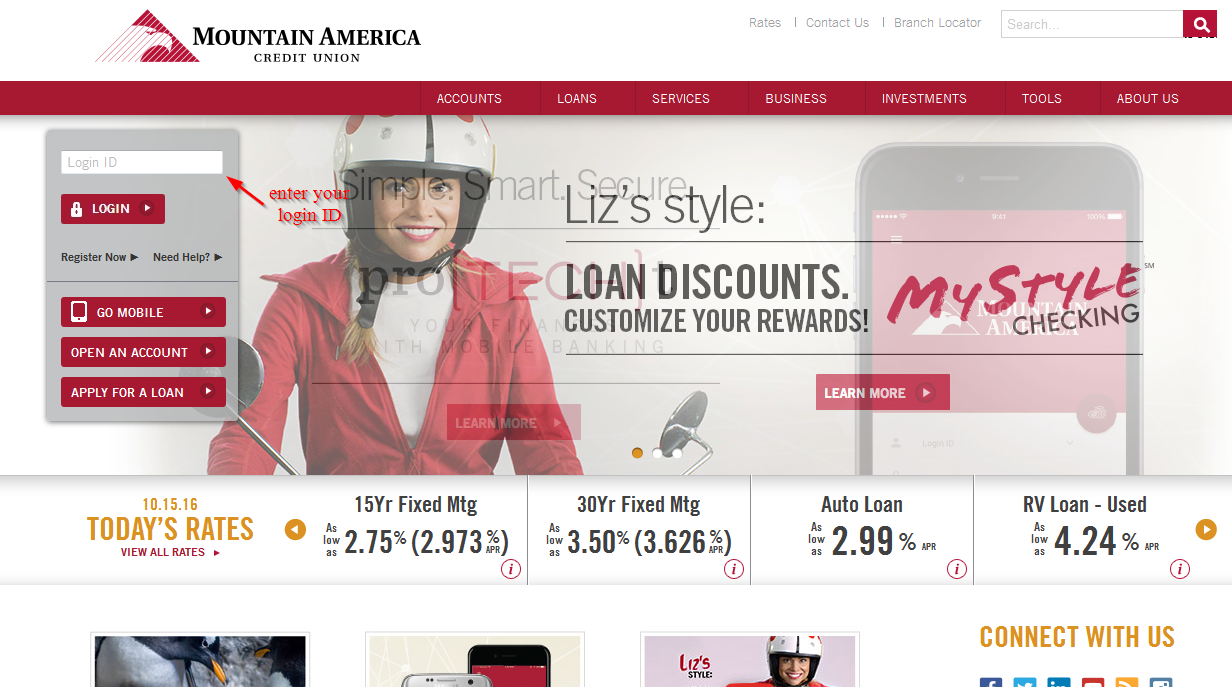 Step 3-Enter your password and click "next"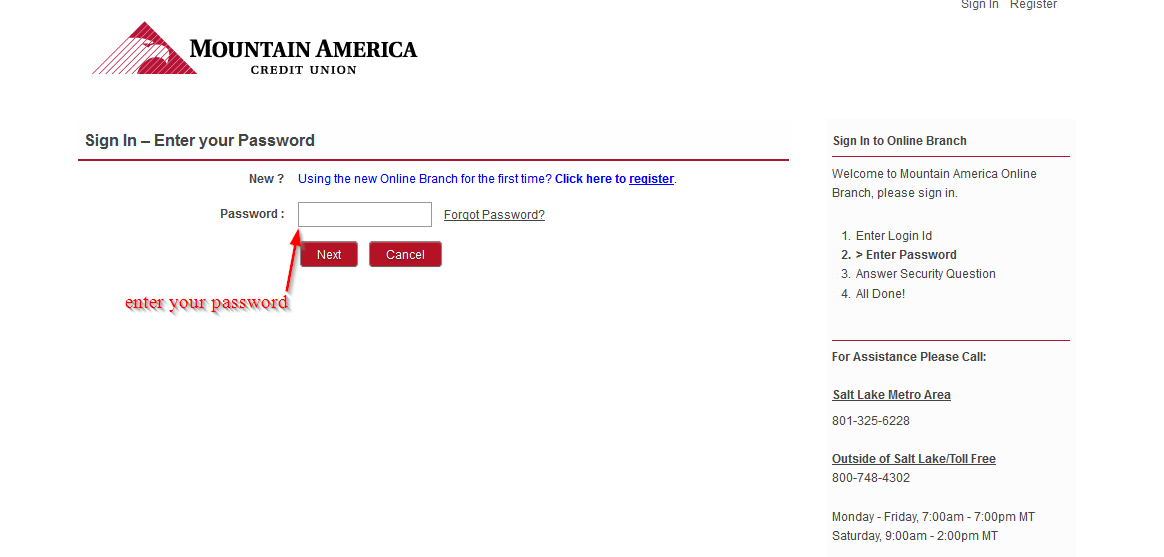 Provided you have used the correct logins, you will be able to access your online account
How to reset your password
Well, you may want to reset your password because you have forgotten it or just for security purposes. With your login ID, it will be much easier to reset your password. Follow this step by step guide to reset your password:
Step 1-Enter your login ID on the Homepage
Step 2-Click "forgot password?"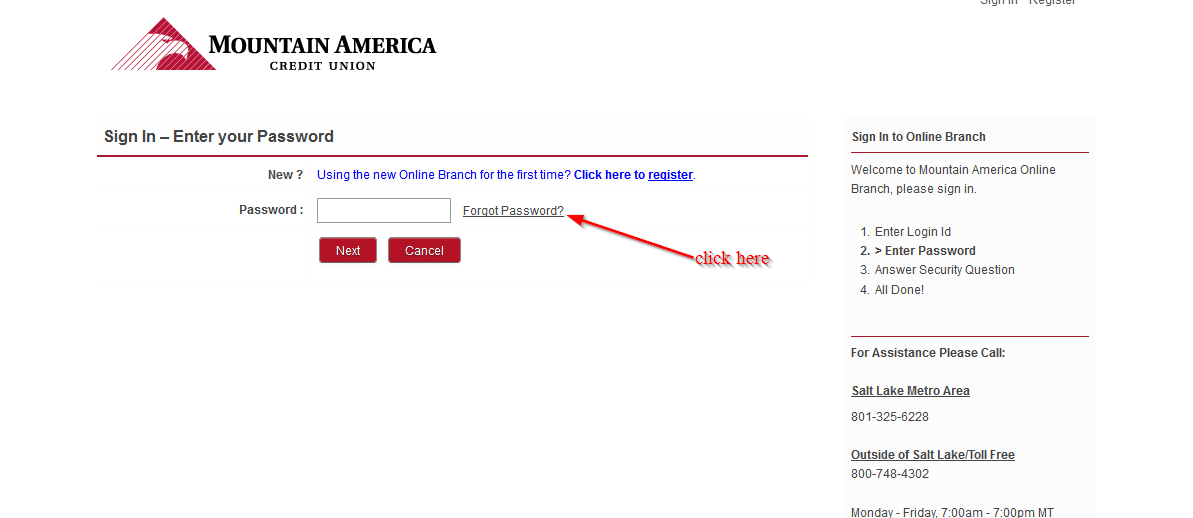 Step 3-Enter your account number, social security number, birthday, username and click "start"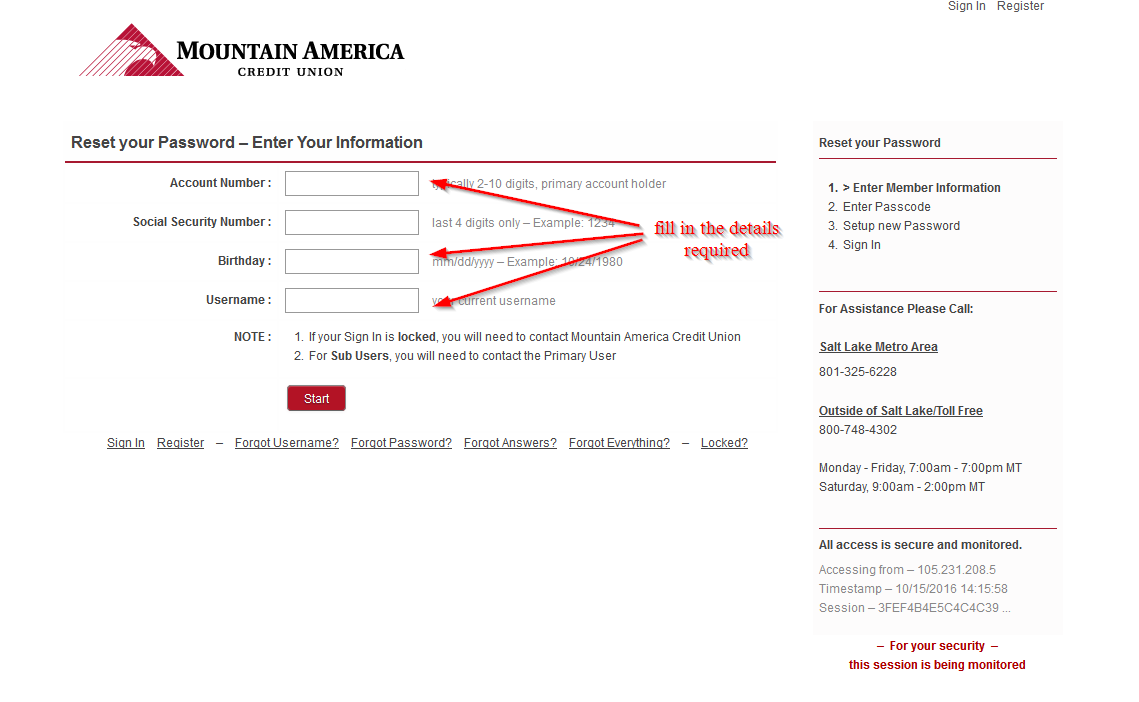 You may be required to provide more information to reset your password
If your account has been locked, you will need to contact the bank
How to enroll
To enroll for the internet banking services, you will be required provide a few details. The process only takes a few minutes, after which, you will be enrolled to the internet banking services. Follow these simple steps to enroll:
Step 1-On the homepage, click "register now"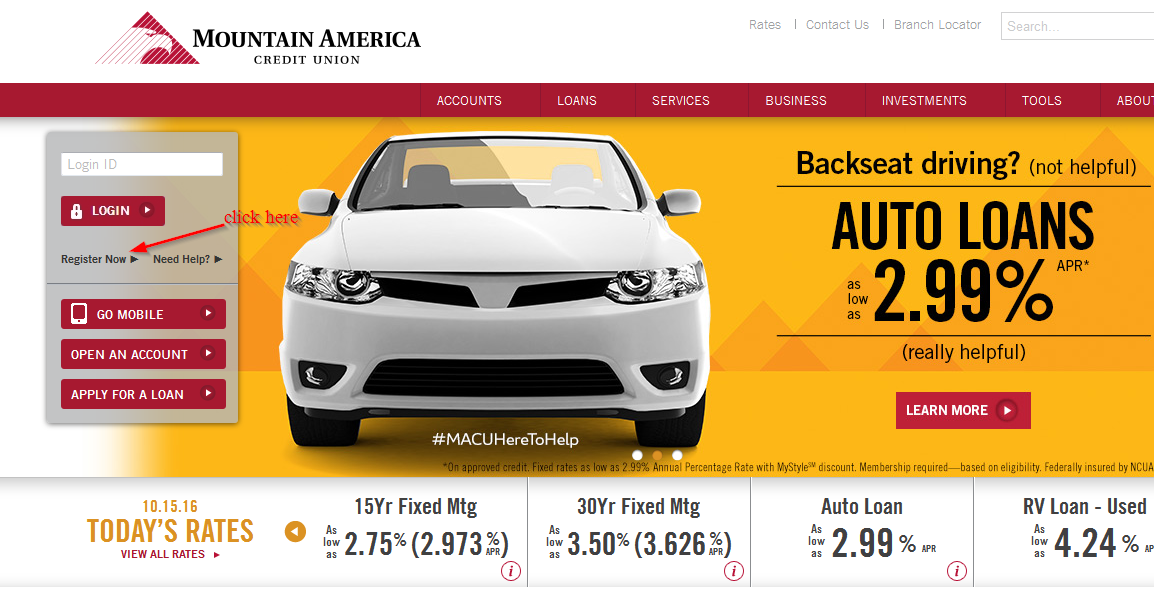 Step 2-Choose either personal or business depending on the account you have. In this case, we will choose personal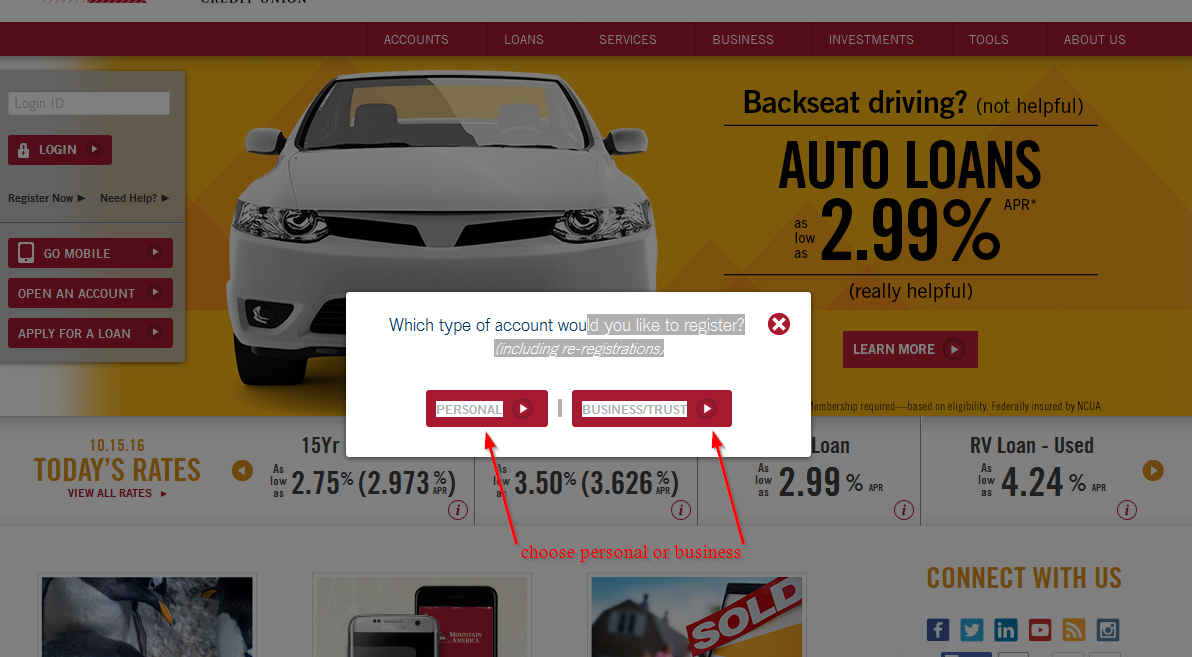 Step 3-Fill in all the required details carefully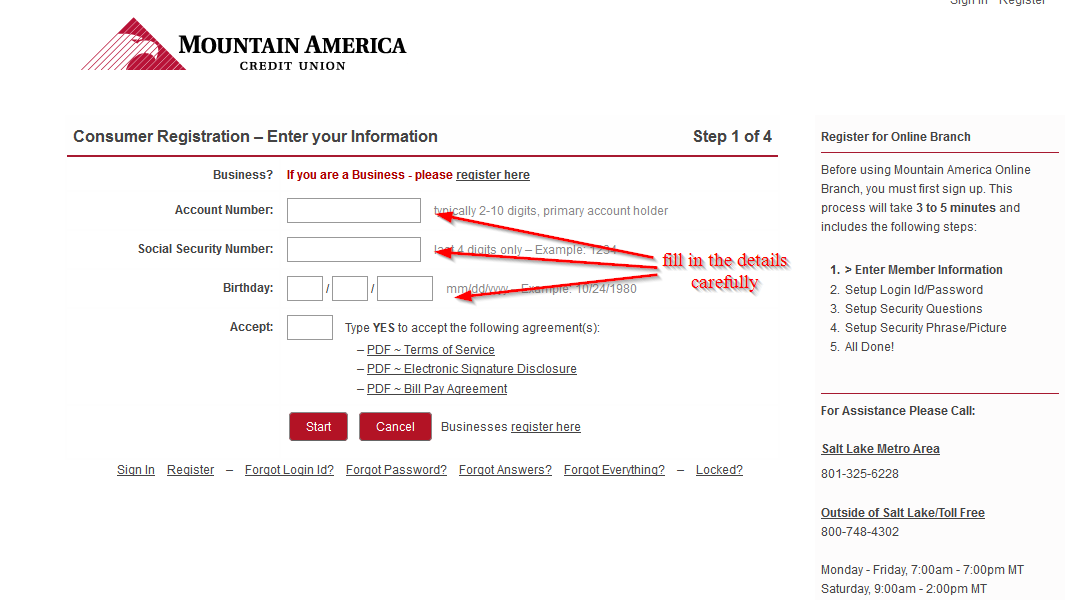 Manage your Mountain America Credit Union online account
The advantages of registering a free online account with Mountain America Credit Union account include:
Full time access to your bank account
You can track your transaction history
You can apply to loans
Locate the nearest ATM or branch
Mountain America Credit Union Review
Mountain America Credit Union was founded in 1934 as Salt Lake Telephone Employees credit union. In 1984, the credit union merged with Postal Workers credit union and purchased Entra Credit Union and changed their name officially to Mountain American Credit Union.
In 1988, Mountain America Credit Union merged with the Utah Credit Union to become the 2nd largest full-service credit union in the state of Utah.
Benefits
Mountain America Credit Union has continued to grow. It's pretty easy to become a member of the credit union.
In fact, many employers are aligned with the credit union throughout their service to share the benefits that come with being part of Mountain America credit union. Some of these companies include Questar Gas, Smiths Grocery stores, L-3 Communications, Novell and more than 3,000 others.
Mountain America Credit Union is a full-service credit union that offers services from checking accounts to personal car and home loans. The fact that they are a credit union means that they can maintain loan rates at a minimum and offer better rates on savings when compared to larger banks.
The credit union offers a number of checking accounts for the members to choose from. In addition to the free checking, they also offer a MyStyle checking account that gets a dividend APY of .10% and offers features such as e-statements, bill pay, online banking and Visa Debit cards.
No minimum balance is also required to open or maintain your account. In addition, you will earn more rewards for customizing your MyStyle checking with D.protect, online shopping credits, dividends-earning options, cash gifts, loan discounts and credit monitoring.
The Mountain America savings account will grow your money safely as you build your dividends until you need it. The credit union offers members' access to savings account at all their ATMs. You can make a deposit at any of their branches.
The credit union offers Term deposits from 6 months to five years. The Term Deposits has good dividend rates and some of the benefits that are offered to members who choose to open a Term Deposit are higher than those offered in savings account.
You are required to choose your length of time and a minimum of only $500. Kids who want to learn how to save can choose CDs
There are two kinds of credit card options that are offered by Mountain America Credit Union. They both come with their own benefits. The credit union offers Visa Platinum Rewards and Visa Platinum.
The starting interest rates for both cards are comparable, there are no annual fees or hidden fees and members have worldwide access to ATMs
Downsides
Mountain America Credit Union has many stipulations that you may not be aware of. The credit union lacks in many areas but here are a few that we think are most important:
Requirements for checking accounts
The credit union offers two checking accounts: MyStyle checking account and a free checking account.
The benefits of these two accounts are pretty basic, but the free checking account does not have a debit card and they even say that MyStyle checking account doesn't require a minimum daily balance or opening amount but when you look the rate schedule, they say that you must maintain a minimum balance of $1000 for that account.
MyStyle checking account rate is at .10%, which is standard for a significant number of checking accounts; therefore, that is OK. MyStyle checking account also has fees attached. You have to pay $4 every month. This fee can be waived when you choose and use at least four eligible services or products.
The rates for their savings account are not very good and they could do better of the rates offered on their Term Deposits.
When you look closer, you will realize that their rates are lower than those of other credit unions. They also offer two types of credit cards only, which is okay, but sometimes people like a diversity of choices.
Conclusion
Seems like there is an awful lot of stipulations regarding their dividend checking accounts and their rates are too low. However, Mountain America Credit Union savings account can grow your money and the Terms of Deposit seems very lucrative
---