Busey Bank is top financial institution, nationally, and has been in business since 1868. Over the years, it has managed to scoop multiple awards in the banking sector. With its affordable lending and modern banking solutions, it has become a bank of choice for many communities around.
Website: https://www.busey.com/
Routing Number: 071102568
Swift Code: See Details
Telephone Number: +1 800-672-8739
Founded: 1868 (155 years ago)
Bank's Rating:
Busey Bank is a top rated financial institution offering services such as business, wealth management, credit cards and personal banking. With its headquarters in Illinois, Busey Bank has come out as a reliable bank with its wide range of services. It has an online banking option for customers who want to manage their accounts over the internet. Apart from Illinois, it services communities in Florida and Indiana. The online process is simple for those who have an account and those looking to enroll.
How to log in
A safe online account access will come with unique login details. As the account holder, you have to keep the login details safe and private. Busey Bank offers safe and secure internet banking services that help you access your account with ease. The process of logging in entails:
Step 1: Go to the link https://www.busey.com/
Step 2: Choose your account, enter username, and password. Click the login button to access your account.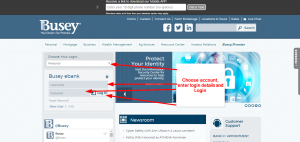 How to get a new password
You can choose to change your password for security reasons or simply you have forgotten it. Whichever the way, it is possible to retrieve a lost password using the steps below:
Step 1: Click the button as shown below.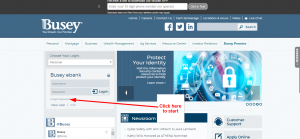 Step 2: Enter your phone number and username. Click the send me a new password to get a new password.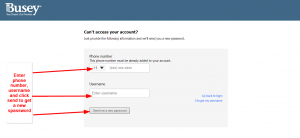 How to enroll
Customers without a login account can register and enjoy the benefits that come with internet banking services. You can access your account on the internet and manage it online. First become a customer of the bank so that you can qualify for the service. To enroll, use the following steps:
Step 1: Click the New User button.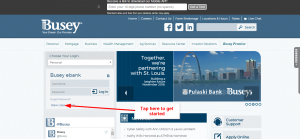 Step 2: Enter your details in the empty fields as required, agree to the terms and complete the sign-up.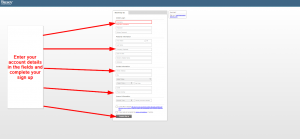 Manage your Busey Bank account online
After signing up, you have to know what the service offers. How to use the account and what activities you can complete once you have access to your account online. Most activities that you can carry out over the counter or at the ATM location can be done from your online account. They include:
Live chat with customer support.
Access to your bank account at all times.
Ability to check your bank balance online
---