Founded in 1926, Seacoast National Bank has become a community lending institution by making small business and personal loans available to its customers in Florida. It has built an online platform that guarantees fast processing of loans which has improved lending in general.
Website: https://www.seacoastbank.com/
Routing Number: 067005158
Swift Code: SNBFUS3F
Telephone Number: 800.706.9991
Founded: 1926 (97 years ago)
Bank's Rating:
Seacoast National Bank offers an online platform for its community banking services to its customers. It provides both personal and small businesses loans with a fast a secure online application and approval processes for its existing customers. Non-customers can also apply for loans online and have the processed within a short period. You can borrow to refinance your business or buy a home. We have come up with a detailed guide on how you can manage your account and get started with Seacoast National Bank.
How to log in
Returning customers already have an account with the bank. They can log in and apply or make payments for the current loan. The process of accessing your account will entail:
Step 1: Copy and paste the link https://www.seacoastbank.com/ in your browser to access the homepage.
Step 2: Find the online banking Sign in space, select personal or business.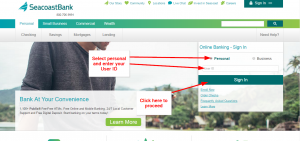 Step 3: Enter user ID for personal, company and User ID for business and click the sign in button.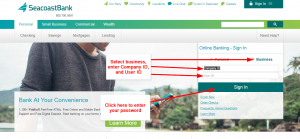 Step 4: Type in your password details in the field and access your account.
How to change your account password
If you do not enter the correct log in details, it will be impossible to access your account. However, you can reset your account password and create a new log in password. The details of how to do this include:
Step 1: At the log in page, below the password field, click the Forgot Your Password button.
Step 2: Enter your account details and follow instructions to reset your password.
You can also use the option of calling a customer representative on 800-706-9991 to reset your password.
How to retrieve your username
New customers who have recently signed up may forget their username or user ID. In case this happens, you can get it by calling a customer representative using the number 800-706-9991.
How to Enroll
You can apply for either a small business loan or personal loan depending on your needs. Since the application process is online based, you can do so without visiting the Seacoast National Bank store. Non-customers have to fill out a form to enroll before their loan request can be approved. The process involves:
Step 1: Go back to the homepage and click the Apply Now button as shown below.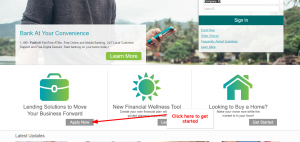 Step 2: Select the Business Line of Credit to proceed.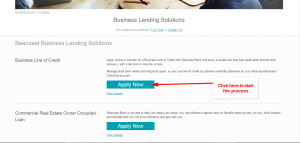 Step 3: Fill out the form with your details and continue to the steps that follow to complete your application process.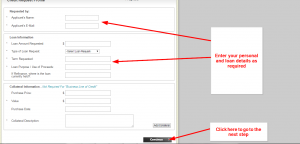 Manage your Seacoast National Bank account online
A customer with a login account will find it easy to apply for a loan or make payments online. It empowers you to manage your loan and account in a reliable manner. Some of the benefits of having an online account involve:
Live chat with a customer representative.
Fast and secure loan application and approval
24/7 customer support
---