Comerica bank offers business and personal banking services and products. The company is based in Dallas, Texas. It operates as a subsidiary of Comerica Incorporated.
Website: https://www.comerica.com/
Routing Number: 067012099
Swift Code: See Details
Telephone Number: 800.266.3742
Founded: 1849 (174 years ago)
Bank's Rating:
The internet banking services offered by Comerica Bank make it easy for customers to conveniently manage their bank accounts provided they are connected to the internet. These online banking services are not only free but can also be accessed by simply visiting the bank's website. If you have an account with the bank and you are interested in these online banking services, follow this guide to learn more on how you can login into your account, reset your password and enroll for the internet banking services.
How to login
If you have already registered a free online account with Comerica, you can login anytime you want to manage your bank account. All you need is your login details. Here are simple steps to help you login:
Step 1-Open your web browser and key in https://www.comerica.com/ or click the link
Step 2-Enter your user ID and password and click "log in"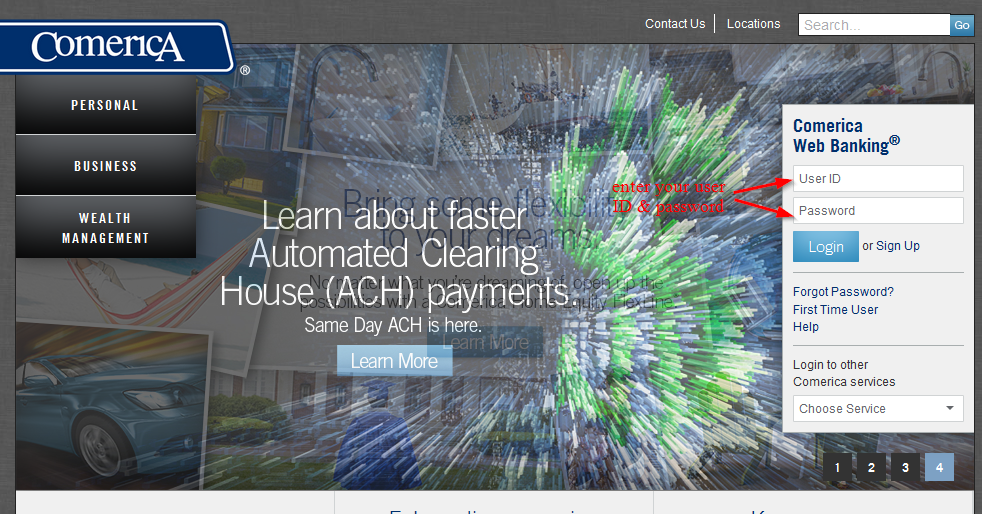 You will be able to navigate to your online account as long as you have used the correct logins
How to change your password
You can reset your password in the event that you can't remember the password and you have been blocked from accessing your online account. When resetting your password, you will be required to use your user ID. Here are the steps to follow to reset your password:
Step 1-Click "forgot password" on the bank's homepage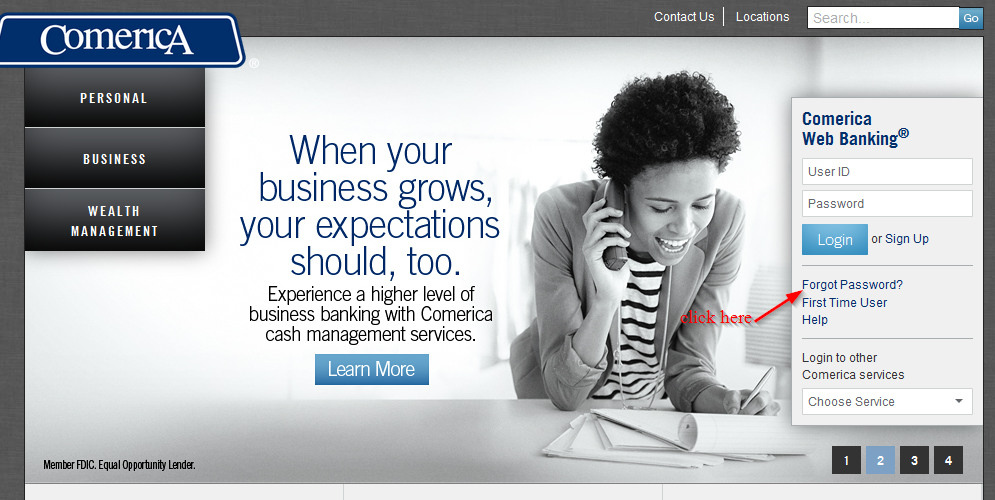 Step 2-Enter your user ID and email address and "next"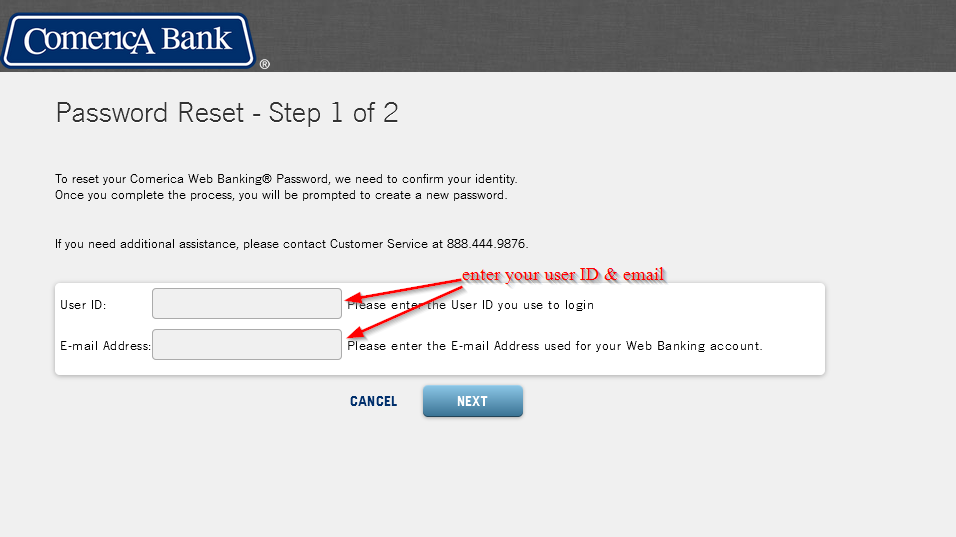 You will receive a new password in your email address
How to enroll
You can create an online account with Comerica bank as long as you have an account with the bank. Just like creating other online accounts, you will need to provide certain details like your email address, names, state etc. Follow these steps to enroll:
Step 1-Go to the Homepage and click "first time user"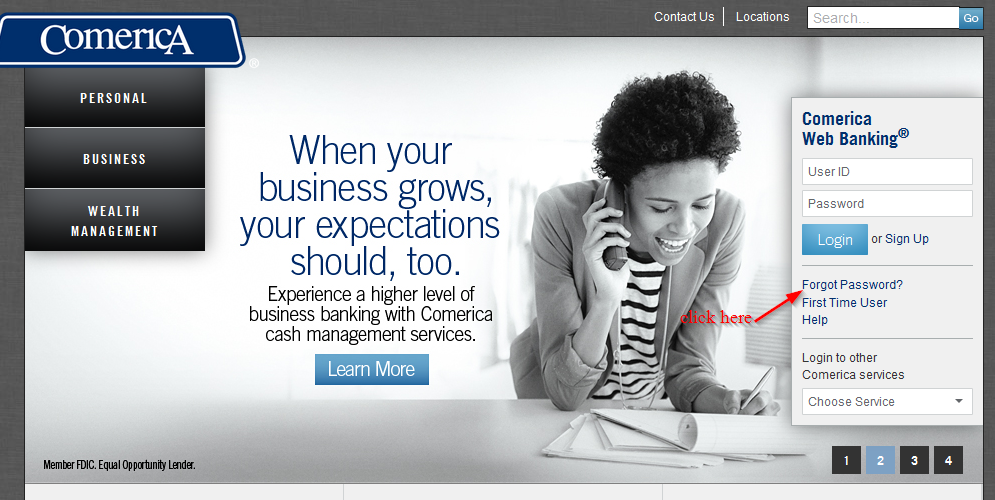 Step 2-Enter your customer identification number and primary account information and click "next"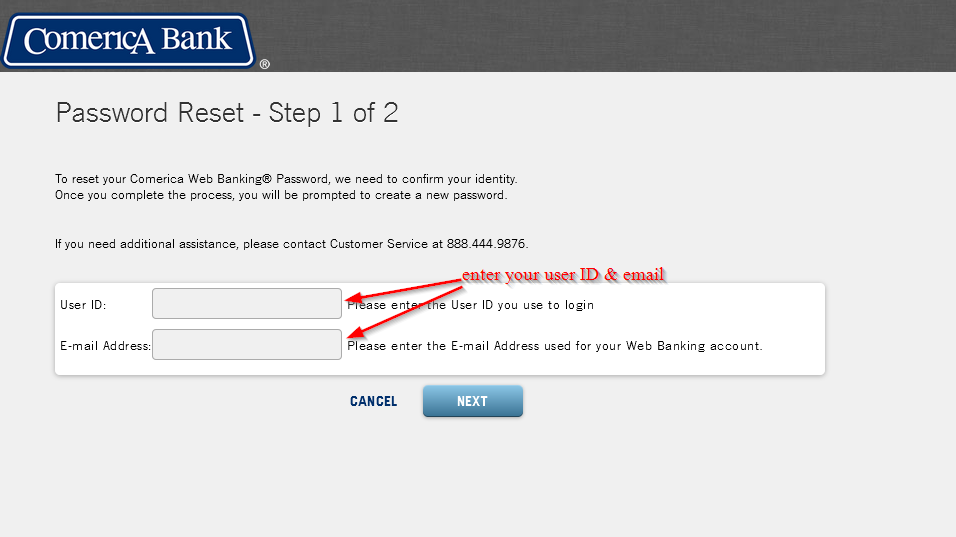 Manage your Comerica Bank online account
With your Comerica Bank online account, you can do the following:
Pay your bills
Access eStatements to see your account balance
Check your transaction history
Get transaction alerts
Report a stolen or lost card
Comerica Bank Review
Comerica Bank is the 31st largest bank in the U.S. by assets. The bank has $71 billion in assets and 478 locations in 5 states. The bank is headquartered in Dallas, Texas and it is the largest commercial bank headquartered in Texas.
The bank was founded in 1849 in Detroit by Elon Farnsworth as the Detroit Savings Fund Institute. In January 2008, Comerica Bank was chosen by the United States Treasury Department as the issuer for its Direct Express debit-card program.
The Express Debit product is used by the federal government to issue electronic payments top people who have don't have bank accounts.
In July 2011, the bank acquired Houston-based Sterling Bank for $1.03 billion, which helped it expand its operations in Texas.  In 2014, the bank provided over $8.5 billion to not-for-profit organizations.
Its employees over $2.2 million for the Black United Fund and United Way, and donated their personal time with over 73,000 hours spent in helping to make a positive impact in the communities that need it services. The bank has also come up with a plan to reduce carbon emission.
Checking accounts
Comerica Bank offers four types of checking accounts: Rich Rewards Checking, Platinum Circle Checking, Access Checking and Premier Checking.
The Access Checking is the bank's checking account that qualifies customers for free savings account. The account doesn't pay interest. Customers receive a checking card; rate discount for the bank's Home Equity lines of credit and full time access to Comerica ATMs.
The bank has a monthly maintenance fee of $13, which customers can avoid by minimum balance of $1,000. This is the best account for people who are looking for an account with basic checking needs and can maintain a balance of at least $1,000
Rich Rewards Checking account can be seen as a complimentary savings account and has interest, though 0.01% APY. Customers also get to receive free online Bill Pay, increase rates on certain IRAs and CDs, and free checks. The $18 monthly fee can be avoided by customers if they maintain a minimum balance of $5,000 or a combined minimum balance of $7,500 in Comerica accounts
Premier checking is also an interest account that includes a money market investment account and savings account. Users get top receive 0.01% APY despite their balance. A waived fee is also provided by the account for overdraft protection. There is also a maintenance fee of $22, but it can be avoided by maintaining a minimum balance of $7,500 or a combined minimum balance of $20,000.
Comerica Platinum Circle Checking also offers all the benefits that are associated with Premier Checking account in addition to a dedicated customer service number, increased money market interest rates and a higher interest rate up to 0.05%. The account has a maintenance fee of $50 that can be avoided by maintaining a $50,000 minimum balance or a combined $2.5 million minimum balance.
Savings account
Comerica Bank has three basic savings accounts: Money Market Investment Account, High Yield Money Market Account and Statement Savings Account.
Statement savings account is free for customers with Platinum Circle Checking account, Premier Checking or Rich Rewards. Other customers are required to pay a monthly maintenance fee of $5.5o if they don't maintain a minimum balance of $500. The interest rate for this account is 0.01% APY.
Money market investment account is complimentary with the Comerica's Platinum and Premier checking accounts. Customers are required to pay a maintenance fee of $12 if their balance goes below $2,500 or the average balance goes below $5,000. The account pays a 0.03% APY.
High Yield Money Market Account's tiered rate system ranges from between 0.03% to 0.06% based on the balance.  Customers are required to make a minimum deposit of $50 to open this account and pay a monthly maintenance fee of $17.
Benefits
Wide range of Savings and checking accounts
You can easily avoid the monthly fees
Wide network of ATMs
Interest rates are higher than average
Downsides
Low interest rates
You cannot avoid the out-of-network ATM fees
Charges maintenance fees on savings and checking accounts
Minimum deposit amounts
Conclusion
Comerica Bank is one of the largest banks in the United States. Customers can easily avoid the monthly fees and there is a wide selection of savings and checking accounts, but they cannot avoid the out-of-network ATM fees and there is also the minimum deposit amount
---