Established in 1951, the Commonwealth Credit Union is a member-owned institution with the goal of satisfying the financial needs of its members. It offers affordable credit and top-notch banking services to its customers. With more than 85,000 members, it has become a reliable financial institution.
Website: https://www.ccuky.org/
Routing Number: 283978441
Swift Code: See Details
Telephone Number: (800)228-6420
Mobile App: iPhone
Founded: 1951 (72 years ago)
Bank's Rating:
The Commonwealth Credit Union is a Kentucky-based community financial institution with members from across different states. It aims to satisfy or meet the needs of its members in terms of affordable lending and reliable banking. With its online platform, members of the credit union can utilize mobile technology to access their accounts regardless of where they are. You can download the app on your mobile device for Apple, Android, and SamSung. The online banking option has made it simple and fast for its members to access banking services.
How to log in
The role of a user ID and password is to provide a gateway to accessing your account. You can manage to pay bills or carry out different transactions via the internet. The login information is unique for every account holder.
Step 1: Use the link https://www.ccuky.org/ to get started.
Step 2: Find the Login section, Enter your Banking ID and Login.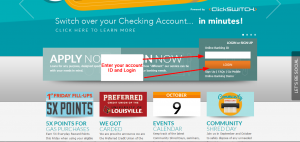 Step 3: Put in your password and submit to access your account.
How to reset password
Once you have entered your login details and punched the login button, you should be able to access your account. However, if the password is incorrect, then it will be impossible to achieve that goal. You can reset the password, create a new one and use it to log in.
Step 1: Click the button shown below.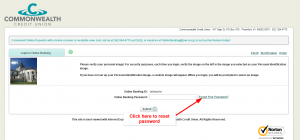 Step 2: Type in your account ID, email, and the subject. Continue to proceed.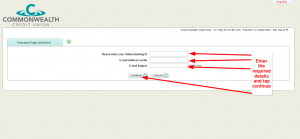 How to enroll
Those who understand the need for internet banking will proceed to register for the service. It comes with the utmost reliability where you have unlimited access to your account. Even though you are a current customer of the bank, you must register for online banking. The process includes:
Step 1: Click the button below to Sign Up.
Step 2: Verify your details by filling the spaces below and continue.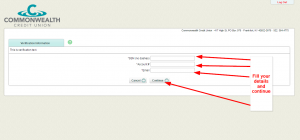 There will be few more steps before you can enroll for internet banking.
Manage your Commonwealth Credit Union account online
You can use your online account to carry out multiple tasks. The account login invites you to internet banking where you can apply for a loan, check the status of your loan, make loan repayments, check your bank statements and check your account balance among others.
---