It started its banking operations in 1910 under a different name. Due to its leadership and community-based approach to lending and banking, Emprise Bank has become more than a bank. Serving over 20 communities in more than 30 locations, it has built a strong reputation across the state.
Website: https://www.emprisebank.com/
Routing Number: 101100579
Swift Code: UATRUS41
Telephone Number: 855.383.4301
Founded: 1910 (113 years ago)
Bank's Rating:
Emprise Bank is a committed financial institution offering both business and personal loans. Its online platform equips both customers to apply or register for loans with ease. It has managed to provide financial solutions by making it easy to apply for loans and manage your account online. We make it possible for you to navigate your Emprise Bank account and enroll, using the guide below:
How to log in
Returning customers already have an online account. You obviously have the login details and can access your account using the following steps:
Step 1: Go to the link https://www.emprisebank.com/ to access the homepage.
Step 2: Use the login button at the top right corner to get started.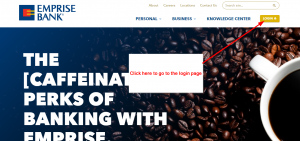 Step 3: Select the personal banking login as shown below and enter your user ID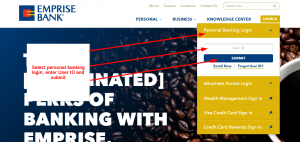 Step 4: Click the submit button, enter your password code to access your account.
To access your business account you can follow the steps below:
Step 1: At the login option, select the eBusiness Access Login.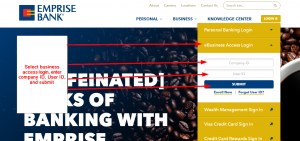 Step 2: Put in your Company ID, User ID and then submit.
Step 3: Enter your account passcode to access your business account online.
How to reset your account User ID
Customers who have an online account can forget their login details, mostly the password. The wrong input of User ID will cause a failure to access your account.
Luckily, you can retrieve the password to your account by contacting the customer service representative at 855-383-4301 or 316-383-4301 for both personal and business accounts.
How to enroll
Non-customers have to create accounts for the first time to register and apply for a loan. It takes a few steps to become a customer and enjoy the benefits that come with it. It is different for both personal and business accounts.
For the personal account, you will need to sign up before you can enroll for online banking.
The steps include:
Step 1: Click the Enroll Now button at the personal banking Login option.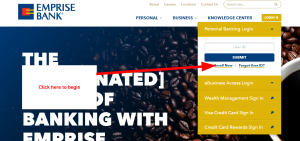 Step 2: Select a method of verification and agree to the terms. Click the Continue button to proceed.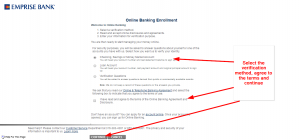 Complete the process to enroll for online banking.
As for business account, the following steps will apply:
Step 1: Click the Enroll Now button at the eBusiness Access Login space.
Step 2: Fill out the form to create a login account, enter company details, and account information.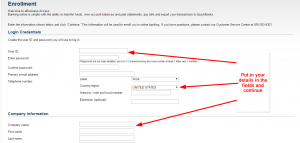 Click continue to fill out more details to complete the process.
Manage your Emprise Bank account online
Once you have the online access account, you can manage your account online including:
A quick application of loans online.
Live chat with a customer representative.
Make loan repayments online.
---