Lake Michigan Credit Union is a credit union based in Grand Rapids, Michigan. The union was started in 1933. It has 36 local branches, 305,000 members and more than $3.6 billion in assets. It is the second largest credit union in the Michigan state. It is regulated by the National Credit Union Administration (NCUA).
Website: https://www.lmcu.org
Routing Number: 272480678
Swift Code: See Details
Telephone Number: (800) 242-9790
Founded: 1933 (90 years ago)
Bank's Rating:
Lake Michigan Credit Union (LMCU) is the second largest credit union in Michigan state. The union provides its customers with various services such as loans and savings . Its customers are individuals and corporations. They can access its services from its 33 branches or through online platforms such as websites and mobile applications.
HOW TO LOGIN
Step 1. To login to Lake Michigan Credit Union's online platforms, you first need to go to its website by visiting this url: https://www.lmcu.org/
Step 2. In the homepage, you should enter your account number in the box as shown in the image below.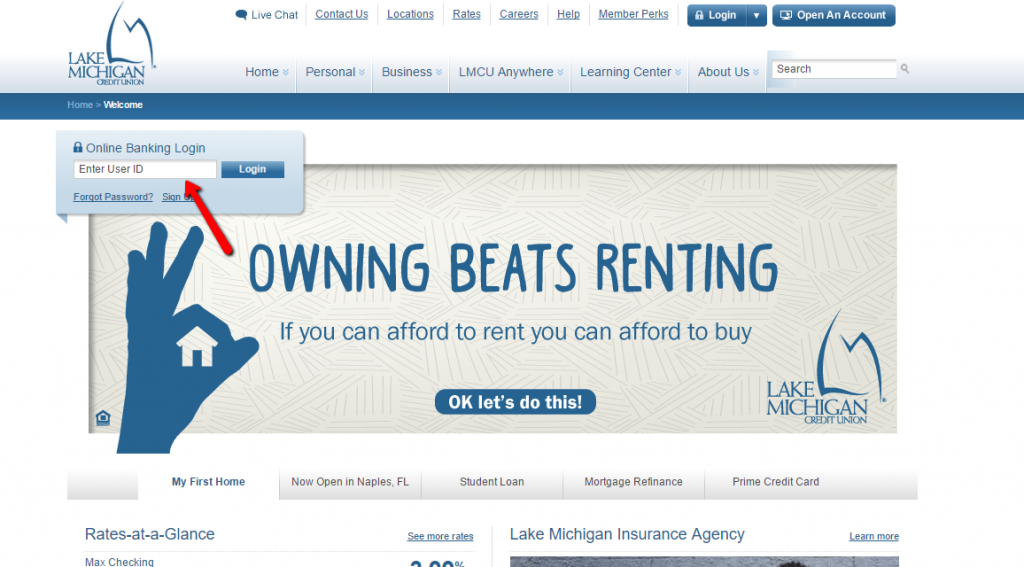 Step 3. After entering the ID, you should click Login.
Step 4. In the next page, you should confirm whether the image shown matches with your preset one. Then, you should enter the account number (1) and then login (2) as shown below.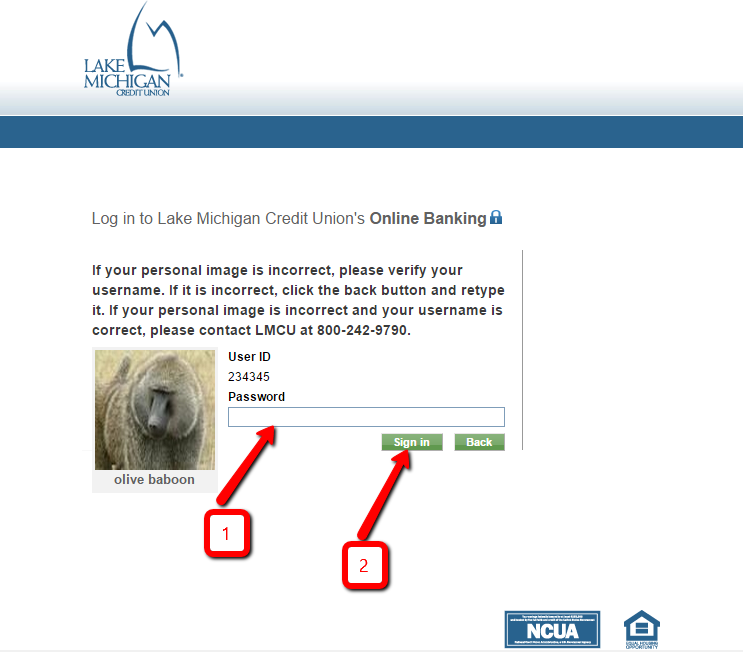 Step 5. After entering the correct password, you will now have access to your account.
RECOVER PASSWORD
If unfortunately you have forgotten your password, you should follow the steps below.
Step 1. Go to the homepage and click Forgot password as shown below.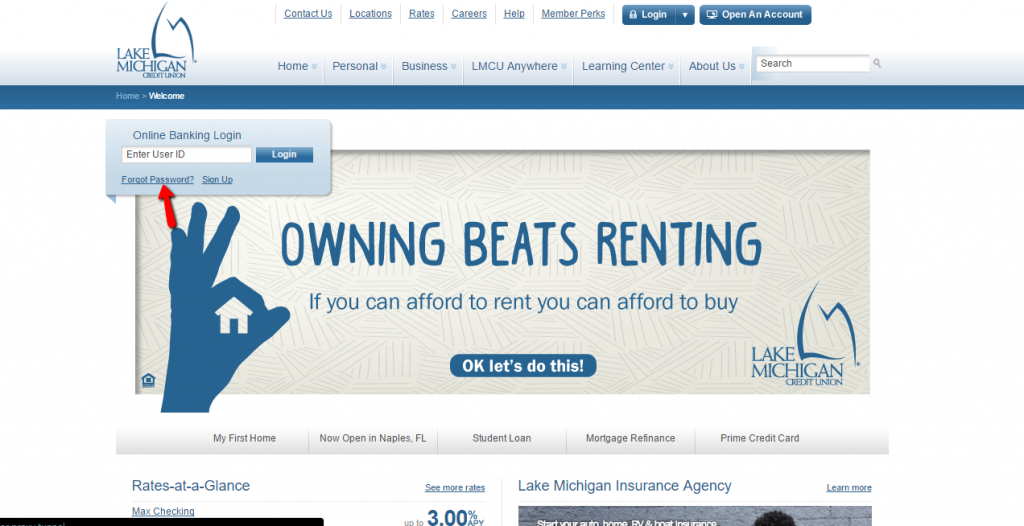 Step 2. In the next page, you should enter the required information as shown below. Then you should click Submit.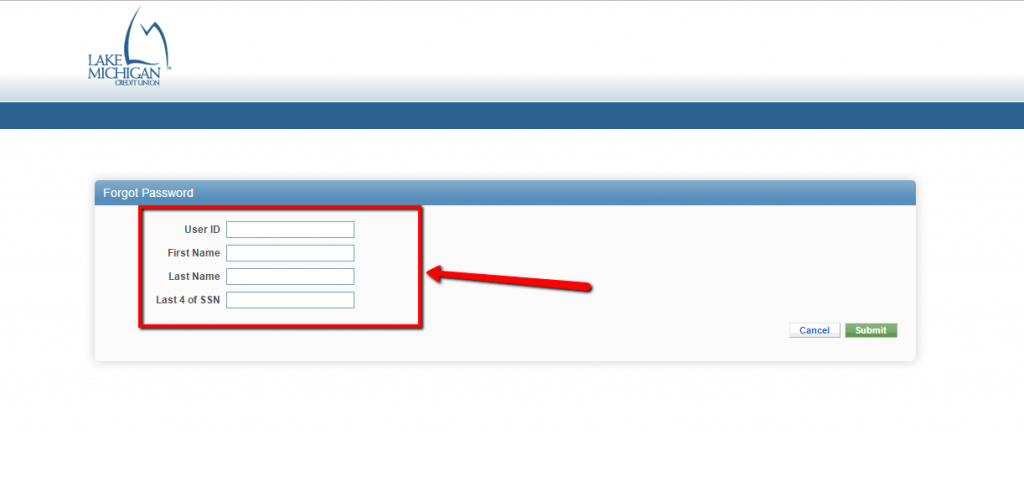 After submitting the information, you should now continue with the recovery process using the information provided.
HOW TO ENROLL
Step 1. To have an online account with Lake Michigan Credit Union, you should first have an account with them.
Step 2. After this, you should go to Sign Up in the homepage as shown below. After doing this, you should select the type of banking you want to do.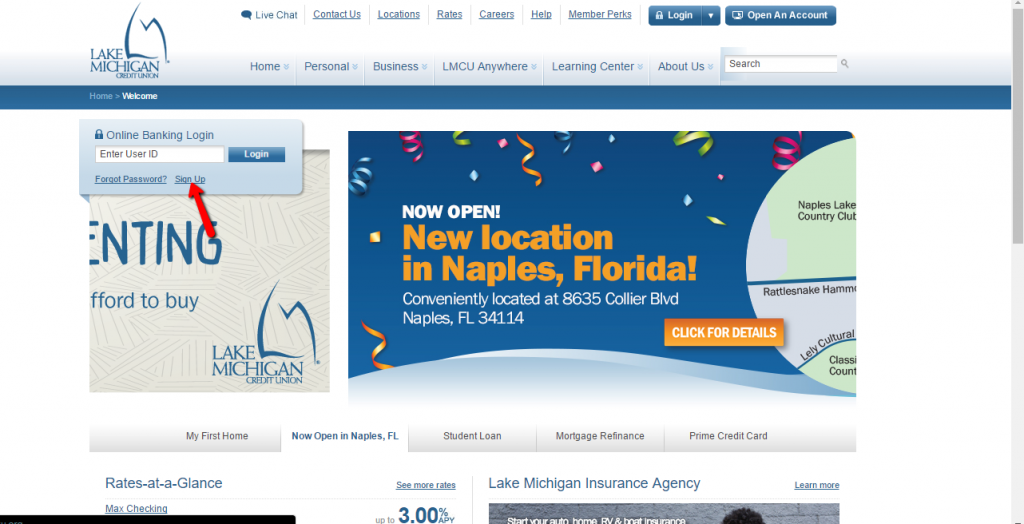 Step 3. In this step, you should read the disclosure which can be found in this link. Please ensure that you read it carefully. If you accept the details, accept the terms and continue.
Step 4. After this, you will be presented with a form that you should fill carefully. Ensure that the information is entered carefully.
WHAT YOU WILL FIND IN THE ONLINE ACCOUNT
In the online account, you will be able to do a number of transactions such as: checking your account balance, checking your bank balance, requesting your statement, and funds transfer among other services.
Lake Michigan Credit Union Review
Lake Michigan Credit Union has been offering checking accounts, refinancing and home loans and savings accounts for residents of Michigan since 1933. In order to become a member, you are required to meet certain eligibility requirements.
Although there are not many ATMs to choose from, Lake Michigan Credit Union refunds ATM fees charged every month up to 15 dollars per account. The credit union employs 575 workers throughout about 40 branches located in Michigan.
Benefits
There are many benefits of becoming a member of Lake Michigan Credit Union. The credit union is obviously one of the best choices for the residents of Michigan, but those who live in surrounding areas also need to take notice.
Lake Michigan Credit Union has the resources and ability to offer great services to the people. This is a top performing credit union for many reasons. Here are a few benefits of becoming a member of the credit union:
Lake Michigan Credit Union is mainly for people who live, attend school, worship and work in Lower Michigan together with their immediate family. They however now allow eligibility for people who are willing to make a one-time donation of 5 dollars to an ASL foundation.
What this means is that literally anyone can sign up. Most credit unions have stringent requirements to become a member, but Lake Michigan Credit Union opens its doors to everyone who is ready to make the small donation.
Automatic Teller Machines
Lake Michigan Credit Union has 38 locations which is basically the average number of locations for most credit unions, but the members have access to over 55,000 ATMs around the world. They are not limited to the Lake Michigan Credit Union ATM network.
Members can also use any Allpoint ATM to manage their accounts. If you didn't know Allpoint is one of the largest surcharge-free ATM networks in the world.
Online and mobile benefits
Lake Michigan Credit Union has provided an online chat option for customers who have questions. During working hours, you will find online agents that you can chat with. This is an amazing feature that speeds up the response time instead of customers waiting for long hours to receive a response through email
Another unique feature associated with Lake Michigan Credit Union is that members can open accounts online. In addition to that, checking accounts offer standard features, which include online banking and mobile banking and mobile check deposits.
This puts the credit union at the forefront with the best credit unions with regards to mobile financial management features
The credit union has APYs rates of 1.5% for checking accounts. Basically, any rate for a checking account that is above 1% is much better than average earnings. Although isn't the best rate out there, it is still a good one.
The credit union's rates for savings accounts, personal loans and automobiles aren't as good. You will find that most of the rates fell average. The credit union's best rate is basically through their checking account.
Downsides
Lake Michigan Credit Union can make some significant improvements in their financial aspects, but it also seems that they fall off board with some small details that consumers consider as important.
Average rates in some areas
The credit union's interest rates on savings accounts fall short when compared to what they offer for their checking accounts. The savings accounts earn an APY of only 0.25% which isn't great considering the fact that the average is about 0.45%.
They also start their automobile rates at 2.25% which is good for the lower end of the range; however, there is no information regarding how high the rate range can go.
Lake Michigan Credit Union doesn't offer overdraft protection. With this feature, funds are moved from your savings to checking account if you don't have don't have enough money for a transaction. What this means is that you will be automatically charged an overdraft fee of $30 each time.
Conclusion
Lake Michigan Credit Union offers some amazing perks to their program. And they have made it easier for customers to open accounts online, which is an amazing convenience feature.
They also allow anyone to become a member and although they have 38 locations only, members have access to about 55,000 ATMs.
---