With $49 billion worth of assets, the New York Community Bank of choice for people living in its area of operation within New York. It is a subsidiary of the New York Community Bancorp Inc. and has been serving the community since 1859.
Website: https://www.mynycb.com/
Routing Number: 226071004
Swift Code: NYBCUS33
Telephone Number: 1 (877) 786-6560
Founded: 1859 (164 years ago)
Bank's Rating:
With operations in New York, Ohio, Florida, Arizona and New Jersey, the New York Community Bank boasts of being a community bank in the region. It aims to satisfy the financial needs of its customers in those states. With more than 100 branches spread across the above states, it has managed to make its banking services available to the local community. It has also come up with mobile and internet banking for convenient banking.
How to log in
Time is always a limiting factor when you want to go to the bank and withdraw cash or check your account balance. With a log in account, you can do this while sited at home or office. It allows you to have unlimited access to your account where you can deposit or withdraw the same.
Step 1: Visit the home page through the link https://www.mynycb.com/
Step 2: Type in your User ID and submit.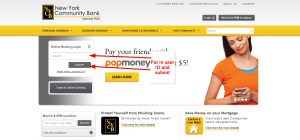 Few more actions including a chance to enter your password details will follow. After that, you can access your account.
How to reset your account password
It is always a problem to many when they cannot access their accounts due to a lost password. This is, mostly, the case for those who are new to the internet banking service. Once this happens to you, you can change the current password and create a new one. To do this, follow the steps below:
Step 1: Tap the button below.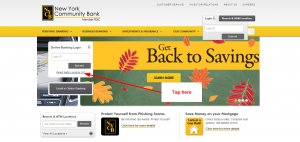 Step 2: Select the option as shown.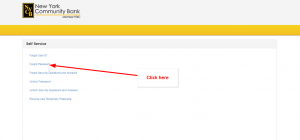 Step 3: Enter your User ID and submit.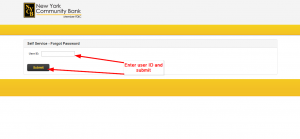 How to enroll
Registering for online banking service is a must if you want to use it. All customers of the New York Community Bank are not automatically enrolled for internet banking once they open an account. In that case, you have to take the initiative of signing up for the service.
Step 1: Go to the Enroll option.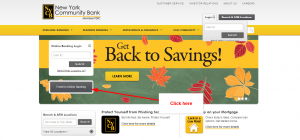 Step 2: Check the relevant options to proceed.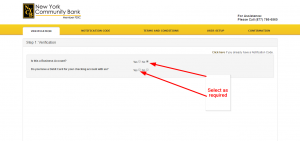 Step 3: Enter your personal details as required and submit.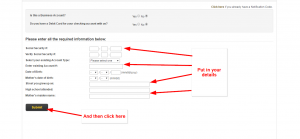 You will get a notification code and complete three more steps before you can enroll for this service.
How to manage your New York Community Bank account online
A bank account you can access online gives you the ability to manage your own account. You become the account holder and manager at the same time. You can determine how much to withdraw or borrow or deposit.
---